Cecilie Løveid (born 1951) made her debut at a young age, first with sporadic poems in daily newspapers, then as a contributor to collective presentations such as Gruppe 68 (1968; Group 68) and Atte fra Bergen (1969; Atte from Bergen). Her first book, Most (Juice) was published in 1972 and received mixed reviews. Together with her next two books, Tenk om isen skulle komme (1974; What If the Ice Should Come) and Alltid skyer over Askøy (1976¸ Always Overcast in Askøy), Most represents the first stage of Cecilie Løveid's literary career, with motifs stemming primarily from the region of Bergen, Norway. This stage of her career is dominated by prose, but in her modernist experiments with form, it is the mix of genres – from the lyrical to the epic – that is most striking. The plots in these early works are aligned with the prose of the 1970s. The texts are about the life process, from childhood through youth and young adulthood, of a group of young women fighting for their right to live and do as they choose in a modern village in Western Norway, with all the cultural phenomena that belong to the 1960s and 70s. All these works have a special colour that is particular to Bergen and that places them firmly in a regional women's tradition from Amalie Skram to Torborg Nedreaas. However, Cecilie Løveid's depiction of this folklore is also distinctly different from that of other women writers of her day – a difference that does not necessarily stem from the region from which she comes, but rather from her passion for experimentation with language and form.
Cecilie Løveid's first three lyrical prose novels represent a radical break from the genre of social realism, which was a dominant force in Norway in the 1970s. She insists on her modernist aesthetic, where fragments, collages, intertextuality, and polyphony are preferred over the codes of realism. Her fundamental anchoring appears to be poetry, and because she remains in her own way a modernist lyricist, regardless of which genre she approaches, it is impossible for her to step into a social-realist idiom.
This interest in experimentation is already expressed in the textual collages of her first book, in which lists, poems, and dream sequences make up part of the prose narrative. The most captivating and refreshing aspect of these experiments is, however, not their use of by now well-known modernist stylistic tools, but her own authentic lyrical prose.
Cecilie Løveid seeks to capture the transitory and the fluid in life, the psyche, and the surrounding world. This exciting ambiguity is often expressed in elliptical sentence structures and condensed images of emptiness, nothingness, and distance as parts of the account that are just as important as the most intense and life-affirming sensual experiences in the young girls' lives.
This ambivalence is prevalent in Most, which is about the main character Veslemøy's sexual encounter with the thoroughly irresistible and thoroughly unreliable lover John Wesley.
The love motif is a central force field in the novel, but what makes it remarkable is how she incorporates nature's insistent presence into the love story – in the description of the open sea, of the semi-overgrown paths, and of the fresh and dangerous winds that surround the young couple. In the vulnerable island landscape, the two young people have found a beautiful and wild refuge where love can flourish, even if just for a brief summer. But it is the sea and its extremely destructive and fertile powers that endure after the desire that has wreaked havoc in the young bodies. Veslemøy experiences desire and intensity in this meeting with John, but she is vulnerable to the flood of instincts and the raging lust that seizes her and ultimately sends her in a tailspin towards loss and absence. Cecilie Løveid's lyrical prose evokes both a geographical and a physical life landscape with the help of writing that is filled with sensual pleasure while at the same time containing the silence, emptiness, and loss of love.
Sug (1979; Eng. tr. Sea Swell) was Cecilie Løveid's literary breakthrough and received enthusiastic reviews. In terms of subject matter, the novel is an extension of her first books, and like them it is a work of lyrical prose. In her distinctive, dreamlike style, she tells the story of the main character Kjersti Gilje's process of realisation as she meets with her past, present, and future. The novel simulates a psychoanalytical process in which the first-person narrator delves down into the subconscious to find the remains of an (imaginary) incestuous relationship with her father, the ever-absent sailor whom the little daughter both craves and fears. Kjersti embarks on a journey into the subconscious with the desire to learn more about her relationship with herself, her desire, and her lust for life in general, and for a husband and child in particular. In Sug, Cecilie Løveid addresses the taboo aspects of emotional life – incest and patricide – but in her poetic treatment, she handles it like a necessary mental process that the main character must go through into order to have an adult relationship with Mads, the love of her life.
In language and form, Sug is the most accomplished of her novels, and it also represents an end for the time being to her attempts at the lyrical prose novel. The book has since been translated into a number of European languages.
The Lyrical Drama
Cecilie Løveid's first play, Måkespisere (1981; Gull Eaters), was interestingly enough written for radio, a medium that completely excludes living manifestation. The radio play was a huge success, earning the author the prestigious Prix Italia. Inspired by the expressionistic theatre and the Brechtian Verfremdungseffekt, Cecilie Løveid employs collages of imagery and a wealth of auditive elements, including music, bird screeches, crying babies, and noise in the performance of the drama about the working-class girl Kristine Larsen from Bergen who dreams of becoming an actress. As a contrast to, and in symbolic reworking of, Kristine's acting project, the play incorporates excerpts from Henriette Schønberg Erken's book on cooking and housekeeping as well as a recipe for how to prepare and cook a seagull for eating. The text is powerful in the diversity and suspense of the language and form, which thematises the socialisation of girls, domestic housekeeping, artistic dreams, sexual desires, and, especially, the tragic incongruity between dreams and reality in human life.
Vinteren revner (1983; Winter Cracks) is Cecilie Løveid's first play for the stage. In this play, she returns to the themes from her lyrical prose, but from now on the mother/daughter relationship is the common pattern in her work. She also increasingly uses images of the abandoned, the aborted, or the dead child in subsequent dramas. Vinteren revner features yet another Oedipal triangle. Løveid's version of the mythical mother-father-child triangle is an enduring, binding, and violent construction in which desire, pleasure, aggression, fear, and hate circulate.
Pregnancy, contractions, and birth form a dominant motif in Balansedame (1984; Balancing Lady), a play that developed out of a previously published short story with the same title. The play is about the balancing act a woman must be able to perform in order to live as a "complete" person in modern times, and about the undesirability and impossibility of living in the present. Balansedame dramatises the tightrope act that the main character Susanne must execute during her chaotic journey through pregnancy. Even though the play was originally written as a commission for the National Venue of Theatre in Bergen, it was never performed because the theatre found it too difficult to realise the textual visions on stage. The piece marks the beginning of a turbulent and difficult collaboration with Norwegian theatre, which has at times proven quite inflexible in the meeting with Cecilie Løveid's experimental texts.
Her next play was Fornuftige dyr (1986; Rational Animals). She claims that it developed out of her frustrations over collaborating with Norwegian theatres. The plot, which spans several years, takes place at one single hotel, where Elisabeth and Jan, who have a child together but live separate lives, meet again. As in her previous works, the theme centres on love between the man, the woman, and the child. In addition, there is the pre-Raphaelite beauty Liv, a silent and beautiful participant in the drama. The play begins with a poem by William Blake, "The Sick Rose", which serves to establish a dialogue with the rest of the text. There is a conspicuous pessimism in the production about the conditions for love and its symbolic result. The drama develops in the direction of incestuous constellations when Jan at one point returns to seduce his and Elisabeth's daughter – and then disappears again. The play dramatises the ghostliness of repetition, and once again it is the child who suffers.
Throughout the 1970s, Cecilie Løveid worked alongside her novel writing in other media, including television, film, and theatre, but without any specific published results of these activities. Her artistic career was launched at the Norwegian National Academy of Craft and Art Industry, and she felt a constant need to further develop the visual, plastic side of artistic practice. Over time, she began to be drawn to the theatre as a way to satisfy this need. From that time, she was devoted solely to the dramatic arts, although she continued to take great liberties within the genre. Her experiments have reached new heights, and her plays have often been criticised for being inaccessible in their experimental form.
Experimental Theatre
After this play, which was performed in Bergen and on Norwegian television, Cecilie Løveid moved to Oslo to obtain better access to the theatre. And in this next stage of her career, she entered into new and exciting partnerships with other artists within music and dance. The first product of the move to the capital city was the play Dobbel nytelse (1988; Double Pleasure), which was performed at Oslo's new theatre, Centralteateret. The plot is set at an archaeological dig in Bergen where the medieval St. Catharine monastery is being excavated. The archaeologist couple Guy and Siri, their baby, and two unemployed dancers, Tutti and Frutti, as well as Siri's daughter Cat are present at the site. It is a domestic triangle, especially between the couple and the intruder, Siri's young daughter. Even though the incestuous drama has a tragic undertone, the presence of Tutti and Frutti gives the entire performance a light and humorous quality. Of Cecilie Løveid's work, this play is probably most strongly influenced by Ibsenian psycho-realist intrigue. However, it is precisely in the contrast between this level and the dancing and commenting ballet dancers, as well as the dialogue and gestures in the Siri/Guy/Cat triangle, that the play's distinctiveness comes to life. Faithful to the comic style of Aristophanes, Cecilie Løveid has the dancers perform with plastic penises and sagging breasts alongside the mythical, tragic family constellation.
Her sense for the visual is given free rein in her next project, Badehuset (1990; The Bathing Hut), which she called a visual performance of voices, dance, and music. The play was written for the Verdensteateret group and performed in open spaces in the Grünerløkka district in Oslo. In this play, which is one of her most experimental, she seeks to address what she calls the secretiveness of women. Voices belonging to three different women of three different ages overlap each other, and dancers move soundlessly past each other in silent dance, graciously following music by Synne Skouen and Rameau.The book Badehuset,which has since been published, is a magnificent work of photographic and graphic art in which words and images connect in unique imagery. The play has since been performed in both Stockholm and Vienna.
Tiden mellom tidene (1991; The Time Between the Times) was first performed by the women's theatre group at Black Box in Oslo, and in 1993 as dance theatre by the ETA theatre in Munich. The plot is an intrigue between Ann, who has created a Garden of Eden, and a young woman, Ellinor, who is searching for her paternal roots. This female drama, in which the roles alternate between mother, daughter, and sister, verges on madness, in a confusing and dangerous emotional landscape.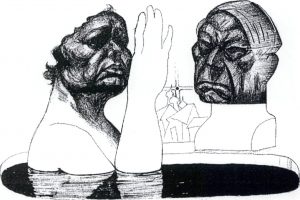 Her next play was performed in 1991 during the Bergen International Festival, at which Cecilie Løveid was appointed festival author. Barock Friise (Baroque Frieze) was first performed in the historical Schøttstuene on Bryggen and subsequently at the Scenehuset theatre in Oslo. Like Tiden mellom tidene, this play became a collaborative project with the Lilith Theatre and Scirocco dance company, with music by Asmund Feidje. However, in contrast to her previous plays, which primarily feature more stylised and abstract characters with a certain anonymous, mythical quality, Barock Friise is about a well-known historical figure, namely Zille Gad, a learned woman from eighteenth-century Bergen.
The fact that the boundaries of existence are fluid is emphasised by the elegant way in which Cecilie Løveid alternates between the Baroque period and the present, between characters and dancers, between the poetic and the historic. Thematically, the play is on well-trod ground with its focus on love, women and knowledge, passion, birth, and death.
Maria Q (1994) takes as its point of departure a well-known and notoriously infamous name in the Norwegian annals of war – Quisling. The drama is about the wife of the Norwegian traitor Vidkun Quisling: Mara Vasiljevna, later Maria Quisling. The once so beautiful Ukranian woman won the heart of the traitor and gave up her life for him and his life's project. With this play, Cecilie Løveid truly captured the main stage of the Norwegian theatre community with her premiere at the Nationalteatret in Oslo, with Theatre Director Ellen Horn playing the lead.
Today, she is considered one of Norway's most experimental and interesting writers. She has always been open to new ideas and innovations, and willing to take daring and hazardous paths in the dialogue with other art forms. Further, she has demonstrated great perseverance in the relationship with the Norwegian theatre in her eagerness to create new dramatic expressions within an institution that generally opposes major, radical changes in form.
In 1990, Cecilie Løveid made her debut as a writer of children's books with Lille Pille og Lille Frille i den dype skogs teater (Little Pille and Little Frille in the Theatre Deep in the Woods), about two little girls who find communication in the theatrical medium deep in a wood. The book is beautifully illustrated by Hilde Kramer and has a fairytale quality in both language and illustrations. In 1992 she published her second children's book, Hund får besøk (Dog Receives a Visitor), illustrated by Marek Woloszyn.
Ellen Mortensen
Closed Room
Kari Bøge (born 1950) made her debut in 1971 with the experimental work Asmorelda, which makes a radical break from the realistic narrative tradition and represents one of the first significant attempts at new female modernist prose in Norway. Asmorelda's composition is more spiral than linear. The plot repeats itself with minor variations, and there is no clear beginning or ending, only fragments of a state of affairs. The book has no fixed narrator either, with the point of view alternating between Asmorelda 'I' and Asmorelda 'she'. This main character is constantly on the go, running from something unknown towards something unknown. She is a being without identity, without parents, and without a home. But she is constantly searching for the man, the love that she meets again and again, is disappointed by, and breaks with.
The only little "lifeline" can be found in the following sentence: "They had the poetic reality in common". Writing – art – is the only alternative to staring into complete emptiness. Asmorelda's universe is without historical points of reference, and this differentiates Kari Bøge from other women writers around 1970, who were characterised by historical consciousness and meaningful struggle. Kari Bøge insists on an ahistorical individualism and an aesthetics of emptiness. However, in Asmorelda she also embarks on themes that were and are central to feminist-oriented writing: the question of identity, the relationship to the husband, and the relationship to writing.
In her early work, Kari Bøge got on the wrong side of the women's movement. Feminist critics rejected her work for not being revolutionary enough – for simply being reactionary.
In 1990, Asmorelda was followed by Manns minne og andre vendepunkt (1992; In the Memory of Man and Other Turning Points), a short novel about the life of the husband after Asmorelda has left him – a feminist pipe-dream about a man's self-criticism on behalf of the male-dominated cultural tradition. Whereas Asmorelda is about a woman searching for her true self, Manns minne is about the necessity for the man to divest himself of his patriarchal self.
Viviann, hvit (1974; Viviann, White) is composed as a series of short prose texts with the introverted, brooding, and depressed Viviann as the first-person narrator. It is about a woman's claustrophobic, self-absorbed relationship to her body and her art in the course of a pregnancy. In the novels that followed, Lyset er så hvitt om sommeren (1975; The Light is So White in Summer), Viviann og Lin (1980; Viviann and Lin), and Søster, Viviann (1988; Sister, Viviann), the reader follows Viviann's failed marriage, her relationship to her girlfriend Lin and to her new husband, and finally her experience with a life-threatening illness.
Through the figure of Viviann, Kari Bøge maps a woman who appears to have given up before she even gets started. She just barely keeps herself alive, hardly moves, and her lifeblood is maintained solely through her analytical skills. Viviann controls the world through language; she has words for, and reflections on and ahead of, every situation.
In this way, language becomes a means of communication, a path to solidarity, and a means of excluding from the body one's own feelings and other people. Language cannot hold corporeal experience, language is an acquired pattern.
This isolation is not disrupted until Søster, Viviann, when Viviann becomes ill. The body is "invaded" by pneumonia and cancer. Viviann appears to lose absolutely everything, but the author has her emerge from the darkness with the hope that "the door must be open to everyone".
Her exploration of the relationship between body and language makes Kari Bøge a modern storyteller. There are interesting parallels to both the analytical Liv Køltzov and the physical Cecilie Løveid, both central modernists in contemporary Norwegian literature.
Ellen Francke (1943-1990) wrote about how losing a breast can threaten a woman's personal identity in the poetry collection Det dobbelte kyss (1985; The Double Kiss), in which the main character suffers from breast cancer:
And they undressed me
and hung me up
and rubbed me with foul-smelling fluids
and cut a breast into pieces
my breast
my bashful, naive, unwitting breast …
It became a life-threatening experience, a journey towards death, away from love and away from the self. As a result of this violation of the body, she ended up in an existential crisis.
Ellen Francke's Det dobbelte kyss, which is illustrated by Tonje Strøm, attracted a great deal of attention when it was published – and was even made book of the month in the book club Bokklubben Nye Bøger.
Rakel Christina Granaas and Unni Langås
Translated by Jenifer Lloyd