The photograph of a German soldier throwing a little Jewish boy into a cesspool made an indelible impression on Mirjam Tuominen and drove her to tirelessly analyse violence in all its forms. Along with a newsreel that showed Hitler's "inscrutable smile" as he looked at weeping women, children, and men during the invasion of Poland in September 1939, the photograph became an icon on the war's brutality, particularly at the expense of the civilian population.
The year was 1935 and many Europeans realised that a new world war was in the offing. The Fogelstad Group, with Elin Wägner in the lead, organised a Stockholm meeting that was attended by female delegates from every part of Sweden. They submitted an ultimatum to the League of Nations:
"Make the world a place in which women can live with their children, or else women will refuse unconditionally to participate."
Female authors in every Nordic country sought to replace the image of men as executioners and children as victims with the bond between women and their offspring, whom they assigned a politically charged role as the symbol of peace and vitality. The focus of their works shifted from the sexual aspects of motherhood in the 1930s to children as the targets of wanton violence during the war. "Barnet och kriget" (The Child and the War) in Vielä mina elän (1942; I'm Still Alive) by Finnish poet Sirkka Selja (Born 1928) sees the absurdity of war through the prism of a child's naiveté: "When I grow up, / I'm going to kill the war, / because it has taken my father away from me, / – and then I will be a hero. / And Mum will be happy, / because then she will have two heroes, / Dad and me."
The thematic shift led Finland-Swedish author Solveig von Schoultz to write De sju dagarna (1942; The Seven Days), which articulates a new kind of respect for children as the symbol of life. When her feverish little daughter, quartered in barracks during evacuation to Sweden, lovingly whispers, "You are never bad to me. You are only nice", the mother/author says, "It's almost more than I can bear, all alone in this strange darkness. Nothing has any meaning except for hearing this hoarse, tender voice one more time, hearing it each day, following it everywhere – and perhaps being able to reciprocate just once."
The unconditional love displayed during the war persuaded Schoultz to study "women as the mothers of society" and to introduce maternity as a poetic theme in Finland-Swedish modernism. Meanwhile, Stina Aronson had to abandon Swedish modernism to find a literary language for everyday heroism; Hitom himlen (1946; This Side of Heaven) is about the relationship between a woman and her backward son.
As literary scholar Torill Steinfeldt has pointed out, the demand for national unity ended up excluding women from wartime poetry in Norway. Even a poet like Inger Hagerup, who had cultivated an erotic, maternal voice during the interwar years along with Halldis Moren Vesaas, Aslaug Vaa, and Zinken Hopp, now used prisoners, soldiers, and comrades-in-arms as symbols of the war. Astrid Hjertenæs Andersen upbraided women in 1944: "Why don't you fight? / You, who are the matriarchs of the clan."
But women fought, if not always as writers. Kvinder i motstandskampen by Kate Fleron (1909-2006), a Dane, begins with a tribute to the female warriors who "prepared meals with a loaded revolver on the kitchen table," but declined to take an active part. Fleron argues that female resistors often played the role of a "shield for men" and documents their impressive ingenuity. While German sentinels looked unsuspectingly on, they would ride their bicycles through roadblocks with baskets full of pistols and sabotage orders or jaunt merrily by with illegal dispatches in their girdles ("that was certainly the last place they would search"). With heavy hearts, some of them placed their children in orphanages and went underground with their husbands.
Women's Politics as Literature
Appeals for women to adopt a long-term strategy for their children to live in a more hospitable world grew increasingly insistent during the war. Kvinnen og den svarte fuglen (1945; The Woman and the Black Bird), the last novel that Nini Roll Anker (1873-1942) wrote, suggests that militant pacifism is the way forward for women and mothers. The book realistically depicts the protagonist's jubilation over becoming a mother, and her anxiety and sorrow when war breaks out and her sons are killed. "I see both of them – brown-eyed and blue – little men in a big world, handsome, regular features, health and vigour in their faces and limbs." Her daughter concludes that women's responsibility is to create a peaceful world. The protagonist has nothing left but hope: "Is a new time, a new woman, in the making – can strength take the place of warmth and thought take the place of feeling? Can we create a big world at the expense of our own little one? Was I never part of it? Or …?"
Similarly, Halldis Moren Vesaas (1907-1995) writes in Tung tids tale (1945; Word from a Heavy Time), her first post-war poetry collection: "It is not called: I – any longer. / It is called: we".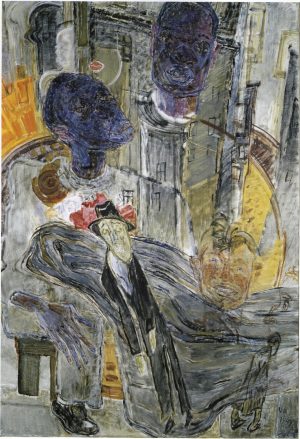 This pioneering literary project was launched in the no man's land of ritual male violence. Elin Wägner (1882-1949) – a spokesperson for the pacifist movement ever since the 1920s, arguing that women should restore their ancient matriarchal authority to protect their children, and the organizer of Women's Unarmed Revolt against War in 1935 – now felt that it was too late.
The popular journalist Barbro Alving (1909-1987), who wrote under the name of Bang, was the only consistent adherent of Wägner's brand of radical feminism. After serving a jail sentence in the 1950s as a civil defence objector, she started the Swedish protest movement against the atomic bomb along with author Sara Lidman (1923-2004) and others. Her column "Käringen mot Strömmen" (Woman against the Current) attracted a wide readership.
Väckarklocka (1941; Alarm Clock), her anti-civilisation polemic, was received with deafening silence. Women were able to adopt a new posture in literature, not on the political stage. Suddenly children could be social critics, as when the orphaned title character of Pippi Långstrump (1945; Eng. tr. Pippi Longstocking), by Astrid Lindgren (1907-2002) proclaims, "This is a free country, isn't it?". Tora Dahl (1886-1982), who had made unsuccessful attempts to write anti-Nazi satire during the war, found her footing with Fosterbarn (1954; Foster Child), subsequently seeing children and their inner development as a potential for resistance: They "have no prejudices; they make no distinction between high and low, black and white, Christian and Jew, man and woman, clean hands and dirty ones" – Vargar och får (1961; Wolves and Sheep). Ragnheiður Jónsdóttir from Iceland stopped writing Künstlerromans and published Från Þora av Hvammurs anteckningar (From the Notes of Þora av Hvammu), the first of four volumes about a farmer's daughter (five years old here).
The focus on children and the social responsibility of mothers was the last attempt by modern women writers to launch a new ethic of human relations and envisage a political utopia of peace. The broad-based, multi-genre effort did not dissipate until the 1960s when motherhood was stripped of its revolutionary content and redefined as either autocratic or powerless. Female characters assumed the position of helpless children in relation to men, and militant mothers were relegated to the status of frustrated housewives.
The Scrutinizing Look of a Mother
Väckarklocka starts off with a caustic critique of a civilisation that has legalised murder: "My book is going to give the impression of adopting a wholly inappropriate tone. And that's certainly the case. Still, I do not have the warrior's intention to wound and kill. I don't think that's permissible. That's one of the phrases I would like to vernichten, détruire, annihilate." With the ravages of war in plain sight, Wägner joined Anker in issuing a powerful and unapologetic summons for mothers to take command and change the world. The time had come, they thought, to manifest the responsibility for society that Fredrika Bremer and Ellen Key had posited as women's contribution to civilisation. The focus had shifted, however, from pleading the cause of women to that of children. "Always, even in the dark, she felt their gaze. Always asking, always expecting something of her, but not knowing what it was" (Solveig von Schoultz, De sju dagarna).
Barbro Alving's series in the newspaper Dagens Nyheter from the 1936 Berlin Olympics and the Spanish Civil War are legendary due to their subjective flavour. According to Birgitta Svanberg, the secret of Alving's inimitable style is that she leaves room for readers to experience what she was writing about in their own particular way. Like the boy in "The Emperor's New Clothes", she looks at power – both dangerous and ridiculous in its grotesque conceit – without preconceptions. She describes Hitler speaking to a Berlin crowd in 1937:
"He shakes the entire rostrum, and his words jumble themselves into a hoarse shriek." But what good does it do him? "Anywhere north of Malmö, the spectators would simply go home."
A scrutinizing, critical look at male violence in its most perverted form, child abuse, was increasingly common. Children as helpless victims of meaningless violence, including incest, were a basic theme in the poetry of Gunvor Hofmo (1921-1995) from her very first collection Jeg vil hjem til menneskene (1946; I Want to Go Home to Humankind).
Man gjorde et barn fortræd (1941; A Child Was Harmed) by Danish author Tove Ditlevsen (1918-1976) concentrates on the hatred a young woman feels for the popular Sunday school teacher who molested her as a girl. The first thing she wants to do when her repressed memories resurface is to kill him: "She opened her eyes and he lowered his gaze. 'I have walked through fire,' she whispered, 'and fire can't be talked about, so you burn up inside. And I have been burning for fifteen years.' She breathed heavily, struggling with her desire to see blood on his face, death in his eyes." She overcomes her vengeful feelings and heals her trauma by cultivating maternal compassion for the mortified perpetrator. The Norwegian short story writer and novelist Torborg Nedreaas (1906-1987) started off in 1945, driven by the burden that mothers had borne during the war and by her fury over the fact that society's most vulnerable members and the victims of sexual violence (such as the women who slept with German soldiers) always endure the worst punishment.
The kind of humanism that female writers tried to introduce on behalf of children left men to their own devices. They no longer played the unambiguous role of desirable or despicable sex partners as in the novels of the new woman in the 1920s or of emancipation in the 1930s. Equating femininity with maternal feelings allowed men to be grown-up children, but denied them all other positive functions. They had lost all credibility; they were assigned responsibility for the bankruptcy of civilisation, but were not taken seriously otherwise.
Typical of literature by men during the period was a modernist type of melancholy, as symbolised by the title of Mannen utan väg (1942; The Man without a Way), a book of poetry by Erik Lindegren (1910-1968). Their poetry portrayed women as the cosmic mother or aged courtesan, quite often already dead. A new type of novel was emerging that stressed the weapon-like character of the penis. It is probably no coincidence that "woman", a hallowed word in the literature of the 1920s and 1930s, was replaced by the belittling "girl" or "gal" from barracks jargon, reflecting the subservience that Sweden expected of its female citizens in the 1940s. The pinnacle of the genre, Ormen (1945, Eng. tr. The Snake) by Stig Dagerman (1923-1954), is viewed by literary historians as an exploration of a universal existential problem associated with fear and guilt. But the viper in the novel can just as easily be interpreted as a phallic symbol and a peculiar assertion of male potency, particularly when it attacks naked women at a wild party.
"My current thesis […] is that the inter-war years had the effect of isolating men and women even more inexorably in separate folds. The destinies of women were tied more to their gender and less to the human condition."
(Alva Myrdal, Idun, 1942).
She had every reason to be worried. In the 1930s, she had argued for changes to the structure of the nuclear family by presenting objective arguments for the use of women as a social resource. While Myrdal wanted to ensure a place for women as integrated members of society, Elin Wägner believed that they had already adapted too much. These two somewhat contradictory approaches helped shape post-war literature by women. The pragmatic reformism that Myrdal advocated sought to amalgamate the great feminist ideologies of the nineteenth and twentieth centuries. She borrowed an analysis by Clara Zetkin (1857-1933), according to which emancipation would come by way of wage labour and large-scale housework (collective dining rooms, day nurseries, etc.). Ellen Key's vision was that children should be brought up to create a better society. Myrdal's version was that the father would also accept responsibility, a step on the path to shared parenting.
The Feminine Sex as a Social Problem
The utopia of motherhood, which literature revised and ultimately deconstructed, survived in the Nordic welfare state that took shape after the war.
Meanwhile, society's overall ideology increasingly approached biologism. Alva Myrdal (1902-1986) wrote in Nation and Family; the Swedish Experiment in Democratic Family and Population Policy , 1941: "The feminine sex is a social problem. Whether a woman is young or old, whether she is married or not, whether a wife works or not, she is likely to be a problem." The modern gender contract was drawn up in the 1940s on the basis of segregation and the retention of male superiority as the norm. In practice, women were saddled with the inner burden of their own oppression. Their challenge was to appropriate elementary rights for themselves without threatening male power either at home or on the job, to settle for the eternal position of being a combination housewife/secretary. The 1920s and 1930s, on the other hand, had proclaimed the virtues of female choice. Idun, a prominent journal of emancipation, presented lawyers, housewives, and office workers as equally worthy professions for women, while continuing to promote dialogue between the sexes.
A number of the most prominent Danish male authors after the war depicted femininity in idealised, almost biblical, terms. Tomas, the shady protagonist of Ingen kender natten (1955; Eng. tr. No Man Knows the Night) by H. C. Branner (1903-1966), had worked for a collaborator during the war but becomes a responsible citizen under the influence of a woman by the name of Martha Maria Magdalena. Den blå Pekingeser (1954; The Blue Pekinese), a play by Kjeld Abell (1901-1961), uses the unborn child Esmond – repudiated by weak and timorous adults – to symbolise the threatened life principle.
The political effectiveness of Myrdal's ideas was sustained by the economic legitimacy she and her husband Gunnar (1898-1987) lent to the feminist cause in Kris i befolkningsfrågan (1934; Crisis in the Population Question). They employed a simple theory of exchange: if children are a scarce social commodity, women are important. The population question was at the centre of public debate in Sweden during the autumn and winter of 1934-1935. A population commission was appointed and the campaign against married women at government agencies was called off. Meanwhile, Social Democratic women were doing all they could to incorporate the value of housework into Socialist theory. Raising a child should be at least as important as raising a pig, so the reasoning went. But how do you organise against your own husband? It turned out to be a dead end street. The ' occupation' of being a housewife grew dangerously close to the Nazi ideal of women as a Gebärmaschine (childbearing machine).
Sociologist Margareta Lindholm maintains that the policies associated with the Nordic welfare state included a project of modernisation and efficiency that benefited women as well. Their practical, if not theoretical, thrust was to satisfy everyday needs, what historian Yvonne Hirdman calls "the issues of private life."
The New Gender Contract
Even established authors reflected the new opposition to housework as a paid profession. Moa Martinson (1890-1964) abandoned her strong heroines of the 1930s to write historical epics of agrarian life, and published patriotic books to strengthen the home front during the war. Betty, a working-class woman with young children, is the protagonist of four of her novels: Den osynlige älskaren (1943, The Invisible Lover), Du är den enda (1952; You Are the Only One), Klockorna vid Sidenvägen (1957; Bells at Sidenvagen), and Hemligheten (1959; The Secret).
En lille tøs og hendes mor (1952; A Little Girl and her Mother) by Danish author Eva Hemmer Hansen (1913-1983) chronicles the struggle of Anne-Marie Alma, a working-class woman, to be a full-time mother. She has to give up the son she had at the age of eighteen because of her pity for the father, who fails to pay support. She has a daughter and gets married in order to be provided for, but the project flops. In one of the first scenes, she mistakenly believes that her boss has molested the little girl. She cannot tolerate any competition; she wants to be her daughter's entire world. "She's going to hear about it, so she understands what kind of man you are, so she can learn to watch out for you, you who want to separate her from her mother. – Joan – how far has it gone? What has he done to you, child? You can tell your mother. I'll take care of you. Tell me, child." Hansen depicts the perverse influence of private life on the female psyche. Anne-Marie identifies not with her job but with her role as a mother. Nevertheless, the scene in which she manifests her controlling impulses and her reaction to bad experiences with undependable men is the starting point for a change. Soul-searching enables her to confront her life and accept responsibility for her own actions. At the end of the book, she falls in love with and marries the kindly man whom she had called a "disgusting old pig."
The same tendency is evident in the writing of lesser known authors. En husmor lever farligt (1944; A Housewife Lives Dangerously) by Margit Palmær (1898-1991), a Swede, is a polemic written at a time when female members of Parliament fought to hold the line; they were able to defeat recurring motions by the right wing to institute mandatory training for young women in how to run a household. The fact that she was both an author and the mother of five children was regarded as suspect. Being a working mother was no longer considered acceptable, and Palmær resolved the conflict without truly questioning the new directives. Instead of protesting against the consignment of women to housework, she extends it to include a writing career – with the proviso that children always come first.
The contrast with Margit Palmær's book of interviews Nutidskvinnan i närbild (1937; Contemporary Women Close Up) could not be greater. The tenor of the earlier book is optimistic and forward-looking: female farmers, factory workers, nurses, teachers, shop assistants, maids, social workers, and scientists all sing the praises of job and career, nurturing hopes of better living conditions, parental allowances, etc., now that they have shown themselves to be capable workers.
Among the themes that emerge in the works of Ulla Isaksson (1916-2000) is the demand of the gender contract that women play a submissive role in their interactions with men. One of the great post-war Swedish authors, she spent five decades probing into the price of femininity and the inner burden of guilt that women experience. The superficiality of emancipation turns her frustrated characters into perverse Madonnas. Ytterst i havet (1950; Utmost in the Sea), her first novel, is the story of Maria, a single woman who identifies with the Virgin Mary and forms an incestuous bond with her blind son. Overplaying the role of nurturer, these 'motherly' women become killers. Lydia in Klockan (1966; The Bell) mixes a fatal dose of sleeping pills with the icing on the favourite biscuits of her backward son rather than see him sent to a treatment centre. Anna, the self-controlled civil servant in Kvinnohuset (1952; House of Women), strangles her husband when he seeks consolation in her arms after being jilted by his young mistress. And Viveca, the paranoid teacher in De två saliga (1962; Eng. tr. The Blessed Ones), gases her husband to death because she is afraid he will leave her.
The young woman in Ulla Isaksson's Klänningen (1959; The Dress), the first mother-daughter novel that sides with both protagonists, is finally able to love her boyfriend when she acknowledges her maternal feelings:
"His lean, hard body, which had first seemed so alien and repulsive to her, grew as pitiable as a child's. She learned not to fear the storm that came over him when he took her in his arms, the wild, yellow gleam in his eyes, the fury of his hands and his lips, the moan in his throat, and the release when he lay back down beside her."
When she becomes pregnant, she bears the cross alone and lets him return to the freedom of bachelorhood. Femininity in Isaksson's books is destiny, and love is something a woman gives, not takes.
As women lost the ability or desire to be strong mothers, various literary devices emerged. Hvad vil du mig? (1942; What Do You Want of Me?) by Sonja Hauberg (1918-1947) suggests that women want to play the role of children in a mother-child relationship with men.
The resigned tone of Hofmo's later works, which merge the experience of sexually abused children with men's dual role as soldier and father, can convey nothing but pain over forfeited opportunities. She writes in Det er sent (1978; It's Late): "and shaken by freedom / we buy tickets / to the endless arena / of bloody warriors / and young children / impaled on the horns / of the last bull".
Children, by turns strong and weak, were confined to the burgeoning literature for young people. Few authors managed to maintain the post-war utopian concept that children represented the world's conscience in their work. Elsa Grave (1918-2003) tried to do so in her poetry collection Mödrar som vargar (1972; Mothers as Wolves) out of rage over the powerless position to which privatisation had relegated women and mothers.
The Triumph of Gender Fascism
Alva Myrdal saw that trend as a direct consequence of events in Europe, arguing in the magazine Idun in 1942 that "the Fascist temptation, to which even democracies have been exposed, has chalked up its greatest triumph when it comes to women's issues." When the utopia of motherhood that had characterised wartime literature degenerated into a sense of helplessness and a growing need among women to play the sexualised role of a 'childish' victim, that kind of victory may very well have been at hand. Hitler believed that feminism was one cause of humanity's spiritual crisis, and Nazi propaganda of the early 1930s trumpeted the message that influence of women in political and social matters was the first sign of decadence. The only function of women was to provide the "public associations of men" with new members.
Women warned of such barbarity and did all they could to prevent it from contaminating peacetime gender ideology as well. Kvinnefronten, (Women's Front) an illegal Norwegian newspaper of resistance, was reborn as Kvinnen og tiden (Women and the Times), a literary magazine, in December 1945 to create a popular movement for "peace, freedom, and progress". The magazine – which became a forum for cultural radicalism among Cora Sandel, Nini Roll Anker, Torborg Nedreaas, Inger Hagerup, and other Norwegian writers – survived until 1955, when it was outstripped by the popular women's weeklies. It stayed afloat in later years thanks only to Swedish politician Elisabeth Tamm, who saw it as the heir to Tidevarvet (The New Epoch) – (1926-1935) – which she had also subsidised.
The militant humanism that so many Nordic female authors fought for in the 1930s and 1940s never caught on with the general public. The enormously popular late 1940s Swedish radio programme "Att vara kvinna" (Being a Woman) presented the oppression of women as their own psychological burden to bear. Biologism had won the day.
The new situation required more complex thinking, and a new type of intellectual author appeared on the scene to fill the gap. Fuglefri og Fremmed (1971; Fancy-Free and Foreign), a war memoir by Elsa Gress (1919-1988), abandons polemic militancy. During a biking tour of the Continent in the late 1930s, she ran into men who would soon put on uniforms and become the tools of Nazi brutality. The encounters set the stage for her inner growth through art and literature. She glosses over nothing to show the human price of resistance: both her brother and lover suffered nervous breakdowns and committed suicide. She sees through the kind of heroic narrative that Kate Fleron used in 1945 to portray the women's struggle. The purpose of Fleron's book was to equip women with a firmer platform from which they could further emancipate themselves in peacetime. Gress is interested in neither the women's struggle nor the literary utopia of motherhood. Her paradigm is friendship regardless of sex, as symbolised by a couple who escaped capture during a Nazi raid by concentrating on a ladybird crawling across their café table. Fuglefri og Fremmed is a tribute to contemplative human beings – as women – thereby stepping out into a new era.
Translated by Ken Schubert