Hilke Thorhus is the name of the heroine in Kim Småge's (born 1945) novel Nattdykk (Night Dive) from 1983. In the dramatic opening scenes, she is in a wet suit on a wind-swept island on the Møre coast in western Norway. Two of her friends have been killed by an unknown man at a depth of twenty-one metres and her life is in danger. She and two other divers have inadvertently come across some valuable precious jewels and Hilke becomes involved in an international crime intrigue. In the first pages, she crawls along the ground to get to safety, with menstrual blood and sweat running down the inside of her wet suit. She is at once both tough and vulnerable, a woman who masters the language and skills of men, but also a woman who bleeds and is subjected to extreme pressure. With this book, Kim Småge introduced a new literary heroine in Norway: a brazen and modern feminist in the middle of a crime story. Hilke is mentally a daughter of the 1970s women's movement, but she has a radius of action that would probably have seemed unnatural just ten years earlier. With the Hilke Thorhus books, Kim Småge created a predecessor – or at least an early contribution – to what would, both nationally and internationally, explode as an independent genre in the 1980s and 90s: crime novels with female main characters. Hilke also appears in the sequel Origo (1984). She is a woman of flesh and blood and emotions, daring and resourceful, but also filled with a longing for love. The crime mysteries get solved while the mysteries of love are more difficult to solve appears to be the conclusion for now. With this award-winning book, Kim Småge truly made a name for herself in the traditionally male-dominated field of Norwegian crime literature. Admittedly, the genre had previously hosted respected women authors such as Gerd Nyquist (1913-1984); however, from the 1970s onward, and as the crime novel became more and more accepted in Norway as "real" literature, a large number of very genre-conscious male authors had set the trend.
Kim Småge, as well as women like Anne Holt (born 1958) and Kjersti Scheen (born 1943) who followed in her footsteps, have shown that the woman's point of view can both enrich and rejuvenate crime intrigue.
The lesbian police officer Hanne Wilhelmsen is the main character in Anne Holt's first two novels, Blind gudinne (1993; Blind Goddess) and Salige er de som tørster (1994; Blessed Are Those Who Thirst), which paint a violent picture of Oslo. Holt writes with authority in the Scandinavian tradition of Sjöwall and Wahlöö.
Kjersti Scheens, with her book Teppefall (1994; The Final Curtain), makes a contribution to the private detective tradition. Her somewhat unorthodox heroine is Margaret Moss, a single mother with a green-haired teenage daughter.
The technique from her first works – that of making Hilke's consciousness one of the central aspects of the novel – creates a high degree of freedom of movement for action and momentum. On the one hand, stories of crime and suspense unfold using relatively traditional elements – diamond smuggling, NATO facilities, and Soviet nuclear submarines. On the other hand, these stories are registered by and commented on by a lively, dedicated, and dynamic woman. Furthermore, Hilke – as well as her author – are geographically on home ground, both on land and at sea, in that both books are set in the diver Kim Småge's native region, and concerns about protecting people and landscapes in these areas are closely associated with the main plots.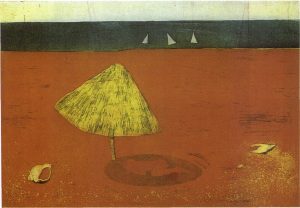 In the novel Sub Rosa (1993), Kim Småge uses a character from the title story of her collection of short stories Kvinnens lange arm (1992; Long Arm of the Woman), Police Inspector Annekin Halvorsen. With the tough-skinned and socially involved detective, Kim Småge goes a step further in her efforts to give the crime heroine a central place in contemporary Norwegian literature. Annekin is urban, professional, a potential serial heroine, a classic police inspector in a skirt. The novel's mystery is associated with a work of modern art comprised of layer upon layer of old newspapers and documents. The main character's intuition and her ability to draw associations make solving the mystery a conflicting process in which the secrets of the past are revealed layer by layer.
Kim Småge has a sharp eye for the exclusion of women from social contexts and for other expressions of social injustice. This is particularly pronounced in her two novels that least resemble the traditional crime story: Kainan (1986) and Lex Love (1991). Kainan presents the close, almost identical twin-like relationship between a brother and a sister, and is set in the freemason environment of Oslo on the fringe of the law, while Lex Love incorporates the historical injustice associated with the circumstance that Norwegian men abroad during World War II could legally remarry abroad without notifying their Norwegian wives: the so-called "bigamy" law. The short stories from 1992 tend towards the fantastic and grotesque, sometimes in the style of Fay Weldon, and demonstrate the breadth of a body of work full of humour, anger, and social involvement.
Janneken Øverland
Apocalypses
In Elin Brodin's (born 1963) novel Bedøvelse (1991; Sedation), we meet two people each suffering from their own "civilisation disease": cancer and drug addiction. The little girl Synne develops blood cancer and bravely but unsuccessfully undergoes chemotherapy and radiation treatments. The teenage boy Thomas, who comes from a home under the influence of a satanic sect, lives on the streets as a drug addict. Between the two is the main character Vegard Hansen, Synne's father. Synne's parents are divorced but forced to co-operate during their daughter's extended illness. Her mother is the efficient type who takes a rational approach to the hospital's painful treatment regimes. The father feels increasingly alienated and finally decides to "kidnap" his daughter and let her die in his arms. As a parallel to the story of sickness, we have the story of Thomas fighting for survival in the narcotic hell he finds himself in. Vegard reaches out to him, offers help, and the boy comes to trust him and manages to get through his crisis.
The novel is a portrait of a society that does not do much to prevent "social" diseases, while in its treatment of "clinical" diseases it transforms the person into a biological case that is subjected to uncaring and instrumental treatment.
"But the days of social realism were not over," wrote a reviewer of the award-winning Bedøvelse. This is a suitable description of Elin Brodin's work for two reasons: her realistic, illusionary writing style and her socially critical involvement. But that is the extent of it: whereas the social realist novels of the 1970s found their material in contemporary Norwegian society and in recent history, presenting it in a certain ideological model of explanation, Brodin's is inspired by our entire civilisation, including myths about our past and visions of our future, and her criticism is fundamentally humanist.
Since her debut in 1983, Elin Brodin has been a prolific prose writer, writing not only novels but also books for children and young adults, as well as debate books. Her socially critical involvement spans from criticism of conditions for children and young people, through treatment of drug addiction and disease, to criticism of the use of animals in medical and other research. Thematically, she focuses on the problem of evil in a culture without norms and in which violence and destruction of nature prevail. Her project is to crush idealism, bring unease to the surface, and reveal pure evil as a real and present threat to our future.
The novel Maskedans (1987; Mask Dance) is also about parents fighting for the lives of their children. The novel takes the reader down to an underground world ruled by brutality and destruction. A world where "normal" values do not have a chance. Here we meet many types of torture, sadism, mutilated children, cruelty, and death. The main character, Christa, attempts to fight evil with violence; but vengeance only increases her sense of guilt and suffering, and from this destructive point of departure, the double role of victim and executioner leads her to a breakdown and to madness.
"I am an advocate of animals in this book", writes Elin Brodin on the flap text of the book Kan du ikke tale? Menneskeverd og dyreverd (1991; Can't you speak? Human Decency and Animal Welfare). It is a debate book about animal cruelty in agriculture, hunting, and research.
In the novel Ulvinnen (The She-Wolf) from 1986, she gets as close to an animal's life as a human can get. It is about a two-year-old English girl who goes missing from her parents in the jungle in India and is raised by a pack of wolves. At the age of sixteen, she is caught by humans and brought to a laboratory where doctors and psychologists take care of her. The transition to a human life involves mastering language and the inherently human talents. It is a painful and difficult process that ultimately succeeds. The first half of the book is an intense narrative about Julie's life as a wolf. The second half consists of her reflections on that life ten years after being found.
Ulvinnen depicts the life of the wolf pack, the animals' rules and norms, their hunt for food, and how they care for each other. The animals are driven by a survival ethic, the law of the predator, which consists of killing for sustenance. There is no such thing as betrayal or immorality.
Elin Brodin's cultural criticism is wide ranging in the novel Askefolket (1988; The Ash People), which is a critical vision of the future, an apocalypse, and a prophecy of the end of the world. The storyline is set in a world in the aftermath of a nuclear war. The survivors live in The Big City where they have developed a science fiction-like society in which power lies in the hands of those who control technology. Out in the fields where the nuclear war took place, everything is barren. No one believes there is life out there until the blind girl Adelheid, who possesses "supernatural" powers, tells them what she "sees" is happening out in the ash fields. An expedition is planned, and includes the main character, the parapsychologist Hilary Milholland, who is given responsibility for Adelheid.
The expedition finds life, the Ash People, a community of infirm giants. They are the result of mutations after the nuclear war and the subsequent ecological disaster. The giants have serious problems with procreation, and they suffer from physical weaknesses and disease. The novel ends with the Ash People being wiped out by a plague epidemic while The Big City experiences new war disasters.
Unni Langås
Placing Suffering
The works of Mari Osmundsen (pseudonym) (born 1951) in many ways resemble those of Elin Brodin. As politically conscious cultural critics, they are both concerned with issues such as human suffering and guilt in our modern, alienating society, and they are both solidly planted in the literary tradition of social realism.
But whereas Elin Brodin writes about disasters, Mari Osmundsen appears to be more concerned with communicating a belief that even the most insignificant person can mobilise an unfathomable strength and love. Even though everything goes wrong, even though violence and cynicism can seem to be the only possible path in an apparently dehumanised civilisation, even though the grotesque and destructive in the Western frame of mind and way of life seems to be the individual's only possible protection in a world where cynicism and monetary power have displaced more universal human values, she does not give in to hopelessness entirely.
In Absolvo te (1992), Katla and her boyfriend plan to steal an old man's millions in pools winnings. They want to use the money to ease the suffering of a war-ravaged and starving world. But the burglary leads to murder. The novel is based on letters written by the jailed Katla to an unnamed Catholic Father. Her deep need to justify her actions – which the reader has no problems understanding and, for the most part, sympathising with – gradually and rather reluctantly leads to a crucial realisation: "But that wasn't how I wanted to try to relieve the suffering! I have tried to use uncle's money to soothe my conscience, it's really far out." Absolvo te ends with Katla experiencing the freedom that is necessary to be able to "travel" into the future with a degree of hope.
Faith in the actions of the weak has characterised Mari Osmundsen's work from the beginning. Her debut novel Vi klarer det! (1978; We Can Do It) and her next book På vei mot himmelen (1979; On the Way to Heaven) focus on the battle of working class women for their economic and human rights. The social realism and the (women's) political message are typical of the 1970s. The same applies to the collection of short stories Wow (1982), but here we find a precursor for what has become something of a hallmark for Mari Osmundsen: she experiments with the narrative perspective of the text in such a way that reality, fantasy, and "madness" flow together. But it is not until the novel Gode gjerninger (1984; Good Deeds) that she focuses more seriously on her writing style. It couples an impressively smooth narrative perspective with the use of mystical elements. It can seem as though the one main character is so insane that she has lost all sense of reality. However, this "madness" is incorporated into the narrative itself. Instead of viewing it from the outside, the reader is guided into a consciousness-raising space where nothing is alien to humankind: where does reality end? Not at the fantasies and myths that are the positive and constantly regenerating powers of mankind.
Mari Osmundsen's books have for the most part received very positive reviews. Wow and Gode gjerninger (Good Deeds), in particular, generated excitement. For instance, the Norwegian women's studies researcher Toril Moi declared in the Norwegian women's journal Kjerring-Råd that Gode gjerninger "brilliantly makes a break from both the confessional genre and social realism as patterns for women's writing", and the author's feminine language, in particular, appears to fascinate many – also male critics.
In the novel Familien (1985; Family), it is the ghosts that roam freely, while in the collection of fables Drageegget (1986; The Dragon Egg) Mari Osmundsen freely uses elements from myths, old fairy tales, and Eastern mysticism. Realism is abandoned completely. Characters can disappear and reappear in the narrative at any time; the perspective is constantly changing. The book features a lot of textual play and suspense, but with a serious intention. Mankind always carries the knowledge that the worst can happen, and the reader fears that it will.
The novel Arv (1988; Inheritance), on the other hand, stays within the boundaries of a recognisable reality. It is about four siblings who are brought together by the death of their mother. The first-person narrator remains outside the narrative, but constantly attempts to interfere. The narrator almost has to fight to remain in control: "I never thought Kyrre would react like that. […] how would this book be if people started to do other things than what I had planned for them?" An almost biting recognisability is found in Gutten som slo tida ihjel (1990; The Boy Who Killed Time). Mari Osmundsen addressed xenophobia and racism in Norway in her early work, but in this novel she reveals modern Norway. The immigrant woman Pramsi and the kiosk worker Dorrie are both searching for a new standpoint, a new identity. The criticism of Norwegian society's treatment of its most unfortunate is revealing and enraging. The ending's attempt to find, in spite of everything, bright spots in the squalor draws on the traditions of so-called primitive people in its attempts to clear a path through the cold chaos of civilisation. The Native American chief Black Elk is quoted: "It may be that some little root of the sacred tree still lives. Nourish it then, that it may leaf and bloom and fill with singing birds."
Mari Osmundsen could hardly say it more clearly: our Western culture needs nourishment from the outside in order to survive. We need the madness and the myths, we need immigration because we need people, humanity. We must place suffering where it actually belongs. Communicating such clear political messages through a linguistically conscious and boundary-transcending writing style is an art. Our identity lies in our language, and there are always new aspects to be explored.
Mari Osmundsen has been a productive and exciting author who is often in the public eye, although without revealing her true identity.
Rakel Christina Granaas
Translated by Jenifer Lloyd