"At least you can now comfort yourself in the knowledge that I would rather be where I am than at home, and that it is best for me and for those I am fond of. Over here, if the world no longer suits me I can leave it without fuss. Back home I would have been an everlasting seen and heard Memento Mori. I would have been and would have felt lonely, despite all your kindness and love […] At all events, back home I really could await no other lot in life than that of, for example, the aunts – and I am not that self-effacing. I would rather try to get more out of life."
The year is 1903, the place New Zealand, the words are those of Ingeborg Stuckenberg (1866-1904) written to her sister, Agnes Schwartz, in Copenhagen. A brief stocktaking after a swift exit. The female muse had not only left her husband, children, family, and friends in the arts world – she had emigrated.
This ending to a marriage could not have been foreseen when Ingeborg Pamperin left Vilhelm og Charlotte Kleins Tegneskole for Kvinder, was sent to the country for a year by her family in order to learn housekeeping and then, in 1887, at the age of twenty-one and now wife of the writer Viggo Stuckenberg, became part of a young, radical, and impoverished artists' milieu. Her prosperous merchant father provided suitable housing for the couple in the newly-built Kartoffelrækkerne (literally, 'the potato rows', a residential area) alongside the Copenhagen city lakes, for the rest they had to manage on Stuckenberg's income from his teaching job at Slomanns Latin–og Realskole.
The Stuckenberg home, which was always in a shaky financial situation, became a meeting place for young radical painters, writers, and critics, and Ingeborg Stuckenberg was its uncompromising critical and practical focal point.
"She was understanding like a sister, painstaking like a mother. She was our friend, who wrote short stories just like we did, and read aloud to us from Sketches from a Hunter's Album (Turgenev), which always lay open on her worktable. She was a young woman who played with us – made us unhappy with a frosty look and happy with a word of intimacy, a hand on the arm, or one of her luminous smiles. She was the woman friend we felt at home with, and to whom we could talk about everything – she was the muse to whom we wrote verse for a kiss on her cheek. She was the sutleress of our little Progressive Army – she was the Valkyrie at the forefront in battle, and she was the priestess for the sacred fire in our souls."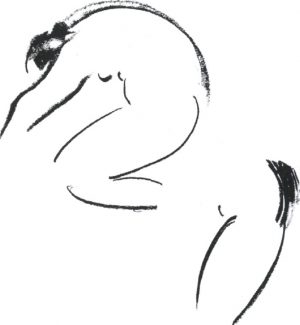 There is an intriguing unified whole about family friend and writer Johannes Jørgensen's description of Ingeborg Stuckenberg's position as the nerve centre of the Stuckenberg home. A cohesive discharge of talents – maternal and erotic, intellectual and creative, practical, instructive, and motivating. But the factor that could give actual power to this coherent female faculty is missing: equal rights and authority over one's own life. The high-explosive force of this small factor puts its stamp on literature, people, and artists' milieus in the Nordic region around the turn of the nineteenth to twentieth century. With freedom, with independence, the muse turns into potential friend, into partner, into rival, and the impact of this makes its transforming way into the psychology of love life, into the management of marriage, into the significance of sexuality.
Women of the Modern Breakthrough walked into the labyrinth of the body to encounter the double perception of sexual instinct and eroticism, whereas in many ways women at the turn of the century reach further back than the Breakthrough to a Romantic – sometimes religious – idealism, which in a reforming, proselytising movement is turned outwards in a critique of the circumstances that render female desire homeless and outlawed. Radical artists' circles, double-standard church ministers, decadent bourgeoisie, profligate men, and – not least – women themselves are struck by the new thunderbolts.
Ingeborg Stuckenberg's lot in life is not representative of these movements. It should rather be seen as the zero point from which they become necessary and comprehensible. In the spring of 1903, she left everything behind, went to Bremen, and boarded an emigrant ship bound for New Zealand. The following year, on 12 August 1904, she committed suicide, thirty-eight years old.
In 1904, when her marriage had been dissolved and Ingeborg Stuckenberg had been lost to the world, Sophus Claussen wrote one of the most beautiful portrait poems in the Danish canon:
To the soul-song of your eyes
We listened plaintively in the dusk.
Your silent mouth so darkly bold
in dream pact with your sombre gaze
[…]
O how a woman of courageous mould
– though consumed by pain and insult–
can build her castles of sun and moon
and fashion stars of paper golden!
[…]
In the soul-song of your eyes
sounds struggle and hope, whirlwinds and phantoms
As ghosts from a thousand ages and tomes
Thou could'st not endure the passing of life.
No sister of thine, twenty summers old
with lips reddened by kisses and lies
owns the calm in thy disquieted eyes
the radiance of ineffable spring.
[…]
Seemingly destined on this black earth
somewhere to gain the truth we sought
be gladly released from the struggle of life
a fantastical flower and blossom all gold.
[…]
Once faded the traces of thy hand and foot
we witnessed the pride which never forsook thee.
Despairingly little remains of so much
naught but soul-song.
("Ingeborg Stuckenberg")
Her marriage with Viggo Stuckenberg is well-documented as a tale of passion. It provided a continuous source of material for Viggo Stuckenberg's oeuvre – part of which was actually written by Ingeborg Stuckenberg, albeit published in his name. Their marriage provided characters for works by Sophus Claussen, Johannes Jørgensen, and Agnes Henningsen's later husband Simon Koch, and it is a significant factor in Gyrithe Lemche's auto-fiction Tempeltjenere (1926-28; The Temple Servants). The interpretations vary, but the basic story is about the rise and fall of a mutual passion. About the young couple, bohemian idealists, who wanted to live out the moral of freedom and truth, and let their marriage endure "for as long as the feeling that bound them together lasted and, in the opinion of both, alone entitled man and woman to married life". The feelings held, but the forms in which they were lived out became painful and full of conflict. Truth became relative, openness heavy to bear once they had children, new love affairs encroached, and increasingly dire financial straits made for strife and bitterness. They could not live as they wished, nor could they stop. Thus has their story been read. A reading that does justice to both parties, explaining the necessity of new departures, but not the necessity of emigration. The missing piece in the puzzle, the one that explains this latter need, is provided by Ingeborg Stuckenberg herself in her letters from New Zealand to her sister Agnes in Copenhagen:
"You can think of me like a soldier at war; I am not feeling good, far from it unfortunately – but yet I am fighting for something and hope to win something. Human beings must have a future to look forward to."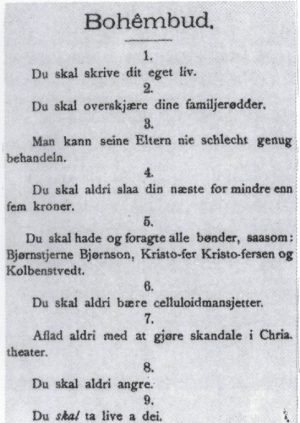 To be muse and sutleress for a company of fiery poetic souls is an elevation and a grind. But given that the muse's power and visions must always be passed on through others, who mediate its belief in freedom and adapt its demand for truth, then this elevation becomes destructive, and the grind erodes away identity. Ingeborg Stuckenberg saw Johannes Jørgensen's, Helge Rode's, and Viggo Stuckenberg's renouncement of the Modern Breakthrough as a betrayal of everything they had believed in and fought for. She had inspired, critiqued, composed music for her friends' poems, and written texts for her husband's literary output. And yet she had no opportunity for countering their deceit. No, she would not be muse, not priestess, not Valkyrie for others – she would be her own soldier.
She saw no prospect of being this in turn-of-the-century Denmark. The married woman still had no authority over her own affairs and had no claim to the children in a divorce situation; with the stain of divorce on her reputation, she could look forward to the label of 'hussy' and a lot in life similar to that of "the aunts". Unqualified as she was, she could either live on her parents' charity or make ends meet giving private music lessons or working as a housekeeper. "Had I stayed at home, you could have justifiably demoted me to a poor creature," she writes to Agnes.
In New Zealand she sought a place where she could, in peace, lay a foundation for her life, and whence she could return free and independent. Her brother, Aage Pamperin, had emigrated a few years earlier. "Aage's letters home painted far too bright a picture," she realised when she reached her destination, "I assume this was in order to comfort mother and because he had presumed that no one would ever visit him and see how things really were." She chose New Zealand because of his descriptions of life there, and probably also because of the happily favourable myths about the country that were widespread in Europe at the time.
Ingeborg Stuckenberg wrote her Korte Breve fra en lang Reise (published posthumously in 1986; Short Letters of a Long Voyage) during the voyage to and after her arrival in New Zealand; had they been published, as had been her intention, many people could have been spared the trip – for the purpose of her taut and perceptive account was to warn the naive prospective emigrants and prevent them from embarking on the calamity she was having to confront.
More than twenty years later, Thit Jensen embarked on the same journey as Ingeborg Stuckenberg had undertaken – first to Australia and then on to New Zealand. Her purpose was not that of emigration. "Ever since my teenage years it had been my dream to see New Zealand," she writes in her memoirs, Hvorfra? Hvorhen?, (1950; Where From? Where To?).
"In some periodical or other I had read that the New Zealand women's movement was the most advanced in the world, and I wanted to study it, come home and write about it for the paper that had sent me out […] New Zealand reminded me of Hobro [mid-sized Danish provincial town], the women's movement reminded me of Hobro, too, it had apparently not budged whatsoever since I had read about it many years ago. At small get-togethers lace would be crotched. Coffee would be drunk and a minister would read aloud from the New or the Old Testament. That was not what I had undertaken the long journey to participate in."
"The country with the blue mountains and the blue sky, – the realm flowing with milk and honey: where land is cheap and work is well rewarded! Those are the thoughts that inspire the unfortunate wretch who gathers together the last bit of money and the last faint hope in order to make a last gamble for life and happiness […] Yes, – the mountains are blue and the sky too, but the sun shines on a thousand silent disappointed hopes. Homeless and estranged they die, those who were not strong enough for the dreadful work demanded here in order to exist […] All those who imagine New Zealand to be the promised land should see the madhouses and read the death rolls in the newspapers here. It is covered up as far as possible, and suicides are all included under insanity: but many are the letters left by those who took their own lives, proving that it was not insanity but distress and disappointment, grief and misery, that drove them to it."
Ingeborg Stuckenberg's own letters are just such proof. But the account of her travels also shows that in her a cinematically perceiving, artistically composing, and socially engaged stylist was lost. With a painful, uncompromising gaze she castigates her own naivety.
Her position as foreign, poor, and female makes for fresh perception of what she had left behind and undermines the many turn-of-the-century songs about the cultural abundance of rough emigrant life: "Civilisation is one of the things you first fully appreciate once you have been excluded from it. You write about cotton dresses and a farm. God spare you from ever having to live it. It can all sound very fine that you want to make it homely for the men when they come in. There is just that little snag that the men mostly arrive home so exhausted that they can hardly eat, let alone speak or notice if the tablecloth is clean and the table nicely laid. They give you a loving nod and sink wearily into the chair and stare straight ahead with eyes so tired, so despondent that your heart winces and the old wives' tales about the primitive life seem nonsensical […] The opportunities are found in the civilised world – for the person who has a will and a way, in the midst of the throng and the strife."
The last words sum up Ingeborg Stuckenberg's deposition on emigration.
Translated by Gaye Kynoch