The few Icelandic women writers to appear around the turn of the twentieth century travel from the countryside to Reykjavík. But it is not contemporary Iceland that frames, in their literary works, their depiction of Icelandic women's struggles of the modern age. They choose the past as a time frame, the journey back to the patriarchal farming community from which the contemporary identity conflicts and attempted exoduses spring.
As the author of a single work, María Jóhannsdóttir (1886-1924) – like her contemporary Henríetta frá Flatey (1886-1955) – was forgotten after her time, and has only in the last few years been rediscovered as part of the picture we never saw. María Jóhannsdóttir was poor and could not hope for economic support from her family. She nevertheless took the chance. At the age of seventeen, she arrived in turn-of-the-century Reykjavík, a small but growing town with a population of 6,700, which had a great lack of housing and high unemployment.
Henríetta frá Flatey (the pseudonym of Jensína Henríetta Hermannsdóttir, 1886-1955) opens her novel Huldir harmar (Hidden Sorrows), 1929, as follows:
"I am amazed. Here I sit, a sixty-year-old maid, without friends or family, alone, like a withered leaf on a dried-up tree, and am about to write the history of me and my people […]".
After a few sarcastic comments on men and marriage, this "ageing" first-person-narrator tells, in a concise and intense manner, of her mother's and grandmother's lot in life.
After three years' struggle and drudgery as, among other things, a servant girl and waitress, María Jóhannsdóttir had managed to complete the fourth year of the Icelandic upper-secondary school system, but she was then forced to give up. In contrast to the other two, she became a fiery activist for women's rights and wrote many political articles on the subject. However, the issue of women's rights cannot be found in her melodramatic novel Systurnar í Grænadal (The Sisters from Green Valley) from 1908.
The Impossible Love
When Kristín Sigfúsdóttir (1876-1953) got married in 1901, she vowed that she would do all she could to become a hard-working and practical farmer's wife; she would not attempt to write any more. She had, at this time, written quite a bit for herself and for others, including short plays, which she and her friends performed for the village people. She burned the scripts after the performances.
Kristín Sigfúsdóttir had six children over the course of fourteen years, and she kept to her writing-ban – for some time. But in 1920, despite her own abjurations, she wrote the play Tengdamamma (Mother-in-Law) for the village's amateur theatre. The production was an instant success: it was performed in other places, and was published in 1923. During the next eight years, she wrote two large novels, one collection of short stories, and two more plays.
The novel Gestir (1925; The Guests) concerns the thirty-eight-year-old Þóra's struggle to convince her husband that 'true love' exists. However, it is not least through her own sermons on chastity that great suffering and a desperate search for a liberated sexuality is revealed, the possibility for a loving relationship between a man and a woman which could escape the degrading interpretations of society.
The novel Gestir (The Guests) depicts women's drudgery on the old farms in a bodily, highly descriptive manner, which makes it easier for the modern reader to get a feel for women's work of the past. Thus, the main character Þóra is engaged in making slátur (black pudding) when her brother brings a stranger home to the farm. She has been slaving over the dirty work all day, her clothes and face are spattered with soot, and all the lines in her face are emphasised, as though they had been drawn with a black pencil, we are told. She is presented to the 'guest' in this state. Her outraged femininity and feeling of shame about the first impression Grímur gets of her surface now and then throughout the whole novel.
Gömul saga (An Old Tale) was published in two volumes in 1927 and 1928, and is a broad-stroke, realistic description of a farming community. Here, Kristín Sigfúsdóttir pushes her analysis of female and male sexuality to its limits. In Gestir, the female main character tries to sublimate her sexual needs through a project of self-sacrifice, while in Gömul saga the woman tries to unite her realistic and romantic projects, which results in her being split between them and ending up in something like a state of psychosis. Because even though the women put their lives on the line, it is not in their power to unite the opposites which, according to Kristín Sigfúsdóttir's disillusioned analysis, the male culture has set up as a framework to love.
It is also possible to read Kristín Sigfúsdóttir's novels as participating in a dialogue with "the Icelandic men of the Modern Breakthrough" (Gestur Pálsson, Þorgils gjallandi etc.), who had introduced Georg Brandes's "emancipated woman" to Icelandic literature just before and around the turn of the twentieth-century. Kristín Sigfúsdóttir gives considerable nuance to this "emancipated woman's" emotional life and social possibilities.
The Dreams Must be Sacrificed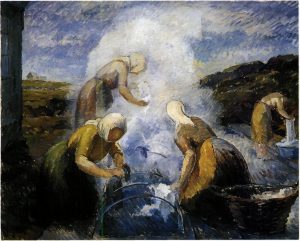 The conflicts between duty and freedom and the ambivalence concerning women's new liberation are clearly expressed in the work of Elínborg Lárusdóttir (1891-1976). Like Kristín Sigfúsdóttir, she made her debut late in life. Her first book was the contemporary novel Anna frá Heiðarkoti (Anna of Heidarkot), 1936. The book describes a culture clash that occurs when a smallholder family sells everything it owns and moves to town in the hope of a better life. But the novel contains no nostalgia or longing for the old community. The young, beautiful daughter Anna, who falls victim to the town, believes that her human worth and her market value are one and the same thing. She has never experienced anything else. The novel's conflicts emerge from the small, poor rural family's powerlessness in the face of a new capitalist order, but in both the new and the old order, young, beautiful women are treated first and foremost as objects.
In the next three novels, Förumenn I-III (The Vagabonds I-III), 1939-1940, Elínborg Lárusdóttir continues to write about the conflicts that emerge from the meeting of two cultures. This time she looks to the past. Förumenn is a historical novel and takes place in the mid-nineteenth century, when the Icelandic patriarchy began to weaken. The novel describes the old farming community from two radically different perspectives; the point of view is, on the one hand, that of the town's wealthiest family, the Efri-Ás family, and on the other, that of the vagabonds, that is, the social outcasts, the mentally ill, and the artists. In the meeting of these two points of view, a double image develops, an irony that may be said to characterise the village literature of many of the female writers, in contrast to the male writers, who were often either critical or nostalgic.
The fear of love and sexuality can, in the end, be read as a fear of subjectivity, of separation, and of death. The desire underlying the text is a desire to enter into and become part of a unity, the women of the family, the fore-mothers, a large and lasting unity, larger and more lasting than an individual woman's life.
Women's moral responsibility for men is also a central concern in Guðrún Lárusdóttir's (1880-1938) novels. Here, strong, religious women save weak men from their addiction to atheism, alcohol, and eroticism.
Dagný Kristjánsdóttir
I Cannot Slay the Longing
'Special', 'modern', and 'independent' are words that can be applied to the poet Ólöf Sigurðardóttir (1857-1933). Together with her husband, the carpenter Halldór Guðmundsson, she moved from Reykjavík to the farm Hlaðir in the north of the country, and incorporated the name of the farm into her artist's name: Ólöf Sigurðardóttir á Hlöðum. She and her husband divided their little house into two parts. They each took care of their own housekeeping, their own part of the farming work, and their own finances.
Ólöf á Hlöðum was practically possessed by longing for freedom and independence, and this can be felt in her whole oeuvre, in both her poems and her prose works. Furthermore, she did not shrink from a direct and critical portrayal of her family. In an autobiographical essay, "Bernskuheimili mitt" (My Childhood Home), 1906, she describes her poverty-stricken upbringing in an unsentimental, documentary-like, and analytical manner, which is unique in the biographical literature of Iceland.
Ólöf á Hlöðum, who had fifteen siblings, was nineteen years old when she left home and moved to Reykjavík, where, in December 1881, she qualified as a midwife. She continued her studies for one year at Rigshospitalet – Copenhagen University Hospital. Back in Reykjavík, she worked as a midwife for five years – until the spring of 1888, when she moved with her husband Halldór to the north of the country. Her first poetry collection, Nokkur smákvæði (A few short poems), was published in the same year. In 1913, her second poetry collection, which had the same title, was published, and both books were well received by the male critics.
It is clear, in her poems, that Ólöf á Hlöðum strives for the recognition of the literary Parnassus, but that she at the same time fights to find an individual female voice in opposition to, and revolt against, that Parnassus. 'Poet' and 'man' are often synonymous in her universe. She describes womanliness as limiting, restrictive, a cross she must bear. In recurrent images, she portrays herself as small, incomplete, uninformed, and incompetent. But she is never without longing; a longing to use her creativity and a longing to write poetry, which will not be suppressed: "Ég líflátið get ekki þrána" (I cannot slay the longing). Her efforts to rise in the literary tradition may be seen, for example, in the poem 'Bernskan' (Childhood), 1888, a lovely poem in which the disillusioned speaker longs for the paradise of childhood. The poem is formally flawless, sonorous and passionate, and is the diametric opposite to Ólöf á Hlöðum's autobiographical description of her childhood. It is the male literary tradition and its idealised mother-image that she reproduces in this poem.
Many of Ólöf á Hlöðum's poems deal with the longing for lost love, but at times the theme concerns the longing for something ungraspable and undefined. Her talent shines most brightly in her love poems, precisely in the paradox that love cannot be described in words:
The heaviest sorrow and the deepest happiness
soar silently over our earth.
One does not describe such things through language,
but tears take the place of words.
(Nokkur smákvæði, 1888).
In other poems, she tries to escape the tradition and the well-known symbolisation in order to find her own, personal voice. But her difficulties are obvious. When she wishes to express her own experiences and emotions, her self-assured, formal grasp of the language begins to waver. The poems become strained, and the metaphors reveal pain, aggression, and a violent desire, which was not at the time felt to be appropriate for a woman.
A review of Nokkur smákvæði was published in the journal Fjallkonan on 8 August 1888, and the reviewer claims that the book is the first collection of poems by an Icelandic woman, since, as he states, Júliana Jónsdóttir's Stúlka (Girl), 1876, "is clay and not poetry". But even if we do not count Stúlka, Nokkur ljóðmæli by Guðbjörg Árnadóttir (1826-1913) was published in 1879, and Ljóðmæli by Ágústína Eyjúlfsdóttir (1816-1872) in 1883.
Ólöf á Hlöðum was the first poet to rediscover the old, popular folk rhymes, and other women poets followed in her wake: Theodora Thoroddsen (1863-1954) and the sisters Herdís Andrésdóttir (1858-1939) and Ólína Andrésdóttir (1858-1935) also made use of this type of poetry. In Hulda's (1881-1946) poetic rhymes, maximum use was made of the genre's potential, and it was developed to perfection.
The old Icelandic nursery rhymes were, in the main, composed by women, and were often sung for children and when carrying out household chores. The issues they dealt with came from the world of women and from old fairy tales. The so-called 'Rímur' (rhymes or ballads), on the other hand, represent a male poetry tradition, which treats of heroes and battles, and which was sung while working and was danced to on festive occasions.
Ólöf á Hlöðum also wrote short stories, which appeared in various journals and were later published together with a selection of her poems in Ritsafn (Collected Works), 1945.
There is a clear thematic thread running through her entire oeuvre concerning her fear of losing the identity and freedom she had fought so hard for: the fear of not being able to express her strong emotions, her desire, and her aesthetic needs.
Soffía Auður Birgisdóttir
Translated by Brynhildur Boyce