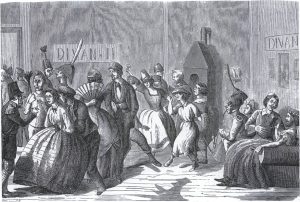 The day after her wedding on 14 September 1795, the twenty-one-year-old Copenhagener Sophie Thalbitzer (1774-1851) moved into her British mother-in-law's home in Elsinore. Leaving her dynamic and well-to-do childhood home in the capital city was a turning point in Sophie Thalbitzer's life. Not only was it a farewell to her parents, girlfriends, and all her father's fascinating guests, it was also a farewell to an era: the cheerful 1790s during which Sophie's father, the wealthy merchant Johann Ludvig Zinn, had done splendid business with the envoys sent to Copenhagen by a young French republic. In her memoirs, Grandmamas Bekiendelser (Grandmama's Confessions), written in 1807, Sophie Thalbitzer tells about her happy and sparkling youth, the parties, courtships, and tender friendships. "O happy days from my fifteenth to my nineteenth year," she exclaims, recalling balls and evenings of play-acting and music-making when family, friends, and business associates arranged entertainment and parties. The model for Sophie Thalbitzer's memoirs was Rousseau's Confessions (1782-89), and like her role model she is interested in her own feelings and enthusiasms; we read her frequently self-critical recollections of the shifting crushes of her youth.
In January 1794 the French envoys issued an invitation to a large ball to mark the Republican victory over the British and Spanish forces at the Siege of Toulon. Among the ladies of Copenhagen, the exciting rumour was that Sophie Zinn was going to perform as the Goddess of Reason: "[…] it had been said that I was going to represent the 'Goddess of Reason' at the French ball, that I would be led in triumph around the hall and be wreathed in garlands, and for the whole glorious affair I would be wearing a fine gauze dress on my bare body." Sophie is annoyed at the false rumours, but is nonetheless amused by the many ladies who run errands to her dressmaker hoping to catch a glimpse of the audacious costume. At the request of the British, the Danish government prohibited the French ball. Sophie's father held a "Toulon est repris" party in his home instead.
Her very first crush was on the man who would later become her husband, Consul Henry Thalbitzer. But he does not return her keen interest: "Like a veritable heroine in a novel, I steadfastly endured this coldness for a year. I poured out my laments on paper, in verse to the moon […]." When her father reports that Thalbitzer will not be able to afford marriage for many years to come, she drops him completely; her affection is now thrown upon a fascinating Portuguese merchant, a man barely distinguishable from a fictional hero: "When I played the piano, […] his eyes were filled with tears when I sang something moving. In short: in him I saw the hero from the novel, the man for whom I had been seeking in vain for 2 years." Later, the eloquent English captain and merchant John Christmas turns up, bringing with him new English novels by Miss Frances Burney; now the English language and literature and Christmas's open adoration are everything to Sophie. "My thoughts were already right in the middle of a novel," she writes when he declares his unhappiness that she seems – acting on her father's instructions – to have become a stranger to him. A string of suitors with fortunes large and not so large, with feelings and artistic talents, flock round Sophie Zinn, and when she cannot get her father's consent to marry the talented musician, French merchant Auguste Garonne, she chooses Consul Thalbitzer. Of all her admirers he is the one for whom she has most respect: "I held him in higher esteem than any of the young men I knew […] our entire family liked him."
Sophie Thalbitzer describes her marriage as a happy one, even though the home she lived in with her mother-in-law and her mother-in-law's mother – the taciturn and formidable Grandmama – was certainly not dynamic. Those happy days when the rooms in agent Zinn's home resounded with La Marseillaise were over:
"We rarely went out and even more rarely had guests. The families we associated with were English and, although they treated me with great courtesy, their way of life and the tone of their gatherings was so different to that with which I was accustomed in Copenhagen that I found no great enjoyment in their company. Danish, French, or German literature were never spoken of. They hated, in plain English, everything French; and English newspapers and English politics were the only things found commendable and in favour."
"Friend! do tell me what are your thoughts?
I have thought you a friend of freedom,
And now you put chains upon yourself;
For Hymen is a mighty despot.
Be free! be free! thus Cupid you so kindly appealed,
Stay mine! stay mine! thus Hymen with royal voice enjoined,
Cupid gave you counsel, but Hymen commanded,
The counsel you rejected, the command obeyed."
Thus wrote P. A. Heiberg in a wedding song to Sophie Thalbitzer. When writing her story of everyday life To Tidsaldre (1845; Two Eras), P. A. Heiberg's then wife, Thomasine Gyllembourg, found inspiration in Sophie's young days spent in the company of the French envoys.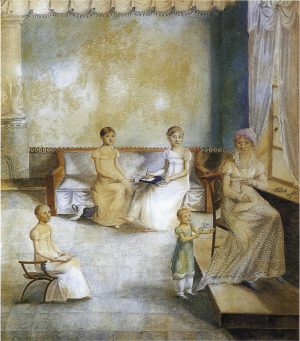 The quiet life of a nineteenth-century woman started for Sophie Thalbitzer in the dull home in Elsinore. While her husband was travelling on business, she was left to Grandmama's whims and dislike of amusements. The British bombardment of Copenhagen in 1807 put an end to the 'florissante' period in the capital (1778-1807, a period of intense growth in trade in Copenhagen), and Sophie Thalbitzer's 'confessions' end with a series of dense and detailed accounts of the city's burning ruins, the dead, the homeless, and the fleeing.
"We heard screams from the injured; the water carts drove back and forth; the watchmen shouted fire incessantly. It was a shocking night! At 5 o'clock in the morning the flames slackened, and the bombs fell less frequently."
Grandmamas Bekiendelser (1807; Grandmama's Confessions)
The Napoleonic wars had not only devastated Copenhagen, but had also dramatically changed the relationship between the Nordic lands. Following Sweden's 1809 cession of Finland and Åland to Russia, and after the separation of Denmark and Norway, which resulted from the Peace of Kiel in 1814 and forced Norway into union with Sweden, a new bourgeois approach to the financial and cultural sectors got underway. While trade and shipping in Norway slowly overcame the catastrophic consequences of Napoleon's Continental System, the beginnings of an industrial capitalism gained a foothold in Sweden and Denmark, and in Norway, Sweden, and Denmark new liberal and nationalist circles would soon be making an impact. Even though the countries of the Nordic region were mutually divided and hostile after the Napoleonic Wars, the Age of Enlightenment's interest in the ancient cultural and historical community of the North won a following among liberal citizens and the academic sector. Scandinavianism became a significant cultural and ideological movement, promoted by university students in the 1840s and by the royal plans for a pan-Nordic defence union.
The international cultural circles, in which Sophie Thalbitzer had moved in her young days, were unknown to the generation of writing women born in the years after 1814. Some of them became zealous Scandinavianists, and many formed friendships with other Nordic artists and writers. Most had grown up leading a modest, bourgeois everyday life; they were daughters of clergymen or public officials. They had spent their youth sewing trousseaux, waiting for suitors, and reading. Like the heroines of the English and German popular novels, many of them wrote diaries and letters, some penned verse, short stories, or novels, and some of them had their writings collected in books of memoirs, which were edited and published by relatives after their deaths. For many of these women, putting pen to paper seems to have been a welcome opportunity to break the silence that had descended on women's lives in the first half of the nineteenth century.
The ideal of womanhood, as described in the eighteenth-century moral tales and bourgeois stage comedies, was not hushed and inarticulate. Women characters did the talking, tenderly and with sensitivity, in edifying monologues and dialogues on the subject of family and prudence. Romanticism liked its female characters to keep silent, as was the case with young Cordelia in Kierkegaard's "Forførerens Dagbog" (The Seducer's Diary) from Enten Eller (1843; Eng. tr. Either / Or): "If there must be speaking, it is sufficient that one person does it. The man should do the speaking […]," writes Johannes, the seducer, in his diary, but the speaking man can derive pleasure from engaging the woman in an erotically-charged conversation that does not "wander off into edifying observations on life's prospects etc."
The aesthete seducer's solidly bourgeois counterpart, the ethicist Assessor Wilhelm (Judge William), also prefers female silence; indeed, he even feels the need to keep quiet himself in the vicinity of his wife. Kierkegaard lets him explain:
"So when I sit in in my study, when I become tired, when time becomes long for me, I steal into the parlour, I sit down in a corner, I say not a word for fear of disturbing her in her job, for though it looks like a game it is accomplished with a dignity, a decorum which inspires respect […]".
Fra de Stummes Leir (1877; From the Camp of the Mute) is the title Camilla Collett gave her study of women in literature. The muteness was breached by women writers, but at the same time the muteness was often idealised in their depictions of women. Nathalie Zahle (1827-1913), the Danish woman who established a school system for girls, was a ready speaker when teaching or when addressing an audience on the subject of her schools and her ideas for raising the standards of women's education and level of proficiencies, but she actually instructed her young pupils to exercise restraint and to regard this as a virtue:
"Go forward as you have gone before,
Be loyal, lovingly tender as before,
But above all be gentle:
The gentle spirit the Lord holds dear,
The gentle soul the Lord holds near,
And the life of faith is gentle."
– she writes in a verse on the occasion of the confirmation of one of her good girl pupils. A certain "boyish playfulness" was, according to Miss Zahle, integral to girls' development in puberty, but thereafter, the gentle spirit ought to have the upper hand, whether the young woman wanted to devote herself to motherhood or work as "handmaiden of the Lord" in an independent station.
"How strangely long and colourless were all the years, how stagnant and as if dried-up in its innermost foundation life was for me!" writes Søren Kierkegaard's niece Henriette Lund (1829-1909) about a youth spent day in day out sitting with her mother doing needlework. She yearned for knowledge, work, and education. "With the unrest and hunger of my soul, it often seemed to me that I resembled those horses trained through starvation." When her mother died in 1859, Henriette was thirty years old and so, being the only daughter, she took over responsibility for keeping house. She quickly turned their home into the hub of a lively student milieu. Her father "became young again with the youngsters", her brothers' friends were frequent guests, and "it did indeed occasionally happen that animated discourse grew into a veritable roaring torrent".
In her Erindringer fra Hjemmet (Memories from Home), written in 1876 and published in 1909, Henriette Lund stresses that in several respects her uncle, Søren Kierkegaard, supported her pursuit of reading and knowledge. It irks him that one of Henriette's male cousins pre-empts him by giving her Poul Møller's works. "Later he did not give me books; never did he send me his own – that was against his principles. On the other hand, I was freely permitted to borrow from his library and keep the books for as long as I wanted."
Inner Emancipation
Many daughters of the bourgeoisie and the official class received tuition before and after their confirmation, at home or in a school for girls. Søren Kierkegaard persuaded Henriette Lund's conservative mother to enrol her daughter in a girls' school, but according to Henriette Lund the teaching was dreadful. She complains that this girls' school did not even practise the customary rote learning; if it had, at least she would have learnt a little something. Women's books of memoirs from the period often complain about the establishments for girls. Pauline Petersen, who became an actress, writes of Madam Teytaud's educational establishment for girls that just about the only thing to recommend the school was that, thanks to Madam's deceased French husband, the Teytaud daughters were very proficient in the French language.
"My entire schooling only really amounted to the one year in Copenhagen, from my 7th to my 8th year, and yet I so wanted to learn something, indeed everything; but it was to be my fate to grow up like a wild plant that forces its way between stone and thorn and thistle," Pauline Petersen tells us in her memoirs, Pastorinde Pauline Petersens Erindringer, Memoirer og Breve (Pastor's Wife Pauline Petersen's Reminiscences, Memoirs, and Letters), started in 1842 and published in 1971. Her five-hundred-page book of memoirs was heavily cut by the publishers.
Eleonora Christine Tscherning (1817-1890) was on the receiving end of even worse tuition. She was the illegitimate daughter of a major and his housekeeper, and although the major adopted the children he had with his housekeeper, he never married her. It suited his purposes to enrol his daughter, who had no private means, in the Jakobsen sisters' seamstress school, and here she dragged out the six months following her confirmation in 1831. The Jakobsen sisters grossly exploited the pupils in their dressmaking business. Many of these pupils learnt virtually nothing other than how to spool thread. "Even if I did not learn much dressmaking, I did learn submission and patience, along with the practice of sitting motionless for seven hours at a time," writes Eleonora Christine. She later obtained her father's permission to receive drawing lessons in her home, and that was the start of a long, self-organized training as a painter. "I hope the brush will give my life though but an imaginary worth," she writes in 1841. The education of daughters of the bourgeoisie and the official class had changed little since the late 1700s, when language teachers, music teachers, and drawing masters – often with highly dubious qualifications for the job – offered their services as tutors and principals of educational establishments.
There was a real need for the comprehensive reform of girls' education upon which, having worked as a private governess, Nathalie Zahle embarked when she launched her training course for future schoolmistresses in 1851. Nathalie Zahle expected much of what she called an "institution for the prevention of bad schoolmistresses", but to begin with no pupils enrolled, and in 1852 she had to start again by taking over what was left of Miss Foersom's failed school for girls. According to her former pupil and later colleague, Henriette Skram, Nathalie Zahle's primary quality as a teacher was her personal magnetism. She aimed to awaken dedication on the part of her pupils. She detested harsh punishment and managed her schools with quiet and unobtrusive authority. Henriette Skram reports that when she and the other girls from the closed-down "Dannekvindeskole" (a Dannekvinde being a good, true Danish woman and wife) were transferred to Miss Zahle's school, they felt uncomfortable with the pupils' "crush" on Miss Zahle. While conversation and conduct at Susette Dalgas's "Dannekvindeskole" had been lively, boisterous, and full of "directness of word and tone", at Miss Zahle's school a gentle atmosphere and scrupulous orderliness prevailed; as we learn from Henriette Skram: "In our new school there was yet another peculiarity, which greatly shocked at least the 'more advanced' amongst us, and this was the effect Miss Zahle exerted merely by appearing. There might be noise and tumult at breaktime or in lessons given by the teachers who kept bad order in class, but the mere sound of Miss Zahle's footsteps, the mere glimpse of her dress hem, and there was instant silence."
The gentle spirit Nathalie Zahle wished to foster in her pupils was not intended to render the girls utterly inarticulate, but to teach them a restrained and cultivated way of speaking and provide them with well-informed competence so that later in life they would be in a position to converse with their husbands. She designated her ideal "woman's inner emancipation":
"And in my mind there developed a deep thirst to contribute to 'woman's inner emancipation', to make her understand and claim her position in the home as equal alongside her husband. I wanted to supply her with such rich and well-digested knowledge that she would never in a conversation be overlooked or disregarded with charity, but rather appealed to by her husband as a fully conversant participant and like-minded person. I wanted to promote her understanding of her high calling as mother, gently but determinedly effective among her children, as the constant presence […]."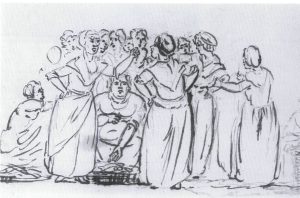 It is interesting to note that Nathalie Zahle launches her argumentation with a "claim", which is not necessarily verbal, and ends with extremely discreet speech: the woman must be able to respond when and if her opinion is asked. A rhetoric of silence is posited as an ideal in this fashioning of woman into omnipresent spirit. Danish memoirs of women's lives in the mid-nineteenth century rarely report women's verbal utterances in the family circle. When the woman does speak, she is usually reading aloud or singing for her family or at a social gathering. Women speak through the words of others. Franzisca von Rosen (1833-1912) describes how her father expressly requests women to be silent, particularly in political discussions at home leading up to the abolition of absolute monarchy in 1848:
"I believe my father would have thought my mother out of her mind had she ventured to utter a single word while the gentlemen were deep in a political conversation."
"Whether I will be at all able to gather my memories and express myself in the right way, I do not know, I am an old woman of 76 years after all," writes Franzisca von Rosen in her memoirs in 1909. Her daughter Ellen von Rosen helped her with the writing, and collected and edited the book after her mother's death in 1912. "She was also very keen for me to pick out letters that could be of interest, and she allowed me to read father's and her own letters as well as her little poetic efforts and diary entries […]," explains Ellen von Rosen in her postscript.
In this, as in many other fathers' homes, the mother is appreciated for her "delicate person and gentle, dignified manner of being hostess."
Eleonora Christine Tscherning (1817-1890) married a leading figure of the National Liberals and Bondevennernes Selskab (Society of the Friends of the Peasant), Anton Frederik Tscherning (1795-1874), and she thus often acted as hostess for dinner parties attended by influential gentlemen; she was not, however, inclined to keep silent. Eleonora Christine had waged a hard campaign to get Tscherning to marry her.
Eleonora Christine tries to persude Tscherning to marry her by comparing herself to her namesake, King Christian IV's daughter Leonora Christina with her "wifely and motherly love". Tscherning responds in alarm: "[…] my 46-year-old common sense tells me that I should not allow myself to be dazzled into paying you with counterfeit coin for all your goodness. Your comparison with Christine Uhlfeldt has even alarmed me, am I turning into Uhlfeldt [Infamous Danish traitor, husband of Leonora Christina]?"
Eleonora Christine Tschernings efterladte Papirer, Memoirer og Breve (1908; Eleonora Christine Tscherning's Papers, Memoirs, and Letters)
There was a twenty-two-year age difference between them, and Tscherning attempted to decline her repeated proposals by pointing out that, as he was an oldish man, he would not be able to keep on satisfying her sexually, and that in the long run no woman had the moral strength to "surmount this so mighty a natural instinct". Eleonora Christine was sexually and ideologically madly captivated by Tscherning, and after almost six years of persistent persuasion they married in 1845.
Eleonora Christine Tscherning writes that Tscherning's sister, Mrs de Meza, warned her most forcibly that her brother's main interest was: "to have a loyal, devoted, little lady friend to visit in his spare time, and you are too good for a relationship of that sort. Get away, the sooner the better."
She got involved with his political campaign, and she cultivated her own areas of interest, in which she could bring her opinions to bear. In diaries and recollections, she writes about many an in-depth conversation with their guests, about giving Tscherning late-at-night good advice, and passing on the news that has come her way regarding his opponents. She could also handle the hefty exchange with Tscherning's adversaries. Writing to her brother in 1864, she declares that he should not fear that she is like "an open book" to be read by Tscherning's opponents:
"Be quite sure that I do not open the book for you or anyone, except when I choose to do so, otherwise I would not have been wearing skirts for 48 years! Remember, I am Tscherning's wife! And remember I lend many a helping hand to pull the strings […]."
The rhetoric of silence could be broken in the hidden backstage setting behind action and speech. Eleonora Christine Tscherning saw herself as an important element in events and discussion about which she was completely precluded from having her say in the male circle.
Sorcery and Speech
Novels and stories written by Nordic women in the mid-1800s often give a quiet, powerful female figure a central position in the gallery of characters. Sometimes she resolves conflicts in relation to a strict father- or mother-figure, sometimes she heads off the misfortunes that might ensue from a young man's pursuit of his sexuality. In Fredrika Bremer's Grannarne (1837; The Neighbours), Serena saves her suitor, the prodigal son Bruno, from the consequences of the mistakes of his past, and reconciles his dying mistress Hagar with God. When Bruno, in a dramatic gushing forth of emotionality, warns Serena against his ill-fated love, she responds:
"'Bruno,' said Serena, while, spite of his menacing gestures, she drew near and threw her arm around his neck, 'talk not so wildly. Be gentle – be still. Thou art unwell, Bruno; come, compose thyself. Sit down here by me; lean on me, my Bruno.'"
A therapeutic heroine of this sort is also active in Thomasine Gyllembourg's "Drøm og Virkelighed" (1833; Dream and Reality); in the final tableau parlant of the story, Laura – as an angel – embraces the prodigal son Julius's illegitimate children. The Norwegian-Danish writer Magdalene Thoresen repeats Thomasine Gyllembourg's tableau in her story "Huldremo'er" (the Huldra [ed. forest nymph] Mother) from her late collection of stories Livsluft (1895; Air of Life). Having silently and at length adored the object of her desire, the young country girl Hildur presents herself to him in a scene in which she takes the role of the good huldra protecting his motherless children. Silence and speech, sight and sound highlight the force and revelation of the tableau:
"In the huldra hive sat Hildur with his two small children in her arms."Knut thought that he shouted loudly: Hildur! – But the sound stayed in his throat, and he staggered helplessly back towards the mountain. "'Are you going to let me go this time, too?' – she asked laughing, with tears in her eyes. 'The first time I came here to meet you, you did just that.'"'Hildur!' he cried out, and it was as if all his buried youth welled up in him and let itself be heard."
In Fredrika Bremer's Grannarne, the quiet, active woman is not the main character and narrator in the novel; the story is carried by the far less quiet, newly-wed Fransiska, who writes about her life in letters to her friend Marie. It is difficult to ascribe the rhetoric of silence to a fictional first-person narrator who, in the nature of the task, has to speak, tell, and describe surroundings and self. This is perhaps why Thomasine Gyllembourg prefers male first-person narrators in her tales of everyday life. In Grannarne, Fredrika Bremer makes the contrast between the quiet Serena and the narrating Fransiska a major part of the novel's complex theme of female speech. Fransiska's vocal and narrative letters are further offset by her tale of her forceful mother-in-law, ma chère mère, whose "rough voice" inspires fear, and of her two sisters-in-law, one of whom prattles impulsively while the other converses courteously.
"Since I have undertaken to write the history of Ma chère mère, I will also sketch her portrait. See, then, a tall lady, of a large but handsome growth, whose figure in youth must have possessed both symmetry and strength; very straight, somewhat stiff, and with the mien and bearing of a general. The countenance would be handsome, were not the features so strongly marked and the complexion so gray; the chin, also, is somewhat too large and projecting."
Fredrika Bremer: Grannarne (1837; The Neighbours).
Over the course of the novel, Bremer lets a second female narrator – a female stranger – supplement Fransiska's narrative with information on events and conversations which Fransiska could not possibly know. Towards the end of the novel, Bremer includes a series of "shadow images" that reproduce dialogues between Serena, Bruno, and his confessing lover, Hagar. In the complex relationship between narrators in Grannarne, Fredrika Bremer is insisting on letting female characters relay the stories of everyday life, the past, and love, but she is also pointing to the fact that the stories told in speech and writing are always incomplete. Bremer ends Grannarne practically halfway through one of Fransiska's sentences – as if it were not necessary to listen any longer to her – but at this point, the images of the quiet Serena and the repentant and confessing female sinner, Hagar, have long been fully developed and have cast their light and their shadow upon the story.
In Camilla Collett's memoir of her childhood and youth, I de lange Nætter (1862; In the Long Nights), she recalls the picture of a close friend at the Herrnhuter girls' institute in Christiansfeld, Denmark, where Collett was a boarder between the ages of fourteen and sixteen:
"From those years when I stood on the border of childhood I now see a picture emerge, one which I can no longer turn away. Often, for long periods, it has been buried, to awaken again in the quiet hours, just as fresh, clear, and blissful […]."
Collett depicts her friend Christiane as lovely, emotional, and tender. In her person the rhetoric of silence finds expression: "A doubt in her homework, the shadow of an imperfection, could make her change colour most intensely; likewise, another's suffering, a moving passage in a book being studied, a beautiful tune, the sudden arrival of a friend could set her all aquiver; yet she was quiet in this, she did not weep audibly, but never have I seen bigger, heavier tears fall from human eyes, I say fall, pour; for they never simply slid down her cheeks."
Within their confidante relationship at the institute, however, Christiane shows a surprising facility for humour and satire. Christiane has a special satirical touch when she retells the novels and stories she has read. Christiane despises the sentimental German popular literature; she caricatures its roles and makes for herself a set of literary masks with which she entertains her girlfriends. Her favourite figure is a drunken and boastful, old schoolmaster. In Christiane, the rhetoric of silence seems to spark off and exact a different form of speech, a parodic locution. The story of Christiane's silence and parodic speech can be perceived as a variation of the contrast often repeated in prose literature between the silent rhetorician and her shadow, the wildly talking and gesticulating sorceress like Hagar in Grannarne and Lise in Thomasine Gyllembourg's "Drøm og Virkelighed". In Camilla Collett's story "Oktoberfantasier" (October Fantasias) from Fortællinger (1861; Stories), silence and speech are again a central theme. Collett conjures up a picture of a ladies' coffee party in Christiania; their chat about prices and merchandise is interrupted when the ladies are magically granted oratorical gifts. One by one they hold elegant speeches about the assignments of nation and women – until the magic is over. The last to speak wants the ladies present to set up a "pact of silence and gentleness" designed to stop town gossip and social "discussion of the purely personal and private": "Sisters […] shall we make a pact of silence and gentleness? Show, by rising above ourselves on the small scale, that we deserve this voice in the major matters of life, from which we are currently excluded?"
By employing the rhetoric of silence, the ladies will qualify to speak and participate in the men's grand discussions. Collett's story has a merrily satirical slant on the suddenly eloquent ladies, particularly through the young girl Julinka, who makes fun of their ideas about an elevation of social life and, for that matter, of the author herself, by comparing her novel Amtmandens Døttre (1854-55; The District Governor's Daughters) with indigestible soup. Collett had not forgotten her teenage friend Christiane's parodic monologues. "Oktoberfantasier" takes the form of a subtle exposé of the ladies' tedious chit-chat, of their eloquent speeches, and of the rhetoric of silence. Parody would seem to be the woman's opportunity to get a word in.
In "Oktoberfantasier" (October Fantasias), Collett lets the young girl Julinka parody the ideas expressed by a party of ladies vis-à-vis raising the standard of women's education; Julinka enumerates the ladies' objectives: "It would be appropriate to name the society 'The Rescue Institution for Socially Neglected Young People', and I will take the liberty of suggesting some specialist divisions and a few topics that could be addressed: Lady No. 1 opens and closes discussions, marks exercises, issues marks of penalty and encouragement according to the circumstances comprising deep seriousness, enigmatic silence, 'mute glances and greetings', warm, enthusiastic words […]. Lady No. 2 thrice a week gives lectures on chivalry and its relationship with 'serious intentions', plus will, if so desired, give private lessons in living languages: the language of flowers and language of the eyes."
The Intrusive Torrent of Filth
By meticulously arranging their life stories, it is clear that Danish memoirists such as Pauline Petersen and Franzisca von Rosen have a view to evoking the reader's understanding of, and admiration for, the outcome of their lives. Should anything be inconsistent with this calculation, then editing by the publisher and postscripts written by family members ensure that the message gets through. The literary role models for many of the autobiographies are eighteenth-century moral prose works and the instructive coming-of-age stories of the day such as, for example, the works of Thomasine Gyllembourg. The reminiscing writer tries to make her life story morally edifying, to admit to and teach about her mistakes, and to render her human experience useful. A different and less disciplined kind of autobiographical writing surfaces primarily in diary entries, but also in personal letters. The publishers of Eleonora Christine Tscherning's Memoirer og Breve have pieced together their collection of short extracts from a highly diverse variety of personal documents. Stylistically, Eleonora Christine's diary entries are extremely different from her actual memoirs, which in turn differ from the classic, eighteenth-century art of letter-writing that she employs in her letters. In the writing, she construes an image that she can use and apply in relation to others. In her diary entries, she often seems to want to analyse a situation or an emotion, give it extra power, force, and significance in her own mind, whereas the elegant letters she writes to her future husband provide space and scope for an image that will prove attractive. It gives food for thought that when all the emotionally-charged letters do not seem to be having the required effect, she entrusts him with her diary and "beseeched him to read it, and then, once he was familiar with every fold in this heart, to ask himself if he had the courage to forsake and hurt someone he had heedlessly brought to the brink of the abyss […]."
While Eleonora Christine Tscherning's letters take the form of monologue, Norwegian-Danish Magdalene Thoresen uses a dialogue style in her many and well-written letters. She loves conversation, and her letters question and talk and use the potential of the epistolary form for intimate, emotional depictions of herself and her art. Thoresen's letters to Johanne Luise Heiberg, who was one of her many correspondents, are heartfelt and respectful and framed in a generous and personal figurative language. In one of her letters to Mrs Heiberg, Thoresen writes about her perception of a personality trait they have in common:
"Indeed, dearest Mrs Heiberg, you have such an unspoiled aspect to your nature – it is a child of Eros; he is not merely my God, he is also yours; for whilst I ride him as my hobbyhorse, the fragrance of amber and myrrh greet him from the secret chamber of your heart. Alas, what is this bird of prey nature in me!"
Three years later, in 1869, writing to her friend Hanne Wiehe, her use of imagery in relation to Mrs Heiberg and her nature are given yet another slant:
"But there is a singular falsity about her, the one several have mentioned to me without thus naming it; one moment she gives, the next she takes it back again; one never really has her. Yet, is that not the coquette's nature, or is it a warped nature? I believe: the latter. I believe, in order to characterise her correctly, one must take an example in the Maskulinum: she is a bear that has learned to dance and curtsy; for in fact she has a ferocious nature within her."
Johanne Luise Heiberg and Magdalene Thoresen might well be said to share a ferocious and erotic character, but they also shared an understanding of the necessity of being able to please persons of power. Thoresen's elegant imagery in her letter to Mrs Heiberg is also a well-performed, little circle dance for a friend who had an influence on the fate of her creativity. In her letters, Thoresen often links her own artform and her command of language with her passion. She refers to this passion as vast and of a tremendous force.
In the early days after prose had its so-called breakthrough as a genre in Denmark, the literature had often turned passion into the most unspoken and concealed force in the quiet female characters. Here, passion had been elevated to celestial heights and had not been released in speech and sexuality, but in a quiet demeanour and in the sacred calling of motherhood. For Magdalene Thoresen, on the other hand, passion is the force that will and must have a chance to speak in her art.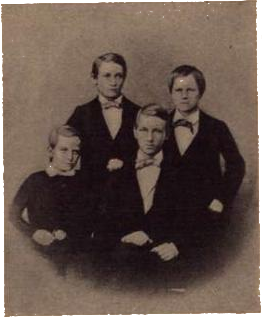 The good womanliness was hushed and self-sacrificing; but the women who began to speak and write also saw themselves as good women and envisaged that their voice and action could be the ideal, that the camp of the mute had something to say that could be of benefit to the nation and to human society. The Norwegian female memoirists had seen and experienced the impact of shattering national events on everyday life in the home, and they felt a responsibility in relation to these stories, which assume greater importance in their memoirs. Similarly, throughout the memoirs of Danish women of the era, the disastrous Second Schleswig War of 1864 is reported as a turning point that changed the life of the family. Danish clergyman's wife Eline Boisen made her account one long apologia and indictment against herself, those closest to her, and the times in which she lived; Swedish Sophie Sager pleads her cause offensively and directly in the protracted court case in which she became involved, and her voice was so unexpected and unheard of that she actually managed to make herself heard.
Ursula Dahlerup (1840-1925) started writing her memoirs in the 1880s. The manuscript was kept in an old tea chest, where it was found and published by Ulla and Bent Dahlerup in 1989. The varied character of the prose pieces provides a faceted picture of Ursula Dahlerup, her unsettled existence, and the social life of an entire century. The young girl who dreamt of being an artist ended up as a manufacturer with her own mattress factory in Vestergade, Copenhagen. She had her own stand at the Chicago World's Fair of 1893, and while on her journey she had the idea for a cotton patent mattress: "I got samples – thought it through over there, although the real planning had to wait. I was, after all, already a sort of inventor at home," she tells us. Before her trip to America, she had designed, among other things, two types of water closet that were demonstrated in Industriforeningen (the Association of Danish Manufacturers): "[…] and there was a time when the local authority vacillated between mine and the W.C."
Johanne Luise Heiberg was a rhetorician of silence who could manifest intense and passionate emotions by means of her plastic art of acting. At the height of her career, in 1855, she began writing her memoirs; one of her incentives to do so was fear of the transitory nature of performance, the onstage expression she had chosen for her own mental universe. When Mrs Heiberg bid farewell to the stage in 1864, times were changing, not only in the art of acting, but also in literature. Almost fifty years later, in her old age, the school principal Nathalie Zahle looked back in horror on the literature of what is known in Denmark as the Modern Breakthrough, shocked as she was by the torrent of speech that had been let loose:
"[…] what has all this not sown of a terrible seed! Never mind that in the midst of it there has been serious speech in favour of the legitimacy of the unembellished and the sincerely earnest presentation of reality – this speech and its affect has not been able to restrain the intrusive torrent of filth and half-covered nakedness – and the Fall has occurred!
"Irrevocably? O, on the contrary! The struggle must never be forsaken […] no matter how sharply the satire and irony might sting, hope must never be abandoned, never the belief that the pure and true quietly goes about its good deeds and will and can bring victory home.
"Home! Yes, for it is the home to which it should come."
Old Magdalene Thoresen took a milder and more romantic view of the new literature; it was necessary in order to make all aspects of life purer and better: "God's countenance cannot shine through all the darkening and the dirt that is let in behind the shutters of the so-called home," she wrote in 1880 in connection with her son-in-law Henrik Ibsen's play Et Dukkehjem (1879; A Doll's House).
Translated by Gaye Kynoch