Moa Martinson (1890-1964) sailed boldly into Swedish literature with the fertile female body as her figurehead. Among the working titles of Kvinnor och äppelträd (1933; Eng. tr. Women and Appletrees), her first novel, were "Women's Desire", "When Desire Becomes Need", "Old Women and Young", "Childbearing Scars", and "Matriarchy". A proletarian author, she describes her radical programme on the very first pages as "a curious living rune stone":
"Mother Sofi, little and thin, would look like a miserable plucked hen if it weren't for her sparkling eyes and curly light hair. Her mouth is sunken and the wrinkles beginning to show in her energetic, firm little face. Her breasts hang like two small, loose sacks from having nursed so many eager little mouths. The touchingly thin body, which was like a girl's, was more graceful than any of her daughters' when she wore a dress. It resembled a curious living rune stone when her clothes came off. Her stomach was one single scar, knot against knot, scar against scar, with big, broad, shimmering streaks here and there."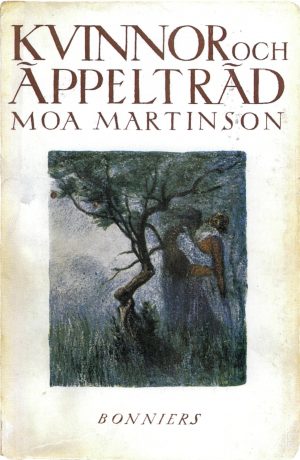 Mother Sofi is both a symbol and a realistic character who stands at the junction of nature and culture. Her body petrifies and becomes an archaic alphabet, which must be interpreted before it will disclose its meaning. What is the message that this Venus of Willendorf brings? Is it possible to abolish the Western prohibition, sometimes explicit, against portraying women performing their natural functions, "still less a woman that is sick, in love, or in labour", as Plato expressed it in The Republic. Can the book rehabilitate a worn-out woman who gloomily eyes her "scratches and scars" and bitterly exclaims, "Such pitiful wretchedness"? Martinson's apparent purpose is to transform the shame felt by the "second sex" into pride. She even refers to Mother Sofi as "a thin female Buddha."
Making the fertile body of a woman the centre around which the literary material is organised was new to Swedish literature. Kvinnor och äppelträd, like its sequel Sallys söner (1934; Sally's Sons), uses modernist prose to formulate the problem of motherhood's biological, social, and psychological significance. Most of Martinson's female characters are strong but ambivalent. They are bound to their biological destiny but strive to transcend it. The actual protagonists of the novels are Sally and Ellen. They are two descendants of Mother Sofi, who lived in the latter half of the nineteenth century and drowned herself, accused of "acting like a whore" because she took a weekly sauna with her beloved friend Fredrika. Unbeknownst to each other, Sally and Ellen grow up in the poor district of Norrköping, end up in the same village, and become friends as adults. Kvinnor och äppelträd leads into a proletarian Madonna discourse, a gospel of motherhood that Sallys söner complicates and degrades by chronicling the catastrophe that strikes Sally, a socialist and single mother of five, when she marries a farmer whom she does not love for the sake of her unemployed sons. She dies in childbirth after they decline the favour and run off. Thus, she has not only rejected her class but denied her own desires.
"Moa – that was what everyone called her, after her children had given her a name […]", Johannes V. Jensen wrote in Bræen (1908; The Glacier). "Moa" is the incarnation of feminine goodness. She has children, nourishes, and, through her herb-gathering, invents farming. Martinson took the name because she perceived the primeval mother in Jensen's novel about the first human beings as "appealing and more significant than all the men the author describes".
Glandular Functionalism
One reason that Martinson presented a naked, fifty-year-old woman in her first novel was to offer a contrast to the scantily clad sirens with bouncing breasts, curvaceous hips, and long hair that peopled the works of many male primitivists.
Kvinnor och äppelträd may be interpreted as a challenge to 1930s sexual romanticism, which Martinson dismissed as "glandular functionalism" because it reduced eroticism to an undemanding encounter of two young bodies. "Women, let down your blonde hair, / go naked like sirens in the village, send out your body's voluptuousness, / send out the summer's fullness, / tonight, in the time of the grain harvest", wrote Artur Lundkvist, the trendsetter of the new school.
According to Artur Lundkvist's programmatic book of essays Atlantvind (1932; Atlantic Wind) primitivism was a revolt against modern civilisation, which "threatens sterilisation by suppressing the instincts". Civilised culture was "impotent" and inhibited, and the duty of the modern writer was to strengthen male sexual initiative in order to bring it to "release". Abandoning oneself to life was described in terms of the urge to conquer women. Lundkvist wrote in Fem unga (1928; Five Young Men), the most famous anthology of Swedish modernism: "Whee / – Storm, storm over the world – / Women – should they betray, flee from us: / Oh, run after them, catch them, bend them over, force them – !"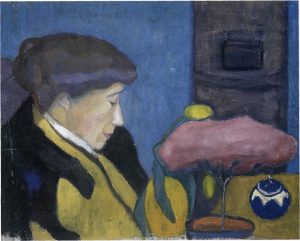 Martinson, definitely too old to be a siren, had the honour of hosting at her dilapidated cottage on the Södertörn peninsula the young autodidacts who had plans to take over as Sweden's literary elite. In addition to Lundkvist, the group consisted of her husband Harry Martinson, Erik Asklund, Ivar Lo-Johansson, Eyvind Johnson, and other gifted authors. Having given birth to five children and spent half her life as a member of the working class under meagre circumstances, she regarded their swaggering mythology of virility as totally cut off from reality. She tried her best to gain a hearing for a worldview that would embrace female sexuality, motherhood, and an "everyday way of life."
Martinson explores the distress associated with being a full-blooded, mature woman, as opposed to a young, idealised siren. Motsols (1937; Counterclockwise), her only book of poetry, contains a section called "Neuros" (Neurosis). She wrote it in 1929 during a stay at a state sanatorium for people who had suffered nervous breakdowns, and after Harry had moved into her cottage. "Neuros" consists of several dreamy, surrealistic prose fragments. The scenery in the first fragment is grotesquely distorted: spinning, fiery heads; black, swaying buildings in "bloated, repugnant cities" that threaten to crush the dreamer. Cruel, bestial faces give way to others that are lethal and demonically beautiful. The fourth fragment portrays the infinite horror of being a sexual creature who is subject to the masculine paradigm of eroticism: "The grotesque sex dreams on sleepless nights of naked madmen and goats and bulls dancing wildly around each other, while I run helplessly and naked through big-city crowds trying to hide my shame, inexpressible in words". Turning the ignominy of being a woman, of being working-class, into its opposite is the prime objective of Martinson's writing.
"I am not of the opinion that the tiny little appendix men have been given to determine their sex should rule the world", Martinson wrote to Erik Asklund in 1930. Their friendship allowed her to be so candid. At least during the first part of her eleven-year-long marriage to Harry Martinson, she believed that their clique accepted her as an author. Eventually, she realised that she had been regarded mostly as a bother, and that whatever appreciation had come her way was due to her skills as a kitchenmaid. She had been trained as a cold-buffet manageress and by all accounts was a good cook.
Truths That Are Difficult to Swallow
In the 1950s, Martinson looked back at what was actually her first work – Pigmamma: en roman ur arbetarkvinnornas värld (1928-1929; Pigmamma: A Novel from a Working Woman's World), which she wrote in 1924-1925 and serialised in the anarchist newspaper Brand, and criticised it for "concealing instead of revealing". She had wanted to talk about real things, but her overly romantic, traditional style had "silenced the truth that was difficult, that would meet with opposition". Only in talking with young modernists had she found words for truths that were more difficult to swallow. Sure enough, the critics received her first novel mercilessly. "Sometimes you're plain fed up with all the wretchedness", wrote Aftonbladet. "You've had all the details you can stand about childbirth, nausea, the raw sexuality of the alleyways". Norrköpings Tidningar was even more direct: "It's been a long time since a proletarian novel offered so much unmitigated filth". Anders Österling wrote in Svenska Dagbladet that Kvinnor och äppelträd was full of "misery, gossip, and lust". He regretted that an author with so much talent had become obsessed by "private parts". What Österling reduced to one of many conceivable "viewpoints", however, was a wide-angle perspective as far as Martinson was concerned. Placing sexuality in the foreground allowed her to depict women's existential condition.
Women "always see life as it is," Martinson maintained in the first draft of a poem from the bon vivant epoch, adding nuance to the rudimentary sexual gospel of male writers:
As children we heard
the crude jokes
and saw the gross gestures
Now we never smile at frivolity.
We saw the pregnant women,
heard the whispers about clinics,
about venereal disease.
We heard the soft conversations about
saffron,
about poison, about the probe and
death.
The elegant, obscene
songs of the reviews, ballet's naked hips
and thighs
do not put us in a festive mood.
Martinson evokes the cruel, repressed experience of childbirth when Ellen, in the last stages of pregnancy, wanders through the village on a hot early summer day. Her condition brings back painful memories among many of the women she encounters, from "the maidservant on the west side of the village who has given birth to seven children and doesn't know who any of their fathers are" to the childless farmer's wife on the east side whose husband gets all the maidservants pregnant. The rich and childless Gamlamor, who choked her infant to death three days before her wedding, has the most troubling recollections.
"At last! A stream of warm water blended with blood flows out of her, nearly releasing the baby's head through the passageway. What a relief! She stretches herself backwards, waiting for the next pain, pushes her hands under the small of her back, and bears down hard, with all her strength, to free herself from the child in her womb that will tear her body in two." Never had childbirth been described in such great detail in Swedish literature as in this scene from Kvinnor och äppelträd.
The narrative of Martinson's first two novels largely reflects the phases of a woman's life. It begins with a description of menopause, Mother Sofi as a curious living rune stone, and ends with Sally dying in childbirth. Like beads on a string, the intervening pages depict the initiation of young girls into the sexuality of the alleyways, where abortion and syphilis are day-to-day experiences; the painful but occasionally pleasurable copulations of married couples; and Ellen's pregnancy, which culminates in the chronology of the narrative when Sally gives birth to a baby boy on the floor of her little cottage. Women's cyclical time in Kvinnor och äppelträd reflect and comment on the contemporary scene, that of World War I. Sally's labour pains are a pacifist demonstration that plays out against the bloody backdrop of the Swedish-made shells that spread death and destruction in Flanders.
Martinson experimented with a range of genres over a short period of time, in quest of a language that could illuminate the blind spot of realism and modernism – female experience in all its ambivalence. At the end of Kvinnor och äppelträd, Ellen, who has given birth, suddenly feels desire for her husband when he refrains from raping her, and she can take the initiative for the first time:
"But the night is bewitched. A violent restlessness comes over her. She feels burning hot, her limbs feel stretched, her sexual organs tighten, and a powerful lust grips her. Grips her so she becomes afraid. Now she is in the middle of something she never understood when it was discussed. She has had a child, experienced love's painful embrace, but passion is unknown to her. Trembling with desire and with something like shame, she longs to get up again, but is drawn irresistibly to the sleeping man."
The Enfant Terrible of the Welfare State
Martinson's socialism had more to do with romantic utopianism than realpolitik. She was attracted to the decentralised autonomy advocated by syndicalism, and she combined an anarchist streak with the morality promoted by the Fogelstad School for Women Citizens, which looked out for the "political interests of the individual". She was beguiled into defending the dictatorship of the proletariat while attending the International Writers Congress in Moscow in 1934, which was one reason that her husband left her in 1939. She gained a wide readership in the early 1940s when Folket i Bild started publishing cheap books again. She was soon one of the most popular lecturers at People's Parks and Halls, in women's clubs, and in the National Union of Clerical Employees. She was a tireless advocate of love, morality, mental hygiene, women's emancipation, childrearing, and the struggle against the nuclear bomb. The enfant terrible for two decades, her first name was a household word; she dined with Prince Wilhelm and was extolled in Karl Gerhard's comic reviews.
Martinson wrote the autobiographical Jag möter en diktare (1950; I Meet a Poet) after repeated entreaties from Tiden publishers. The public thought it would finally learn the truth about Sweden's most interesting literary marriage. But she led them down the garden path. The "poet" she met at the age of seventeen was a caulker (the Swedish for caulker is close to the word for poet), not the esteemed poet Harry Martinson, her ex-husband.
Her essay and short story collections, Armén vid horisonten (1942; The Army on the Horizon) and Bakom Svenskvallen (1944; Behind the Swedish Field), served up moral reflections from the home front while the lean years of World War I were still fresh in everyone's memory. Kärlek mellan krigen (1947; Love between the Wars) belongs to the same category.
Meanwhile, she found time to write an impressive epic of East Gothland province, which spans a couple of centuries, describing the transformation of the countryside during the emergence and eventual triumph of industrialism. Women on crofts, farms, and estates – as well as their counterparts in the working-class neighbourhoods and middle-class homes of the cities – take centre stage. Vändel, an ingenuous well-to-do farmer and lady's man, is the general target of female desire, an East Gothland Gösta Berling. These themes pervade Vägen under stjärnorna (1940; The Road beneath the Stars), Brandliljor (1941; Orange Lilies), Livets fest (1949; Life's Feast), and Drottning Grågyllen (1937; Queen Goldengrey).
The first three books in particular present women's independence as most sustainable in agrarian households, where their labour complements that of men and contributes directly to production. In urban factories, they serve as a secondary work force and are interchangeable with men. A destructive battle of the sexes rages in the poor urban homes, where children are no longer welcome labour but simply another mouth to feed on a meagre salary, while class warfare, accompanied by strikes and social unrest, threatens a family's short-term survival. In Martinson's cycle about Betty, a working-class wife in the rural Sweden of the 1910s – Den osynlige älskaren (1943; The Invisible Lover), Du är den enda (1952; You Are the Only One), Klockorna vid Sidenvägen (1957; Bells at Sidenvägen), and Hemligheten (1959; The Secret) – female consciousness carries on a dialogue with itself about motherhood, children, hunger, and relationships with unsympathetic men.
Moa Martinson's aesthetic programme included rescuing "the living language of the people" from oblivion. In combination with abundant irony, archaic and vernacular expressions are the foundation of her vigorous, inimitable style, which triumphs over the wretchedness that the novels often depict, conveying a sense of optimism in the face of the most daunting odds.
The sexual, historical, and psychological projects that inform Martinson's writing are closely intertwined. Much of her fiction documents the awareness of working-class women during a time of great social unrest when the labour movement became a force to reckon with and class consciousness manifested in organised forms, mostly among men. She offers a feminist revision of the way that the triumph of industrialism in Sweden is perceived, as well as of the failure of the labour movement to demand suffrage, equal wages, contraception, maternity allowances, day nurseries, and other social reforms for women.
The "Mia Trilogy" – Mor gifter sig (1936; Eng. tr. My Mother Gets Married), Kyrkbröllop (1937; Church Wedding), and Kungens rosor (1939; The King's Roses) – explains the wariness that working-class women feel about class warfare in the face of the battle of the sexes at home. As a counterweight to men's newly found dignity as class-conscious proletarians, women assert an ethic of survival and cultivate an identity that is in direct contrast with their husbands in every respect. "Can you believe that they're human? They're like animals, worse, animals don't spit out snuff! For five öre you could just poison them." The notion that ethics begin in the family is a "female philosophy" that women inherit from their mothers. Mia, who feels solidarity with women despite her tender age, has trouble putting the pieces together when an uncle who is a notorious wife and child abuser reproaches another uncle for being a scab. The real crime is to beat one's wife and children – what does she care about some old strike? As a teenager in Kungens rosor, she cannot concentrate on her confirmation lessons because the pastor psychologically abuses his wife.
Oedipus as Proletarian Girl
Consistent with the interest in psychoanalysis that marked the 1930s, though with an independent feminist slant, Martinson's Mia trilogy explores the strong but ambivalent relationship between mothers and daughters by stressing the role of infantile sexuality. She adds a depth to the world of poor women and children in turn-of-the-century Sweden that Maria Sandel and Maj Hirdman had treated more gingerly.
"Girls with rosy cheeks expected everything of the noisy, secretive factory. After a year or two, their cheeks were no longer so rosy. A hint of anxiety had come over their eyes, which weren't very bright now. The enticing black coffee turned out to be wishy-washy, and the bakery bread that had looked so delicious at first was stale. Nothing was the way they had anticipated. Some of them went back to the farm, but most of them hung on, married, and had children one after another." (Vägen under stjärnorna)
Male authors were mostly interested in Sigmund Freud's theory about the importance of the libido in both young and older boys.
The autobiographical coming-of-age novel was the perfect device for their purposes. Ivar Lo-Johansson's Godnatt, jord (1933; Good Night Earth) was soon followed by Eyvind Johnson's Nu var det 1914 (1934; Now It Was 1914, Eng. tr. 1914) and Harry Martinson's Nässlorna blomma (1935; Nettles in Bloom). According to Martinson, Mor gifter sig is about "the childhood of a proletarian girl parallel to the biographies of boys that the presses are churning out". She links individual psychology to social criticism by replacing the narrator of the autobiographical genre in Mor gifter sig and Kyrkbröllop with the third person of coming-of-age novels in Kungens rosor.
The mystery that women cling to their men and seem to experience desire, so incomprehensible to the little Oedipal girl, furnishes the suspense that fuels the narrative. Mia is not the only one whose imagination is spurred – as a co-creator, the reader has a similar experience. The unrelenting portrayal of the interplay between naiveté and awareness imbues the story with eroticism, posing the same question over and over again: Why do adult women submit to men's sexual demands? Martinson uses a highly effective narrative technique, influenced by the psychoanalytic theory of dreams, to home in on the emotions that Mia feels when confronted by her mother's sexuality and love for her hated rival, her stepfather. Mia's socialisation to womanhood goes by way of ambivalence towards the archetypes of the good and evil mother. When her mother is pregnant and feels dependent on her husband, Mia perceives her as somewhat of a witch. When she is slender and quick on her feet again, and can afford to mock her husband's autocratic pretensions, she becomes a flawless ideal in Mia's eyes.
Female Monogamy and Male Polygamy
Among the proud, independent maidservants that Martinson portrays is Rika in Brandliljor, who refuses to marry her beloved master and has an abortion rather than become dependent on him. "As long as you work, you're no concubine. Your body is yours". With remarkable frequency, Martinson's protagonists commit suicide, die in childbirth, or end up with too many offspring when they try to take their lives in their own hands. Her novels feature a permanent conflict between monogamous female desire and a polygamous male sex drive. Rågvakt (1935; Rye Watch) carries on an ethical discussion about the ostensibly irresolvable dilemma, which Sigrid incarnates through a heroic but futile struggle to overcome her love for Varg-Lasse (Lasse the Wolf), an inveterate lady's man. Drottning Grågyllen turns into a moral dialogue about the complexities of that desire, and hints at its psychological roots. Mor gifter sig, which was written in between those two novels, may be interpreted as an exploration of female desire and its origins in the early mother-daughter relationship. Martinson's women are most attracted and seduced by the archetype of the evil mother, projecting their longing onto cruel and handsome men. Mia grows up and repeats her mother's mistake by choosing a destructive, erratic alcoholic.
Hedvig Stenman, Mia's mother, is a labourer at the turn of the century, when one quarter of Sweden's industrial workforce was made up of women. They earned fifty-five per cent of men's wages, exactly what they needed to rent a flat with one room and a kitchen. In 1890, the year that Kristina Swarz gave birth to the girl who would be known as Moa to the Swedish public, five hundred weavers staged a successful strike in Norrköping to protest sexual harassment by their foremen. But they did not have the courage to discuss wages.
The aesthetic prose of Martinson's first novel is able to describe both female desire and male sex drive without sacrificing psychological truth or the illusion of realism. Mor gifter sig and Kyrkbröllop are written in an intentionally naive style that does not permit complex depictions of female sexuality. Given that Mia reaches puberty in Kungens rosor, sexuality needs to be described as an inner experience. The novel's Romanesque flavour may be an attempt to articulate erotic yearnings, a utopian form of female desire. But it gets in the way of realism and leads to a conventional storytelling technique based on external dialogues and scenes. The elegant and subversive role that the tension between sexuality as a drive and as subjectively experienced desire had previously played makes way for the traditional breakdown into a dichotomous code of innocence and sin. Mia represents the former and Ada the coquette, the latter. The attempt to combine the two alternatives in a lesbian relationship between Mia and Ada fails. The inevitable conclusion is that literature can fully express the complexity and psychology of female desire only in symbolically charged, modernist prose, as in Kvinnor och äppelträd.
The Alphabet of Undeciphered Life
"I'm not a goddess, I'm only a woman, I hate the goddesses, the idols, that you put in my eyes. Don't I have a soul? Those aren't breasts, they're two blobs of paint, women's breasts aren't like that, they are life itself, don't you see, life itself, not decorations", a female characters tells her artist husband in Drottning Grågyllen. The desire that Martinson investigates is not only sexual, although it often manifests as such. Ultimately, it is the need to be seen and affirmed as both a human being and a woman. But it is also a yearning for beauty. Drottning Grågyllen summarises the problem as a programme for the "alphabet of undeciphered life", an aesthetic that includes the primeval mother's experience. The symbol of the female condition is Klara Lord, a soldier's daughter who realises how extraordinarily beautiful she is when the escaped murderer Grågyllen gazes at her in fascination. After a long, unhappy life as a demi-mondaine in Russia, resulting in a stillborn child, she wanders like a nomad in the forests of Sweden and intervenes in the destiny of two young artists. Their lover's quarrel resembles the heated discussions in Martinson's writing about the importance of the libido in literary creation. The painter abandons his idealised "goddesses" and begins to paint Queen Grågyllen once his wife has helped him realise that art has failed to explore the female condition. Interpreting the curious living rune stone is the new aesthetic programme of the primitivist artist: " […] the lines of your face remind me of a prayer from my childhood. Who do you think carves the runes? Nobody deciphers runes these days; where do you come from, Queen Grågyllen? And he asks her to let down her hair, still long and bountiful in old age, and he sketches, paints with great fervour."
Translated by Ken Schubert