The writing of Regine Normann (1867-1939) lent a new dimension to Nordland, the Norwegian region that Jonas Lie and Knut Hamsun had so indelibly associated with neo-Romanticism – and that Alvilde Prydz and Magdalene Thoresen had celebrated as well. She fused folklore with authentic depictions of everyday life. Her grandiose dreams of liberation, love, life projects, and the supernatural were tempered by an unquestioning awareness of death in the northern Norway that she describes. Disease, suffering, graveyards, coffins, and tombs are omnipresent in all of her novels. Her innovative idiom normalises the Nordland dialect in a way that permits the rhythmic narrative style to bring out the region's mystical and popular mentality. Her many collections of legends, a number of which she had already used in her novels, place her as a folklorist who passed down the oral tradition.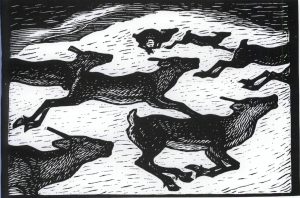 The daughter of a teacher, Normann hailed from Bø in the Vesterålen archipelago. After a harsh childhood, she married the local schoolmaster and sacristan at a young age. She later described the marriage as "ten years of rape." Following her divorce, she moved to Christiania (Oslo), obtained a teacher's certificate, and began to write. Her second husband was the well-known author Tryggve Andersen (1866-1920). Their life together was artistically stimulating, and they held a literary salon for several years before they parted ways. She was on the board of the Norwegian Authors' Union for many years.
After publishing her first book, Normann continued to teach. Ragna Størk, the schoolteacher in Faafængt, gives up love for vocation, a calling to which she feels bound by her special gifts as an educator. Ellen Key's Barnets århundrade (1900; Eng. tr. The Century of the Child) was a source of inspiration for several of Normann's books, particularly Barnets tjenere.
Norrman's works grapple with the great existential questions. What is the significance of having roots and belonging to a particular place? What does it mean to love? Her settings shift from poor fishing villages in the north to the eastern districts of the capital. The plots and critical feminist perspective of her early novels echo her personal experience of childhood and marriage.
Defencelessness and Maternal Despotism
Abuse of women and children is a central theme of Normann's first books, Krabvaag: skildringer fra et lidet fiskevær (1905; Krabvaag: Pictures from a Little Fishing Village), Bortsat (1906; Given Up for Adoption), and Stængt (1908; Closed),while the two-volume novel, Barnets tjenere (1910; The Child's Servant) and Faafængt (1911; Vain), chronicles the life of a female teacher in an elementary school for boys. Children's longing for affection, warmth, playfulness, and knowledge, as well as the homesickness of adults for the Nordland of their youth, whetting their appetite for storytelling and beauty, are underlying motifs in all of the books. But the surface is hard. Many of Normann's books revolve around conflicts and power struggles between different generations of women. The autocratic, vindictive, and pietistic mother figure reappears in various guises.
Normann was close to Sigrid Undset and Nini Roll Anker, both personally and artistically. All three were active in the Norwegian Authors' Union.
Krabvaag, a collective novel, centres on a young woman named Paulina. A hypocritical and greedy lay preacher haunts the fishing village in the dark of winter and stifles her development. But the pietism that steers her mother's actions is much more misanthropic. She forces Paulina to leave her fiancé because he is a Sami and "a child of the world." Paulina dies of puerperal fever after her mother gives her the infected bed linen. A kind godmother, the local author, adopts the child.
Dengang (1912; At the Time) reveals maternal despotism in its most hideous incarnation. While a secondary theme, it is illustrated with singular horror thanks to the folklore and titbits of tradition that pervade the novel. The narrator of the novel tells of a mother who drives her young daughter out of the tomb to act as an errand girl for her vengeful plans. Once more, a good woman appears to protect the defenceless child.
In Stængt, Sara is destroyed by her oppressors and guardian alike. The novel begins with a scene in which Sara plays with the wild swans. In the final scene, she is dragged away to a mental institution. Her story unfolds between these two scenes. She is married off against her will to an older preacher who flogs her when she protests against his repeated rapes. A young brother and sister become her secret friends; on her initiative, they go on a treasure hunt in a big cave. The swans and the cave symbolise her dreams of freedom and elegance. Having a baby boy lends her life a brief glimmer of meaning. But he dies, and Sara has forbidden her husband to baptise him. The grief and feelings of guilt bring on her mental illness. The final, anticlimactic scene shows the brother and sister, who live and work in harmony and ultimately draw in their father – a tableau of close family bonds and a communal life sans sexuality. A legend that is linked to Sara's fate illuminates the quest and wonderment of the abandoned child. Her heartache and yearnings are never assuaged. Only fairy tales and their pictures can provide relief. The legend is a tribute to the imagination and poetry that reality begrudges: "And there were more books than could ever be read, and the pictures were a bottomless treasure chest."
Fertile Cultural History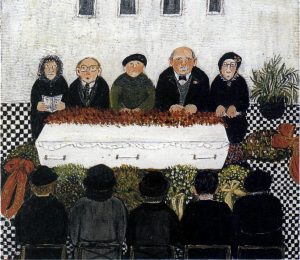 Dengang and its sequel Eiler Hundevart (1913; Eiler Hundevart) mark a shift in Normann's writing. Contemporary topics give way to cultural history, critical realism to exhortation and apologia. The renewal is on the level of content and form alike. The tone is both good-natured and droll, and her basic posture changes. She not only describes Nordland for better or for worse, she defends it. The world of the pre-pietistic church, with its generous approach to life, is set up as an ideal; the story is told through the filter of historical fragments. Just as Kima, the young woman, wants to save Eiler's soul from perdition (a Faustian theme), Normann seeks to redeem and preserve the Nordland of her childhood. The preface to Dengang explains:
"It is a Nordland that is disappearing and dying under the weight of everything new that is invading the country. Young people don't want anything to do with it. But those of us whose memories of childhood feed on all that is disappearing and dying still love that Nordland. I myself am one of them, and that's why I am writing this book."
The female characters in her Nordland tales have been spared a conventional, middle-class upbringing. Getting pregnant by your fiancé is no sin. While contemporary novels were ambivalent about sexual relationships, Dengang and Eiler Hundevart (1913; Eiler Hundevart) feature Kima, Margret, and Barbro Zidselle, lustful women of different generations. The enamoured Kima goes to bed with Eiler and exclaims to her lamb after a night of lovemaking, "Oh, my dear, sweet, adorable lovely Gåsa… I have something to tell you – Eiler Hundevart caressed me last night." In the Nordland of yore that Normann depicts, the natural, unbridled urges of the flesh can find satisfaction.
The Female Preacher
Normann's writing exhibits a pronounced religious tone. Riket som kommer (1915; The Coming Kingdom) preaches worldly Christianity and returns to the theme of abused women. Lorentine Asterset, who is getting on in years, becomes a preacher after weathering a religious and marital crisis. Her message is tolerance. "Help me find the Kingdom of God on Earth. I believe that it resides in everything that is beautiful and in each good deed we perform." Her rebellion against her preacher husband condemns her to isolation and loneliness. She wanders around preaching to the local women and abandons her home, husband, children, and belongings, but she still feels incapable of manifesting God's Kingdom. She dies while on a pilgrimage to the mountainside in order to revisit the "small holy objects" of her childhood. Normann had alluded to legends in her previous novels as well. At this point, the Lord speaks and raises Lorentine to Heaven. The realistic structure is cast aside to make room for a tale of reconciliation. Against the backdrop of the midnight sun, a deus ex machina rescues a lonely, frightened human being through the miracle of love. The defenceless child is finally in the arms of the beneficent father, an absent figure in so many of Normann's earlier books.
Translated by Ken Schubert