Serine Regine Normann was the daughter of a schoolmaster, born and brought up in poor conditions in Vesterålen. She was married off at a very young age to the village sexton and schoolmaster. Following her marriage, which she herself described as a ten-year-long rape, she trained as a schoolmistress in Christiania. She taught for most of her life, sat on the committee of the association of writers, and married and later divorced the author Tryggve Andersen.
Regine Normann made her debut in 1905 with the multi-protagonist novel Krabvaag, which like her novels Bortsat, 1906, and Stængt, 1908, centres on the theme of child abuse and violence against women. She later published Barnets tjenere (N), 1910, and Faafængt (N), 1911, which describes the dilemma of a schoolmistress torn between her calling and her desire. Her later works examine people in search of their roots and a worldly Christian faith.
Descriptions of nature and the life of the inhabitants of northern Norway's coastline, the defencelessness of children and women, and a longing for beauty are all central elements of her writing, which alternates between realist, fairy-tale, grotesque, and neo-Romantic texts. She uses dialect and rhythmic language in her writing.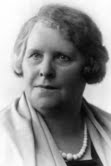 Articles about her