"Gustav Wied stood in front of me, like a doctor with a patient who is about to faint, and said so slowly that there was a gap between each word: 'Your female colleague Mrs Gyrithe Lemche has complained to a newspaper that in her homeland there are now NOVEL-WRITING HETAERAS!'
"I simply had to smile."'Child,' he cried. 'That can only mean you!'
"I looked out at the garden, to the grove where Gustav Wied had erected memorial columns to his dead friends. I said the names in my head and thought how they had all been special and somewhat unusual. Not one of them had held the conventional opinions.
"'What are you standing there day-dreaming about?' he asked. 'What are you pluming yourself on?'
"'I am proud that all those to whom you have erected memorial columns are singular creatures,' I replied. 'And so are we. You especially. The strangest thing about me is perhaps that I think: NOVEL-WRITING HETAERAS are something rare and noble.'
"I again gazed dreamily across at the memorial grove. 'Mrs Lemche, poor thing, is but novel-writing. Hetaera takes so much more!'"
This is Agnes Henningsen (1868-1962), aged eighty-one, telling a story half-way through the series of memoirs that transformed her from Denmark's most sinful to Denmark's beloved new Eve. Her voice is muted, but there is no hiding things away. And the style of memoir is new. A playful, determining first-person is rendering her version of the past. The life that constantly changed direction, because nothing turned out quite as had been expected once early marriage and then bohemian milieu had engulfed the tenant farmer's daughter from Skovsbo on the island of Funen with her natural hunger for life, beauty, and drama. Her memoirs treat of everyday life, fiascos in the theatre, scandals surrounding her novels, the malice of cartoon satirists, a broken heart – all the things that were so difficult to manage with four children, chronic shortage of funds, and a perpetual dependence on sisters who had married into wealth, patriarchal-minded brothers-in-law, and husbands who wanted to be loved for their own sake. Beloved material which needed its own style – and this she created. For the first time in her career as a writer, Agnes Henningsen sticks to one point of view, and that one alone: her own. And for the first and last time she uses 'narrative economy' corresponding directly to her lifestyle: all the difficult, burdensome things that did not work out, and the situations in which tempers flared, are confided to us in brief, intervening comments that are almost like stage directions in a script – and which guarantee the authenticity of the memoirs. They are there – almost without being there. Because all the rest, all that makes for sparkle and festivity, is given so much space and meticulous staging that the brief, albeit deep, sighs of self-revelation evaporate in its midst.
Agnes Henningsen tells her stories with grotesque caprice, bewitching theatricality, and fascinatingly full of contradictions; she writes about falling in love, which was something she started doing from an early age, about life as the child-bearing wife of a literature-loving teacher, about the writing that was necessary when finances put a stop to any more children, about the acquaintances with artists of the day to which this writing led, and about the 'illegitimate' child that came along when passion once again went beyond provincial upbringing and put the marital contract of 'freedom' to the test; about divorce from Mads Henningsen and his emigration, about life in the Carl Ewald 'commune', the quick loans, the impulsive travelling, life in Paris, Skagen, Christiania, the cafés, the restaurants, theatre premieres, public admiration, personal happiness, and the many frustrated attempts to gather her children together. We are as one with Herman Bang, Carl Ewald, Holger Drachmann, Soffi Drachmann and her Norwegian sister Bokken Lasson, with Georg and Edvard Brandes, Johannes V. Jensen and his Else, with Norwegian Gunnar Heiberg, with actors, publishers, visual artists, journalists.
And, of course, the bohemians of the day, those who provided material and characters for her plays and novels, also populate her memoirs. But in this special universe, the bohemian artist is constantly mixed together with the Funen bourgeoisie, the toffs of Aalborg, the Copenhagen proletariat, and the inclination to naturalness inherent in the tenant farmer's daughter. Agnes Henningsen's world is like a geographical and ideological map. Denmark is mirrored in Europe, Danish province in Copenhagen city, ingrained middle-class in radical bohemian; and the widely different attitudes of the times converge – social, political, religious – assembled in a hot-spot: that of love and independence, which in Agnes Henningsen's writings are the absolute premise of female desire.
"It is curious that the reputable Gyldendal publishing house year after year chooses to publish Mrs Henningsen's books. This one is, like the earlier ones, depictions of some oldish ladies' amorous licentiousness," wrote the newspaper Flensborg Avis of the three-volume novel Kærlighedens Aarstider (1927-30; Seasons of Love).
A Female Kierkegaard
Agnes Henningsen becomes the female turn-of-the-century moral philosopher. Where other writers struggle to manoeuvre with desire – without also triggering the collapse of 'family' in the traditional sense – Agnes Henningsen makes short shift of the issue. The choice, says her writing, is no longer between a family-oriented and a work-centric femininity. Whether one chooses the one or the other, desire, passion, is the key problem area for the woman. Because, unless linked to motherhood, it is still taboo, and because – for the same reason – there is no right or wrong side in this area – no ethics. And so she fashions the ethics. Like a Søren Kierkegaard, she cuts through the hypocrisy and the double standards; she does not take her starting point in the good old, but in the bad new. And that is why the core fabric of her creation comes from the bohemian milieu. This is where experiments thrive, where flirtation and erotic coquetry are played out, and where the misunderstandings and tragedies of 'free' love flourish.
Søren Kierkegaard fifty years earlier took issue with the Church as a stagnated institution and confronted "Hin Enkelte" (the single individual) with the necessity of choice and faith, so Agnes Henningsen takes issue both with the sanctimonious institutionalisation of love – which causes hypocrisy, martyrdom, hysteria, and furtiveness, while continually threatening any natural development of the female sexual life – and with the misguided 'free love' that believes one can simply embrace and reject in one long, indifferent eternity. It is normal to love more than one person; doing so, however, entails exacting levels of integrity if women are to avoid going down the same road as the men. "I work, you see, for the greatest possible freedom in love, which is unfortunately my only trade," she says in her memoirs. The slightly apologetic tone should not be misread. She is fully aware that this "trade" is a major and radical undertaking, and she gradually evolves a quite exceptional style that masters the psychology of the characters and indirect criticism alike. She does not play Søren Kierkegaard's subtle game with pseudonyms. On the other hand, she creates her own theatrical impressionism, playing with sight-lines and shifts of sight-lines, which is pretty much on a par with the pseudonyms. The benchmark is Herman Bang's impressionism, but she has already developed her own narrative style and tone in her early novel Polens Døtre (1901; The Daughters of Poland). Gone is all metaphorical description of mood; here, as in a stage play, the reader is thrown from one scene to the next without any narrative intermediary. Unlike in the theatre, however, the interlocutors live in a constant double-light. While the point of view changes, the reader is in and out of all the characters, can follow the disparity between an individual's thought and speech, and the continual shifts in the overall pattern of reaction. There are no heroes and no heroines in this style of writing. Everyone – including those who are bearers of the novels' utopian ambition – is shown for better and for worse, and there is no overriding narrative voice whispering in the reader's ear telling us what to think about this or that. Little wonder, then, that large swathes of the reading public were bewildered, and thus lumped her together with the wretched love affairs she was castigating.
As Elin Wägner takes revisionary issue with the works of male colleagues, so does Agnes Henningsen. Barnets Magt (1923; Power of the Child) is her critique of Henrik Ibsen's Gengangere (1881; Eng. tr. Ghosts) and her reply to Ellen Key's Barnets Aarhundrede (1900; The Century of the Child), and similarly Le Kun (1935; Just You Laugh) projects her version of Strindberg's Fröken Julie (1888; Eng. tr. Miss Julie). There is far more going on in this oeuvre than the "flustered Copenhagener eroticism" to which the writer Svend Leopold took exception.
Agnes Henningsen was read in the context of biographical identification. Although much of her oeuvre manifests a close relationship between fictional material and lived experience, the reader should not be deceived. Agnes Henningsen seemingly throws off the mask; we think we are in the middle of a personal drama, but it is actually mostly fiction. A fiction that systematically scans the tragedies and moments of happiness in matters of the heart, and by so doing constantly takes issue with the conventional forms of understanding prevalent at the time – in life as in literature. Hans Jæger's bohemian portraits are remelted, Ibsen and Strindberg and Ellen Key are revised. The women might be married and unmarried, wives, mothers, artists and ordinary workers, but behind these familiar positions there is a Kierkegaardian profile: the female aesthete, a Lisbeth Golten and a Mrs Westi in Den fuldendte Kvinde (1925; The Consummate Woman), a Kristel Dahl in Kærlighedens Aarstider (1927-30; Seasons of Love); the women ethicists, Halina Labowna from Polens Døtre, Alexandre from Den fuldendte Kvinde, Olivia Ring from Le Kun; and an evolutionary thread running through the entire oeuvre, the unity of aesthetic and ethical that rethinks both. Agnes Henningsen's proposal for a modern morality of love takes the individual as its springboard, dismisses the dream of the one and only, replaces it with a requisite sexual development in women, connects independence in work with independence and responsibility in love, and sees this as the only option to make a world that does not continually have to dissolve in the tears of love, the gnashings of jealousy, the martyrdom of mothers, nor be pitched back and forth between war and peace, hatred and reconciliation. As she writes in her short novel-like story Lykken (1905; Happiness): "No, were I to despise anyone it would be those people who live according to a moral code made by others." For the same reason, her characters stand in a twilight of understanding – the positions are stages along the path of life.
The representatives of 'free love', as created by Agnes Henningsen's colleagues in novels written immediately after the turn of the century, are rooted in their own fear of desire and their problems manoeuvring with it, but at the same time they send disrespectful greetings to Agnes Henningsen's main characters. This applies to Gyrithe Lemche's Corinna and Angelika in Edwardsgave (1900-12), to Lili Rosen in Thit Jensen's first published novel, To Søstre (1903; Two Sisters) – who confides in the main character that "[t]he three months [as mistress] had sown the seeds of the fiery-red flowers in my mind, the scarlet, heavy flowers of eroticism, laden with poison" – and it applies to Antonie Carøe (Antonie/Agnes) in Thit Jensen's Ørkenvandring (1907; Futility), who sermonised for Brandes while a schoolgirl and who was the model for her schoolfriend Katarina's sculpture "Death of the Hetaera", to which the narrator comments that she "ends up a Hetaera statue, deserted by men of the Modern Breakthrough who raised her on a colour pike and wrote books about her as the new era in the evolution of women".
A Different Accountability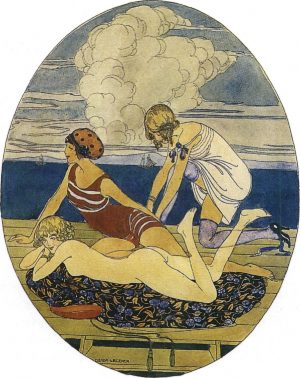 Agnes Henningsen concentrates her efforts on an attempt to acknowledge a female passion as an element of emancipation. Even though the main theme in her novels Glansbilledet (1899; Rosy Picture) and Strømmen (1899; The Current) is indeed the masculine untrustworthiness that makes female desire suspect, the whole picture has nonetheless been reversed. In Strømmen, after a loveless lower-middle class childhood, Karen Sofie goes on to be touched by love and she then unfurls like a butterfly, believing in the entitlement of feelings and the freedoms spoken of in words; she represents Danish literature's first sensitively empathetic depiction of the female figure whom everyone else has called whore, hetaera, prostitute. The picture is a tragic one, as are large swathes of Agnes Henningsen's oeuvre, because the men do not have the backbone to live up to their own words, and because it therefore becomes necessary for women to make doubly sure when love is at play. They have, and this is Agnes Henningsen's primordial message, only themselves to trust. She is alone in pointing up the case that without the entitlement of desire and without independence both in work and in love life, then social and financial efforts at liberation will always end in precisely those sacrificial positions and conflicts between art, work, and love which they were meant to inspire and revitalize.
When Karen Sofie succumbs, it is not because she is able to love two, but because she is nothing in herself, and because the men, who are themselves polygamists, still think that the norm of the one and only must nonetheless apply to women. An Agnes Henningsenian double perception which does not speak of blame, but of how patriarchy deforms men and women alike. It is in this double perception that the paradoxical psychology and economy of love life is scanned, demanding new literary forms and leading the way towards the ethics of love that is the mainstay for the rest of her writing career. Strømmen is a traditional Bildungsroman, with disillusion as the sustaining thread – impossible as a genre when painting a wider societal landscape, in which there are differences and similarities between types of men, women, and love. After Strømmen, however, Agnes Henningsen develops the dramatic impressionism and the special mirroring technique that was to be the hallmark of her fiction right up to her series of memoirs.
In the many works, by female and male authors alike, depicting the route to women's emancipation – Ibsen's Rebekka West in Rosmersholm (1885) and Ellida Wangel in Fruen fra Havet (1888; Eng. tr. The Lady from the Sea), J. P. Jacobsen's Marie Grubbe (1876), Erik Skram's Gertrude Colbjørnsen (1879), August Strindberg's Fröken Julie (1888; Miss Julie) – desire is the constant chink in the armour. In Sigrid Undset's work it lurks like a force threatening to crush both independence and creativity if it is not linked either to motherhood or to establishing a family. Thit Jensen links desire to the dream of the one and only, the twin soul; throughout her writing career, it either makes for heroic temperance, a desperate split, or maternal self-sacrifice. In Gyrithe Lemche it lives in domestic triangles, a split into the maternal and the aesthetic-sensual which constantly destabilises the masculine sexual instinct. Desire as a route to emancipation is, in the works of these writers, doomed to be a false trail. Even though they all acknowledge female passion, none of them manage to integrate it as an element of the emancipation model they otherwise spotlight. The images of wise spinsters, tender mothers, and pitiful, depraved hetaeras remain intact.
In the two major novels, Polens Døtre and De Spedalske (1903; The Lepers), which were written immediately after Strømmen, she discusses at length the patriarchate that fetters and limits men and women alike and renders love between them a theatre of war that no one leaves without carrying the physical or mental scars of the battlefield. The whole concept of purity and faithfulness that had previously been linked to female love is revolutionised. The crux lies neither in sexual asceticism, heroic self-sacrifice, or maternal martyrdom, but in faithfulness to oneself and in the truth claimed by one's personal feelings. From this springs a different accountability and a magnanimity that does not desperately punish the new falling-in-loves that can happen to anyone, but on the other hand comes down like a ton of bricks if they are swathed in untruthfulness. From here, she turns the world upside down and embarks on a critical scan of the complex circumstances pertaining to nationalism, corruption, and war that had hitherto lain like an emergent undercurrent in her writing.
The Paradoxes of Love
"The bohemians are a strong people, the same in every country. But the trick is to be one without anyone knowing."
Thus says Polish writer Marja Mankowska, one of the central characters in the novel Polens Døtre. Marja believes herself to be a bohemian, but is in fact not. She is deeply in love with the one and only, poet Antoni Dembinski. For his sake, she is capable of lying, deceiving, and inventing a "silent society", which officially campaigns for oppressed Poland, unofficially exists exclusively to wring money from, among others, the young nationalist and idealist Halina Labowna. When the poet loses interest in Marja and her self-sacrifice, she loses her raison d'être and with it her sense of self. Albeit part of the artistic bohemian milieu, Marja becomes a portrait of the female monogamy that allows itself to be betrayed and brutalised by a patriarchate in which men – bohemian or not – primarily love themselves. Agnes Henningsen's portraits of the bohemian are never unequivocal and absolutely not ideal. She knows that the lifestyle for which the bohemian is usually 'blamed' does not apply exclusively to that specific environment. It is a common masculine behavioural pattern in a society where women are first praised for being young, beautiful, and innocent, later for being faithful wives and mothers. The problem is not the freer forms of love, but the role-play and the dissimulation they invite. Agnes Henningsen cannot, therefore, subscribe to Marja's statement, because her bohemians only become a strong people when they can openly and responsibly acknowledge their lifestyle.
The bohemians had their gathering places. Nordic artists got together at their chosen cafés in Oslo, Stockholm, Copenhagen, Paris, and Rome. It is no accident that the most authentic bohemian character in Agnes Henningsen's novel Polens Døtre, the actress Wanda Brzega, called "Dukken" (the Doll), borrows features and fortunes from Dagny Przybyszewska's life. Nor that Anna Munch's and Agnes Henningsen's pens enter into mutual dialogue. They both took material from the bohemian circles they shared, in their day they were both read more as autobiographical than as literary writers, but they use their bohemian settings differently. Anna Munch points out the crippling aspects and seeks utopia in new de-sexualised relationships of friendship, whereas Agnes Henningsen focuses on the desire that can neither be written off nor circumvented.
Literature of the Modern Breakthrough could use the novel of disillusion to depict women's oppression as being a matter of woman the victim – this position as victim was made quite clear vis-à-vis lack of education and work opportunities, compulsion of marriage, sexual taboos, and a masculine sexual instinct that expected fidelity and family feeling in the home, and pleasures of the flesh outside the home. The public debate could battle its way to enmity on the issue of moral conduct – whether men should be chaste like women or whether women should be sexually experienced like men. The double standard of morality was the umbrella metaphor for these patriarchal terms and conditions: the man as executioner, the woman as victim.
After the turn of the century, this metaphor loses both its force of indignation and its unequivocality. Women's involvement – in society, politics, and the arts – had become so extensive that the notion of victim had to be exploded. With new discussions for and against contraception and abortion on demand, with debates about companionate marriage or marriage contracts allowing equal access to extra-marital affairs, women were no longer 'innocent'. In the major oeuvres involving critiques of gender and civilisation issues – the writing of Selma Lagerlöf, Sigrid Undset, Elin Wägner, and Thit Jensen – the era is still described in double-standards terminology as a period characterised by decline, deceit, rootlessness, and the disintegration of values. Men deceive, but this literature focuses on female co–responsibility. Gone are the strong men who could deploy family line, will, and power behind the words and sexual instincts; onto this literary scene swarm the yielding and whining, the seductive and dreaming, the self-overestimating, and above all the self-loving men. Scenographic backdrop for strong women who have to take care of their own and their children's lives. New variations of black/white, bad/good, new arguments for having to disregard personal desire.
But not from the pen of Agnes Henningsen. Her critique of the chequered sphere of 'free love' also has female co-responsibility as the focal point; with her insistence on desire as one of the female spheres of responsibility, which cannot simply be dropped or silenced, the traditional images of bad and good, black and white are toppled. In her writing, the bohemian becomes metaphor for the paradoxes of love: as woman, it is possible to love more than one person, to be wife, mother, and also a working woman, and yet be wholesome, honest, and faithful. Once dissimulation and hypocrisy are gone, once the woman can and should take financial responsibility for herself too, then double standards disintegrate and "bohemian" becomes the image of a new state of love in which the erotic game between mortal enemy and sweetheart might well give heart pangs and lovers' spleen, but never has the social and financial consequences that were directly connected with the executioner and victim position of the double standards.
With Distorting Glass in the Mirror of Love
In a large proportion of her writings, Agnes Henningsen takes up, albeit in numerous variants, the same story: the tale of the woman capable of loving more than one person. This little 'novel', which is usually a 'novel' within a 'novel', is the foundation and mirror for an analytical revision of the various types of 'love' rampant in her day: love of self, maternal love, parental love, patriotic love of country. Loves which constantly put the self-similar – self, own husband, own children, own country – at the heart of the matter, and which are ultimately destructive for men and women alike.
Analysis of these types of love and love relationships starts with the connected novels Polens Døtre and De Spedalske. In the former, the women are in the foreground; in the latter, the men are in the foreground. In both, lack of money is a controlling, depraving element. Together, they paint a picture of the anguished love landscape created by the role-playing double standards of the patriarchy, a landscape of ruined approaches to love – the men's self-sufficient Don Juanism, the women's self-sacrificing or hysterical selection of a single man or a single cause. Above all, Agnes Henningsen dishes up a critique of women's lack of responsibility. They are still visited by the dream of the one and only or the cause that overshadows everything. They are not people with their own field of activity, own demands, and own personal thrust. Therefore they are knocked over, and end up as marionettes in men's love game.
At the root of both novels there is the woman and the man who, although pained and affected by the role plays around them, possess the truthfulness and personal authenticity the novels call for. In Polens Døtre it is the actress Wanda Brzega, called "Dukken", and the wealthy socialist Prus. In De Spedalske it is the singer Annelise Abildgaard and the tenant farmer Evert Jacobsen. These figures are present throughout Agnes Henningsen's work as subordinate characters who put the rest of the gallery into relief. This is the case with the three actual 'bohemian' novels – Den elskede Eva (1911; Beloved Eve), Den store Kærlighed (1917; Great Love), and Den Guderne elsker (1921; Loved by the Gods) – which focus on the dissimulations and the furtiveness that also marked the bohemians' version of 'free love', and which makes them not a strong, but a broken, people. And it applies to the four novels published immediately before the big memoirs series: Barnets Magt (1923; Power of the Child), Den fuldendte Kvinde (1925, The Consummate Woman), Le Kun (1935; Just You Laugh), and Det rigtige Menneske (1938; The Real Person). Here, Agnes Henningsen turns a critical pen to the overall state of the day: to the wars, which leave men and women mentally broken; to the nationalism, which takes war into families and divides them in enmity; to the century that boasts of being the child's, but still allows children to founder either in hysterical pampering or in undue violence; and to the government and municipal bureaucracy that fosters corruption and renders uprightness redundant.
In these novels, Agnes Henningsen connects the love relationship of the patriarchate with the state of society in a coherent critique of civilisation: while we can only love ourselves and only take care of our own narrow interests, then war, corruption, and reciprocal ill-treatment will continue.
Developing Sexuality
The female characters who carry the oeuvre's recurring story about the woman capable of loving more than one person – Gerda Rose in Den store Kærlighed, Lise Funch in Den Guderne elsker, Kirsten in Barnets Magt, Oda in Den fuldendte Kvinde, Mrs Ring in Le Kun,and Gertrud Hastrup in Det rigtige Menneske – are also mainstays of its development. From book to book they grow older, more experienced, and thereby turn the focus on problem spheres that come with age: from young love and joy of motherhood, which is delight in itself and overshadows frigidity, to the independence of work, which also exacts pleasure in desire, to highlighting the fact that desire does not abate because a woman happens to have passed the age of forty. On three occasions Agnes Henningsen puts the focus on the line of development itself – each time in a series. The first time is in the trilogy Kærlighedens Aarstider (1927-30; Seasons of Love), telling the story of Milli Hahn. The second time is in her eight-volume memoirs (1941-1955), in which she personally carries through the line of development, and the last time is in the work that concluded her published writing career, the trilogy about passionate Minna. Coherent descriptions of the relationship between female independence and female desire which, in their frank showdown with the taboos of the time, called so powerfully for condemnation that the aim of her oeuvre as a critique of civilisation vanished.
"All this literary talk and debate about 'free' love has indeed rattled some of the bourgeoisie in all decorous seams and joints. These erotomaniac books show us what all this extolled freedom has led to, and one pities the result, which is utterly devoid of pagan beauty and spiritual liberty."
Svend Leopold in his book Tres Talenter (1918; Sixty Talents).
Translated by Gaye Kynoch