From early on, the more established author Sophie von Knorring served as an ideal to the successful author Emilie Flygare-Carlén (1807-92), and in her Minnen (1878; Memoirs), Flygare-Carlén writes about their first meeting: "Maria Röhl picked me up, and now came the great moment when I was to be presented to Sweden's most spirited, most talented, most satirical, and most arrogant female author. If truth be told, I felt much more apprehensive than I did when I was summoned to Queen Josefina for the first time. – The latter certainly would not have wanted to make me in the slightest embarrassed, but I was absolutely sure that the famous literary lady would not spare me, who had so often been spared by the press."
In a letter of 28 January 1847 to Malla Silfverstolpe, Sophie von Knorring writes about how, at Skålltorp, she was called upon by Emilie Flygare-Carlén:
"[…] but now! now she spoke out her mind and railed in the most abusive way against me for not having returned her visit in Stockholm, and told me that she had simply and solely come here to tell me 'the truth' since nobody else does it, and you know what – dearest Malla – it was horrible! – She said things to me more impolite than I have ever heard before in all my life, letting me know that I was thoroughly stupid, conceited, stuck-up to the point of madness, ignorant, prematurely old-fashioned – etc., etc… Her poor – truly nice – husband was beside himself with alarm. He begged her, he clasped his hands, he took hold of her shoulders, and repeated again and again: 'Dear Emilie! – For God's sake, calm down! – Think of what you are saying, etc.'"
She had a reason for feeling threatened. Her first novel, Waldemar Klein (1838; Waldemar Klein), to a great extent plagiarises the well-known style of Knorring's novels. But later on, and especially as regards the moral plane, Flygare-Carlén developed a profile all her own. The discussion of sexuality, men, and women that Sophie von Knorring had introduced was to be further developed, in a modern direction, by Emilie Flygare-Carlén.
She came from a family of merchants in the province of Bohuslän, belonged to the lower middle class, and was unfamiliar with the nobility's more complex morality of duty, which Knorring describes. Flygare-Carlén does not shy away from calling the man's egotism vis-à-vis the other sex by its rightful name, or from exposing the woman's strategic duplicity with regard to engagement and marriage. Whereas Sophie von Knorring describes sexuality as passionate and pent-up at one and the same time, Emilie Flygare-Carlén more explicitly sees it as a necessary but fatal drive. She does not share her predecessor's disapproving attitude towards lust without love. When for example the listless Lavinia in Ett år (1846; Eng. tr. Lavinia, or, One Year: A Tale of Wedlock) feels the "violent beating" of her husband's heart, something as refreshingly positive as "a complete revolution [takes] place within her", and this in spite of the fact that she does not love him yet.
As her writing career progresses, Flygare-Carlén also shows how a determined woman may not always be able to change her situation but is at least able to influence it. It is undoubtedly her courage in giving a positive depiction also of vigorous women that is the secret of her great financial success as a bestselling author.
Unlike 'The Author of The Cousins' (that is, Sophie von Knorring), Emilie Flygare-Carlén mainly appeared under her own name. She became an author, so it has been said, in order to be able as a widow to provide for her children. When she had to choose a publisher, she vacillated between Lars Johan Hierta and Niclas Thomson but ultimately chose Thomson's Kabinettsbibliotek (Cabinet Library) because she had seen that it included original works that she felt that she "could compete with". Her first work was kindly received by the critics, and Thomson considered her such a valuable asset that he positively monopolised her. A year after her debut, she was set up in an apartment in his house in Stockholm in order to facilitate the collaboration. And perhaps also in order for Thomson to make sure that his dangerous competitor, Hierta, would not be able to get his hands on such a productive source of income.
In Stockholm, the successful author soon became the female centre of attention in the period's liberal circles of male authors, and it was there she met her second husband, Johan Gabriel Carlén, whose help with copy-typing and proofreading is meticulously documented by literary history.
Emilie Flygare-Carlén was one of the best-paid professional authors in the Nordic countries. Her fee rose with every book – she wrote a total of twenty-five novels – and after her big breakthrough with Rosen på Tistelön (1842; Eng. tr. The Rose of Tistelön) she was referred to as "Sweden's most read female author". Along with Esaias Tegnér and Fredrika Bremer she represented Sweden abroad, and her novels were translated not only into Norwegian, Danish, French, German, and English, but also into Polish, Italian, Spanish, Hungarian, Dutch, and Russian.
Like the majority of her contemporary colleagues – men as well as women – Flygare-Carlén used the period's translated novels as her literary models. Her talent as an author was of a receptive kind, and her conformity with the reigning literary conventions contributed to her success with her audience. Thus, in the development of her writing one can also follow the changes of taste on the literary Parnassus.
The first part of her writing career, which was crowned with Rosen på Tistelön, did not take shape without an anxious, sidelong glance at the period's critical reactions to the immoral influence of the French and the German novel in general, and to Knorring's infectious novelistic eroticism in particular. The critics recommended the English novel, particularly Walter Scott, as an antidote. Although Flygare-Carlén was not slow to follow the instructions, in secret she also read the reputedly 'depraved' George Sand, and this would manifest itself in her later works.
The heroines in Emilie Flygare-Carlén's first novels are not particularly passionate. They appear to be unaware of the power of sexuality and are therefore driven by the passionate man towards their – often tragic – fate. In Kyrkoinvigningen i Hammarby (1840-41; Eng. tr. The Magic Goblet, or the Consecration of the Church of Hammarby), for personal reasons of revenge that go back three generations, the demonic Leiler seduces a pure-hearted girl, about whom the author writes, with a sigh: "she, so gullible, […] had no idea how her heart weighed light as a feather on the capricious wave of male egotism". The sexual drive is a male domain; some of the men become deformed or mad on account of it, as the crippled Count Albana in the same novel. His fair fiancée faints if he merely touches her: "His sickly body, misshapen by ill-fortune, and his quick-tempered disposition, burning with anger, fills me with pity, but when his eyes glow with a fire, for which there is another name – then I feel an aversion, a dread, a shiver at the thought of becoming his."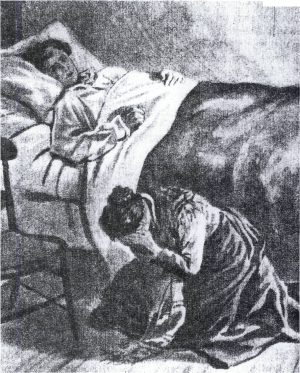 In the first part of Flygare-Carlén's writing career, her heroines are thus rather pale, with certain exceptions such as Maria, the divorced wife in Kyrkoinvigningen i Hammarby. However, through her biting comments about male egotism she signals that modern times have arrived. It is time for the heroines in the novels to change, too: "I am convinced that I have the merit of having written a work, in which I set out on a new path in literature. I have described people in stations and conditions of life that are less romantic than true."
Rosen på Tistelön belongs to the period's popular genre of practical pedagogic and liberal-coloured descriptions of the lives of common people, as found in Bremer, Runeberg, Almqvist, and others, but it also breaks with this genre. With its broad epic narrative, which, as it were, avoided idealising the people, it was a novelty. The critics were initially dubious with regard to the horror-Romantic description, bordering on Naturalism, of the skerries off the west coast of Sweden, and about the fact that the crime that governs the plot is described as being based on a sudden, sexually motivated decision. Was this really a topic for a woman? In the Swedish newspaper Svenska Biet (The Swedish Bee) in 1842, a critic wonders: "[…] but doesn't the author possess just a bit of human, of feminine emotion?"
The west coast of Sweden turned out to be a rewarding romantic setting. Around this period of time, the skerries of Bohuslän began to attract artists as well as the upper and middle classes, who frequented the health-resorts there. The novels by Flygare-Carlén that are set in the skerries are also unique because they are about a part of the Swedish population that she came in contact with in her childhood and that was completely new in the context of Swedish literature: customs officers, merchant families, sailors, and fishermen.
Yet, the fact that Rosen på Tistelön is regarded as the first description of the Swedish west coast can hardly explain its enormous popularity to this very day. Rather, the success is due to the skilful combination of the family novel and horror Romanticism. The realistic elements in the description of the setting are so few that they can be said to form a stage-like backdrop for the plot. The powers that play with the human beings and that govern the events in the novel are mysterious and ominous, and in the manner of horror Romanticism, the suspense in Rosen på Tistelön is built up through bad omens and gloomy scenes of nature, which forestall or accompany the action.
Rosen på Tistelön is based on the story of a crime that the author's brother, Edvard Smith, who was a lawyer in Strömstad, had discovered in old court records. According to these, on an expedition to the Paternoster Skerries, two smugglers, a father and a son, had murdered a customs official and his men and sunk their revenue cutter. The only witness to the crime was the youngest son of the older offender, a retarded young man who many years later turned in his father and brother. In the novel, Flygare-Carlén weaves the plot of the crime together with a romantic love story that describes the love developing between Gabriella, the daughter of the older smuggler, and Arvid, the son of the murdered customs officer.
Fritz von Dardel: Operapubliken hyllar Jenny Lind. Litografi, in: Gösta Selling et al: Stockholm i Närbild, Stockholm, 1943
The novel distinctly stresses the division between the women's sphere and that of the men. Whereas the women take the leading parts in the realistic everyday scenes in the family homes, the men take action in the scenes at sea, which are saturated with sensation. The men's actions are crucial, but it is in the scenes dominated by the women that the atmosphere of psychological horror makes its appearance. The description of the inner conflicts of the novel's characters and of the interaction between them is what, on an underlying level, drives the intrigue forward. In this way, Rosen på Tistelön becomes a novel about a number of women and about the way in which they are affected by the crime of two men.
While the men in Rosen på Tistelön are depicted in accordance with the usual stock of contrasting roles, the portraits of the women are more individualised. Above all, Gabriella is a heroine who at one and the same time corresponds to and goes beyond the template of the popular novel. Gabriella is a typical novel heroine in so far as she is a radiant beauty on the threshold of marriage. But she is neither sweet nor self-sacrificing. Instead, she is described as possessing qualities that are usually distinctive of the evil woman, that is, willpower and determination. In some of the most exciting scenes of the novel it is she who saves her family thanks to her courageous action, whereas the men are assigned more passive roles. She is also heading for a fate other than what was customary in the novels of the period, where the heroine is happily united with her beloved or wastes away on account of tragic love. Here, one may wonder whether Emilie Flygare-Carlén is not parodying the Romantic view of love. Gabriella voluntarily renounces her suitors, and in the epilogue we meet the fair lady in her old age as a mentally deficient pauper. It is a picture of the woman as a victim of the patriarchy, a locked-up relic from olden times, which engraves itself on the reader's memory.
"The business of the little inn was good; and sometimes, at the urgent entreaties of strangers, Lindgren would cautiously raise a green curtain, which hung before a pane of glass, inserted in a door, apart from the rest of the house. Those who looked through it, saw a darkened room, containing a bed, a table, and two chairs. At the table sat a little, wrinkled, shrivelled old woman, in a white starched cap: her withered hands played mechanically with two small shells. No trace of beauty was to be discerned on her pallid, grief-worn countenance: 'And yet', said the hostess, who usually slipped in behind her husband, 'she was once called – The Rose of Tistelön!'"
The final passage of Rosen på Tistelön (1842; Eng. tr. The Rose of Tistelön).
Around the middle of the 1840s, under the increased influence of the sensationalist French serial novel à la Eugène Sue, the literary market is demanding more social engagement along with a more complicated romantic storyline. En natt vid Bullarsjön (1847; A Night at Bullarsjön) attacks the Pietist Bible reading and is an attempt at writing a grand social novel.
In this period, the focus of Emilie Flygare-Carlén's novels changes from family ties to marriage. Her interest in the physical expressions of the emotional life in the relationship between the sexes, as well as her partiality to more demonic types of women, as for example the crafty courtesan Lilia in Ett Rykte (1850; A Rumour), increase as her productivity picks up speed. The result is that passions untested in the literary context are dressed up in extravagant poetic images. The deterioration of style is so much more conspicuous since she is dealing with the then unexplored territory of the physical relationship between the sexes. The time had clearly not yet come for a more complex female psychology.
It is typical that Alf Kjellén in his otherwise fine and thorough study, Emilie Flygare-Carlén (1932), appears bewildered as regards the development of her writings in this period. At this point, Flygare-Carlén enters upon a field unexplored in psychology and literature, which Kjellén does not master. He chooses to interpret what to him is utterly incomprehensible in these novels as primarily a failure in the composition, a lack of "firm contours and clear lines".
The attacks by the leading liberal critics were not long in the coming. In the beginning of the 1850s, the reading of novels was most sharply condemned – it allegedly undermined the nervous system. The journal Tidskrift för Litteratur (Journal of Literature) and the newspaper Aftonbladet made an assault upon the vulgar romanticism of the French serial novel and called for the realism and middle-class morality of the English novel. Emilie Flygare-Carlén, who at an earlier point had joined the chorus of complaints about "the (im-)morality of The Cousins", now had to face the same accusation of immorally passion-saturated descriptions. The slashing criticism combined with the sudden death of her only son made her withdraw from the public scene. It was not until the end of the 1850s that she resumed, upon request, her interrupted writing. Ett köpmanshus i skärgården (1860-61; A Merchant's House in the Skerries) was published as a serial novel in Aftonbladet in 1859 and immediately became a great success.
Vindskuporna (1845; The Garrets; Eng. tr. Marie Louise: or, The Opposite Neighbours) has been characterised as a kind of 1880s novel written in the style of the 1840s about a suffering woman and her brutal husband. On account of its description of the erotic attraction between a couple who do not love each other, Ett år (1846; Eng. tr. Lavinia, or, One Year: A Tale of Wedlock) was regarded by contemporary critics as "a new development of 'Det-går-an-idén', [Almqvist's] idea of 'It-Can-Be-Done'". The novel Ett rykte (1850; A Rumour) is erotically daring and was vehemently criticised.
Vindskuporna (1845), har karakteriserats som ett slags 1880-talsroman i 40-talsstil om en lidande kvinna och en brutal make. Ett år (1846), ansågs i samtiden vara "en ny utveckling af Det-går-an-idén" genom sin skildring av den erotiska attraktionen mellan två makar som inte älskar varandra. Romanen Ett rykte (1850), är erotiskt mycket djärv, och blev våldsamt kritiserad.
The novel can be seen as Emilie Flygare-Carlén's reply to her critics. The preface portrays her as a defenceless victim of the unstable literary market. Now she knows better and wants to offer "some hours of excitement to those who are tired after a hard day's work and trouble, and who are looking for other invigoration than that of mere entertainment". By making her focus in this novel the work of self-improvement as opposed to corrupting love, she hopes to meet the liberal critics' demands for noble realism and morality. The heroine Emilia is developed in accordance with this ideal. After having married Åke Hjelm, she is uprooted from her upper-class salon existence in order to run, together with her husband, a trading business in the skerries. Thanks to her husband's down-to-earth instruction, Emilia develops from a dreamy, sentimental young upper-class lady into a competent, sensible, and active wife of a merchant. Her trials are many.
It is not only in Emilia's development but also in the composition of Ett köpmanshus i skärgården that the reader notices a tendency towards increased realism and a more detailed description of the characters. Even though the plot is built up around a dark secret, the crime story is of rather secondary importance compared to Rosen på Tistelön. It is obvious that Ett köpmanshus i skärgården is written after Fredrika Bremer's great emancipation novel Hertha (1856) and conceived during the debate in the Riksdag, at the end of the 1850s, concerning women's legal majority. Both Emilia and her friend Majken, the girl from the skerries, are described from a feminist perspective. It is the women who are responsible for many of the crucial actions in the novel, whereas the men appear weak and less capable. This tendency is sharpened over the course of Flygare-Carlén's literary career and culminates in this exemplary description of how the woman, once she has been emancipated from the passivity-inducing middle-class upbringing of girls, can develop into a competent and active individual on a par with the man.
In spite of the fact that Emilie Flygare-Carlén lived until 1892, she did not have any direct contact with the many women writing in the 1880s. Nevertheless, it is difficult to imagine the women's Modern Breakthrough in Sweden without this foremother. An example of her direct influence is Victoria Benedictsson's novel Fru Marianne (1887; Mrs Marianne), which, like Ett köpmanshus i skärgården, describes the development of a spoilt middle-class daughter into a wise wife and mother on a country estate.
In 1862 Emilie Flygare-Carlén was awarded the Swedish Academy's large gold medal, and in 1865 her last important work appeared, the autobiographical trilogy Skuggspel (Shadow Play).
Translated by Pernille Harsting