In keeping with a sketch that she herself makes in a letter, Fredrika Bremer's (1801-1865) literary career can be seen as passing through three stages. The first is "the fire of youth", the inspiration of "the age of ignorance". The second is the lengthy "threshold" stage, the conscious and will-driven creativity. The third is the feeling of a synthesis: to "create in a free and conscious spirit without losing the inspiration from the age of my ignorance".
"Earlier on, I was guided by my instinct; things were better then, I believe – and then again, no! Its power had been extinguished along with the fire of my youth – and I would then have been standing there empty-handed. I now have to be able to cross the threshold that I am standing at, if I am to become anything real, independent; and not just by chance. I begin to sense the deeper sources; I get a glimpse of the power of art that comes from inside – alas! 'I thirst!' ('mig törstar!')", writes Fredrika Bremer in a letter to Böklin of 22 December 1834.
That the "threshold" was so broad and difficult to surmount must be ascribed to her 'scheme'. As one of very few in world literature, Fredrika Bremer can claim to have created system-breaking literature. Her novels are parts, fragments, of a labyrinthine "scheme of emancipation".
The most unerring sense for this scheme of emancipation is displayed by Klara Johanson, the editor of Fredrika Bremer's letters in the beginning of the twentieth century. Two of Klara Johanson's observations ought to be the motto for every discussion of Fredrika Bremer. The first is: "Has there ever been such a combination of an influential author and a flawed writer as Fredrika Bremer?" The second is that one needs "philology", the ability to read, in order to interpret Fredrika Bremer. What to a modern literary critic may appear to be "Christian edification" – a "pious blunder", as Klara Johanson puts it – may turn out to be a "flashing formula for freedom".
"But it is about time that philology seriously devotes itself to such difficult old classics as Lukas and Fredrika, both badly treated by uninvited interpreters." From Klara Johanson, "Den inre rösträtten" (1924; The Inner Suffrage).
Perhaps the combination is not that unusual among female authors. "Influential" has to do with the singularity and radicalism of the vision; "flawed" with the control over the means of expression. The more original the vision, the smaller the supply of established means of expression.
One should not expect homogenous, successful 'works' from Fredrika Bremer. If one were to do that, one would end up with a few nineteenth-century novels worthy of reading, but mediocre. It is among the fragments that one must look. Scattered about, ready to be put together, there is to be found what Klara Johanson calls "Fredrika Bremer's book". That is the book we shall endeavour to find in what follows.
"[…] that, as far as I am concerned, I would be willing to make a six-mile pilgrimage barefoot to behold the features and hear the voice that surprises us with its lively manner, so tenderly, so wittily and so touchingly, in every line of your lovely poems."
(Carl Gustaf von Brinkman in a letter of 6 December 1830 to Fredrika Bremer.)
The Fire of Youth and the Age of Ignorance
""In the great salon of Literature a grand ball was taking place." Thus begins a preface to the second part of Famillen H*** (1830-31; Eng. tr. The Colonel's Family), a preface that was never printed. The preface gives a glimpse of Swedish literature depicted as a multi-coloured but well-organised dance gala. There, the gentlemen – the established authors – dance about in various imported styles: French minuet (Kellgren?); German waltz (Atterbom?); anglaise (English cemetery Romanticism à la Thorild?); a nondescript solo (Tegnér?); as well as quadrilles and ring dances (Phosphorists and Gothicists?). Outside the door stands an uninvited dilettante, Fredrika Bremer herself. The woman has not yet obtained the admission ticket to the academically oriented Romanticism in Sweden. However, "with cheerful heart" she "execute[s] a few Assemblées" – some improvised 'sketches from everyday life'. "A large and splendid Gentleman" passes by – "What a nice little thing" – and gives her a coin: "Oh, now I see the time has come to get myself an admission ticket!".
"In the great salon of Literature a grand ball was taking place. To the strains of a full Orchestra, they were dancing Minuets, waltzes, anglaises, Quadrilles, as well as solos and ring dances, when along came a little dilettante, and saw the gleaming light and heard the joyful noice – but had no admission ticket, nor did she try to force her way into the party, but remained diffidently outside the door, and executed (with cheerful heart) a few Assemblées. A large and splendid Gentleman passed by, smiled encouragingly and said, 'What a nice little thing!' and gave her a coin. The little one cried out in delight, 'Oh, now I see the time has come to get myself an admission ticket!'"
This "First Course" was planned as a preface to part two of Famillen H*** (1830-31; Eng. tr. The Colonel's Family) but must have been discarded after the book had been printed.
The Swedish Academy awarded Fredrika Bremer their small gold medal for her earliest Teckningar utur Hvardagslifvet (Sketches from Everyday Life) and thus an admission ticket to the literary scene. Yet, her gratitude does not prevent her from looking at the whole thing with a certain irony.
It was the tone of Fredrika Bremer's Teckninger that struck the learned Swedish establishment with amazement. The ingenious invention that gave voice to this new tone was the housekeeper Beata Hvardagslag (Beata Workaday) of Famillen H***. Beata's middle position – both a part of and outside the family; both loyal and sceptical – becomes the timeless, and never surpassed, formula for Fredrika Bremer's 'double' vision.
Beata could have become one of the academic moonlight poets of the Romantic period. Her first word "on this base earth" was "moon". Now her sex stands in her way. There were no jobs as a pastor or as a copying clerk for female moonlight poets. But she "would have almost starved to death in the gentle moonlight", it says in the novel, "if light of a different kind had not been her salvation" – namely the light "from the fireplace of a noble kitchen, where she succeeded in making a good wine jelly – and became a great success". Beata becomes a jelly cook instead of a moonlight poet. The wine jelly becomes a metaphor for the more prosaic writing of novels. Beata becomes a "prosaic friend of the moonlight" – but nevertheless allied with 'the moon'.
"The dawn of a life that later turned out so dry and prosaic was a sweet, poetic moonlight dream": said about Beata Hvardagslag in Famillen H*** (1830-31; Eng. tr. The Colonel's Family).
One of Beata's mediating tasks as a narrator is to bring together Realism and Romanticism, 'moonlight' and prose. Famillen H*** introduces Everyday Realism into Sweden, but Famillen H*** is also one of Sweden's most outstanding Sturm-und-Drang novels. In order to succeed with this tour de force, Fredrika Bremer employs both a Realist and a Romantic-melodramatic code. It is up to the narrator, Beata, to cook these codes together into an edible novelistic jelly.
"[…] with Arvid … my world would be just like a larder – with me like a lump of mouldering cheese", says Julie, one of the daughters in Famillen H***.
Not only Famillen H*** but all of Fredrika Bremer's production may be read in the light of a Realist and a Romantic code. On the one hand, she examines, with an increasingly greater perspective, the woman's position in society, her right to education and personal development. On the other hand, she is preoccupied with the right of the inner life as opposed to the outer life and with the possibilities for passion, the female heart, and the female fire to overturn the existing state of things – an attitude that is related to Sturm und Drang. The two tendencies culminate in the late novel Hertha, eller en själs historia (1856; Eng. tr. Hertha), with its two schools: a weekday school that focuses on instruction in things that are necessary for young women in "this world" – languages, history, geography, etc.; and a "holiday-school" that, under the cover of teaching "language and conversation", contributes to the "schemes of emancipation". What is not a little original in Fredrika Bremer is that throughout her life she manages to hold on to these two projects.
In Famillen H***, the Realist code applies to the three 'legitimate' daughters and their possibilities of a fairly rich and independent life within the given boundaries. Fredrika Bremer's sense of humour, her powers of observation, and sense of detail are already victorious here. Even if only her novels had been preserved from this period, one could get quite a complete picture of life, especially women's life, in the higher social strata.
By contrast, the Romantic code applies to the blind Elisabeth. Her appearances are accompanied by all the Sturm-und-Drang accoutrements – sighs, emotional outbursts, grandiose thunderstorms, and extreme life and death situations. It is Elisabeth who personifies passion and fire, and who shows how these are stifled in the woman's narrow sphere:
"[…] oh, how unhappy the woman, whom nature has bestowed with a soul that is full of fire, strong emotion, and enthusiasm! How unhappy the woman who sees in the limited sphere where she is called upon to live and act, silently and monotonously, nothing but a joyless existence, a prison, a living grave. […] Submit to fate and the laws of society … resist yourself … or you will suffer and be crushed like me!"
Elisabeth is being crushed. She is usually seen as a highly-strung figure of rebellion, and usually the focus lies on how she finally succumbs. But one should not ignore what Elisabeth herself says about her fire. It is a "fire of sacrifice", a birth-giving and transforming "womb of fire". The fire in Elisabeth points forward to the theme of fire in Hertha; the figure of rebellion, Elisabeth, heralds the founder of schools, Hertha.
Famillen H*** is a tight novel, written with the fire of youth, out of inspiration. "[I] felt the words sparkle out of me like bubbles of champagne out of a bottle, and I felt that what I wrote would do." It was to be a long time before that feeling made its reappearance. As a writer of novels, after Famillen H*** Fredrika Bremer enters the long threshold stage. As a thinker and a searcher she is heading towards a breakthrough.
The University of Letters
Sometime in 1831-32, Fredrika Bremer came into contact with Per Böklin, a versatile theologian and schoolmaster from Lund. Together with him she creates a personal "university for the philosophy of life" ("livsåskådningsuniversitet"). For the rest of her life Böklin remains her teacher, comrade, and adviser. The correspondence from the beginning of their acquaintance is an eruption of questions; the issue was, as Klara Johanson writes, "God and the whole world". Fredrika Bremer's need for clarity is not least a testimony to how frustrating women's education was in that period: "light! light! above all! Even if I were to see myself as pitch black against its clarity!!" She speaks about a "disease" that has fallen upon her, "an insatiable hunger, an unquenchable thirst for knowledge, for everything that may allow the hazy half-thoughts to become clear and lucid, become complete thoughts".
"Why am I not a man, a student, with the right to be at the university and attend the lectures and get to know myself and the world?!"
Fredrika Bremer in a letter of 25 July 1834 to the Uppsala professor, Erik Gustaf Geijer.
Among other things, the letters to Böklin contain (as is also the case with a short autobiography from 1831) Fredrika Bremer's confrontation with the issue of her childhood and upbringing: "My whole youth passed by under the oppression of a male-dominated rule with an iron hand." To Fredrika Bremer, the oppression of women, both as a structure and as an emotional experience, becomes the archetype of oppression and power relations, by means of which she identifies lack of freedom and injustice in general. Restoring the dignity of women, not least of unmarried women, becomes the ever more conscious goal of Fredrika Bremer's writings.
"Embroidering on an eternal and grey neck-band, I went more and more numb, that is, with regard to my more vital powers, to my desire to live. The feeling of pain did not go numb; it became sharper with every day, just like the frost as winter grows harsh. The flame in my soul flickered anxiously and only wanted this – to go out for ever."
Fredrika Bremer: Sjelfbiografiska anteckningar (1831; Autobiographical Notes).
The Broad Threshold
In Fredrika Bremer's next novel, the housekeeper Beata returns as the governess Miss Rönnqvist. In her new shape, the female narrator is sufficiently intellectual to be able to listen to conversations about Plato and to quite openly support emancipation. But it is often apparent that it is Beata's pen she is wielding – "that late personage bequeathed" it to her – and that she is following Beata's baking recipe. There clearly is no lack of a many-levelled irony.
The novel is called Presidentens döttrar (1834; Eng. tr. The President's Daughters), and it focuses on the young Edla. She represents the purely intellectual woman, the one who is in danger of being crushed, if she is not allowed to search out her special food, the nourishment for her thought: "The world becomes rich to man in proportion as he looks about in it. The life of the thinker is beautiful as that of the lover." But Edla also represents the fire, the anger. In both respects she is heralding Hertha. In fact, one of the scenes, a conversation about the home, is a preliminary study for Hertha. "You have compared home to a heaven", says Edla, "do you know what else it may resemble?" Her answer is: "A house of correction." The remark is startling. Immediately thereafter, a fire breaks out in an adjoining room. The constellation is the same as in Hertha: a female protest – above all addressed to the father – changes into a blaze that threatens the whole of the fatherly house. In both cases the father's life is threatened by the flames, but he is rescued by the rebellious daughter.
"Ah! my best Mamselle, my best Mamselle Rönnquist, one may say what one pleases for learning, yet – what is the end of our learned ladies? Do they not figure wherever they come as abortive productions, as insupportable as they are ridiculous?"
"In books, yes! as in Molière's 'Femmes Savantes', and others; but do we now in our days find them so, except in books?"
From Presidentens Döttrar (1834; Eng. tr. The President's Daughters).
The immediate instigators of the fire in Presidentens döttrar are Edla's younger sisters. Thus far they resemble Fredrika Bremer herself, who was known to have had pyromaniac tendencies as a child. It is easy to recognise a protest against the period's restrictive and confining upbringing of girls in the 'experiments' that Fredrika was engaged in: throwing clothes into the fire and cutting fabrics and furnishings to pieces. It "was great fun to see how it blazed", as she said.
Elisabeth's flame is also carried on by the artist Angelika, a Corinne of Fredrika Bremer's making, a rebel and a dissident figure who nevertheless succeeds. In Presidentens döttrer there is an important discussion on the home versus the public sphere. Does the woman, as the late wife of the president thought, only belong in the intimate sphere? Or does she have the right to step out into and represent the community? Angelika wants to do the latter; with her art she wants nothing but the supreme, the absolute. She dismisses all advice about wine jelly and wise adjustment: "paint […] little scenes out of every-day life, and you will become rich, will live tranquil, loved, and esteemed". Angelika dies young but fulfilled, in an auto-da-fé that had been productive: "Her fiery soul speedily consumed the earthly material […]. She died, with the pencil in her hand"; "a dithyrambic sung in the temple of immortality".
With respect to the creation of Angelika, the female artist in both Presidentens döttrar and Nina, Fredrika Bremer writes to Böklin: "At a big exhibition in Paris, at one in Berlin, and another in Stockholm last spring I saw the same tendency, specifically towards subjects from private life, from everyday life. Two thirds of the paintings showed family scenes or situations from inside the present-day house and home." A little further down she continues: "Even if everyday life is a rather meagre subject for painting and sculpture, I nevertheless find it an opulent one for the writer and the novelist." (14 October 1834.)
Angelika's last painting shows the Annunciation of Mary. As it says in the novel, it is a painting that bears witness to the 'duties' in life, especially for women: "Behold, I am the handmaid of the Lord!" These words, from the evangelist Luke, are to appear many times in the works of Fredrika Bremer. They point back to her first confrontation with the official patriarchy, her counter-pamphlet against a sermon held by the Swedish bishop Johan Olof Wallin on Annunciation Day in 1827 on "The Noble and Quiet Calling of the Woman" ("Qvinnans ädla och stilla kallelse"). If Luke's words, as interpreted by the patriarchy, imply the submissiveness of the woman, her double subjection to the man and to the divine order, then to Fredrika Bremer they imply a "Non serviam!", "I will not serve!". It is not the masters' servant that the woman should be. She subjects herself to another word of command, that of her inner voice. In order to obey this voice she must "kindly but determinedly", as Klara Johanson writes, give notice that she is leaving "the position of servant, which she had occupied thus far in society".
Angelika dies while she is still adding some touches to the painting of the inner voice, the angel saluting Mary. When this happens, we are already in the next novel, Nina (1835; Eng. tr. Nina), where the pen has been handed over from Miss Rönnqvist to the anonymous author herself. Nina is an odd novel. It really does appear, as the Swedish literary historian Gunnar Axberger put it, to have been written "under the pressure of an affective crisis". As a literary text it is not completely satisfactory. But it is fascinating as an indication of what appears to force itself out when the pressure is increased and critical judgement is set aside.
"Like two devastating flames, the desire to know and the desire to enjoy burn in my soul, without having been satisfied for many, long years", Fredrika Bremer writes in her Sjelfbiografiska anteckningar (Autobiographical Notes).
The University as a Lover
Some of Fredrika Bremer's emotional affect has to do with Per Böklin and her precarious relationship to him. As far as Fredrika was concerned, it was probably never a question of real love:
"I had never considered the possibility that you would love me – I thought of you as a book, a learned man who only truly lived among books, of books."
This is how she writes in the context of a dispute. Another time she writes like this:
"Oh! You are a lovely soul, Böklin, and I am almost surprised and angry with myself for not being able to love you enough to devote all of my life to you."
"Good God, could it really be that B. was weak like those others whom I have been sneering at! – he, the noble and sublime thinker, did he also have the pathetic vanity to brag about people's love – which perchance he did not possess after all?"
(Fredrika Bremer in a letter of 1834 to Böklin.)
When they were apart their feelings grew, but their meetings often turned out disappointments. The usual power relations between the sexes also play an important role. To Fredrika Bremer and her heroines, accepting the role of the mistress or the wife is the same as assuming a position of weakness, as taking upon oneself legal minority, disparagement, and the lack of legal rights.
In every way, Presidentens döttrar bears traces of Fredrika Bremer's exchange of thoughts with Böklin; many of the chapters even have epigraphs that are taken from his letters. She herself thinks that the book is marked by a "state of enervation" following upon all the mental tension that the preceding period has involved. In Nina, the tension is more acute. In her autobiography, Fredrika Bremer speaks about two flames that are the result of her empty and stifling upbringing: "the desire to know and the desire to enjoy". Presidentens döttrar deals with the former, Nina with the latter.
Around the time of Nina, the relationship between Böklin and Bremer is rather strained and marked by a misunderstanding that stirs up Bremer's strongest emotions. In a "letter of confrontation" to Böklin, dating from April 1834, Fredrika touches upon something that had happened the previous summer. At that point, Böklin seems to have misunderstood an expression of affection. He reportedly transformed into a conqueror and exhibited pathetic vanity. It appears only too well from the letter how sensitive Fredrika Bremer was with regard to the traditional relations between the sexes. According to Klara Johanson, this also has to do with an ambivalence concerning sexual feelings as such. The letter and the episode supposedly point forward to a kiss in Hertha. What is at stake there is the fact that the sexual desire gives the man a power over the woman "which she did not voluntarily concede to him, and to which she would not willingly submit herself".
However, something that happened in the midsummer of 1834 plays a more important role in the growing distance between Bremer and Böklin. Fredrika Bremer heard someone talk about a vivisection, a painful experiment on a puppy. The question of the suffering of the world again sweeps in over her. According to the period's religious outlook, which Böklin subscribed to as well, animals were the only living beings that did not have a part in atonement and resurrection. Fredrika Bremer returns time and again to this "stain" in Creation, "the suffering of the animal world". Böklin suddenly appears self-centred and elitist. She annuls a letter of acceptance that she had just been about to send to him: "[…] life made me sick. My plan seemed to me a piece of folly."
"The privileged executioner – the scientist says: 'I have to know!' The human being, the privileged murderer says: 'I have to eat!' And both of them are right! Who is wrong? Almighty God – why this stain, this indissoluble question in your Creation – the suffering of the animal world? They lie for hours, days, months, years – in torture – and they are not able to ennoble anything within themselves during their suffering – and they do not have any immortality!!!"
(Fredrika Bremer in a letter of 21 June 1834 to Böklin.)
The issue re-emerges in an odd episode in Nina. A man, referred to as "the unfortunate", the bearer of many of Fredrika Bremer's traits, has retreated into the wilderness. There he lives alone among the animals. In a separate room in his cowshed he has arranged for euthanasia by way of two guillotines that have been fitted for the animals.
To Fredrika Bremer, the question of animals' suffering also becomes a dividing point between a male and a female theology: "Alas, the stupid Apostles – to whom it did not occur to ask the Saviour about this", she writes. "How much more wouldn't the world know in general, if a woman had been one of the Twelve."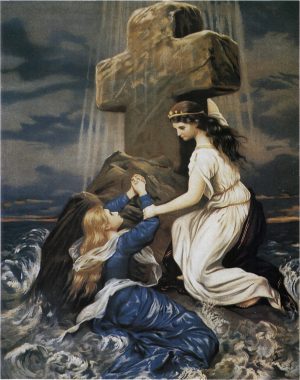 Nina is about the bliss of love that never materialised. The novel is pure Sturm und Drang, a solemn predecessor of Selma Lagerlöf's Gösta Berlings saga (Eng. tr. The Story of Gösta Berling). In both novels there is an ideal lover, a combination of a pastor and a 'cavalier'. In both novels there is a fire and a flood. In Fredrika Bremer's work, the flood is often contrasted with the fire; the flood symbolises the extinction of emotion and passion. A flood is the melodramatic factor that moves Nina to renounce her lover. Her life is saved by her sister, Edla, who blocks a falling beam with her body. During her slow and philosophical dying, Edla exacts the promise from her sister that she will marry the cold and severe Count Ludvig. The emotions gathered within Fredrika Bremer have resulted, as the author notes with surprise in the novel, in "every-day life" having become, as it were, "a continued procession of corpses".
Takeoff
Fredrika Bremer has won respect as a personality, as a letter writer, and as a writer of travel accounts. But as soon as it comes to her novels, reservations usually begin to make their appearance. Ought she to have written novels at all? Was this not a colossal mistake? The only exceptions made are usually for Grannarne (1837; Eng. tr. The Neighbours) and Hemmet (1839; Eng. tr. The Home). There, the reader thrives; there, a joyful sense of humour prevails; there, a balance between 'art' and 'tendency' prevails; and there, the famous portraits are found, that of "ma chère mère" in Grannarne and that of Petrea, the author as a young girl, in Hemmet.
"I also have a little objection to novels in general, when I compare them to the novel of novels – real, living life. It is because they occupy themselves too much with conjugating, in a certain exclusive sense, the eternal verb, I love, thou lovest, we love, etc. etc."
From Fredrika Bremer: "Romanen och Romanerna", written in the 1840s (Eng. tr. "The Novel and the Novels").
But perhaps it is rather our aesthetic ideals that need to change? It is not balance that constitutes Fredrika Bremer's originality. Rather, it is the very agitation in the books that captures the reader: the twists, the transformations. Fredrika Bremer was a passionate being – both as an intellectual and in her search for freedom and her striving for solidarity, peace, and love. The passionate exists side by side with what Klara Johanson calls "Fredrika's most characteristic characteristics", her lack of self, "the wonderful oblivion of the ego and its pretensions".
In Grannarne, there is a tension between two levels. On the one hand, there is the romantic love story between Bruno and Serena, which belongs to the surface of the narration. On the other hand, there is the female network, which is the foundation and subtext of the novel. Grannarne takes place in a kind of custom-made matriarchy. From Grannarne connecting lines run not only to Selma Lagerlöf but also to Agnes von Krusenstjerna.
Hemmet is one of the important steps in Fredrika Bremer's endeavour to change the conjugation of the verb 'I love' – away from the one-sided, patronising, romantic love and towards sisterhood and sister solidarity. The novel is contemporaneous with Almqvist's Det går an (1839; It Can Be Done!; Eng. tr. Sara Videbeck); in both novels the goal is to expand the sexual boundaries and increase the woman's possibilities of creating a meaningful existence for herself.
Even if Hemmat can thus be seen as a 'counter-pamphlet' in itself – against the prevalent Romantic novel writing of the time – Fredrika Bremer also provided it with its own, internal, counter-pamphlet. Parallel with Hemmet and Grannarne, she also worked on an Old-Norse drama, Trälinnan (1840; The Female Thrall; Eng. tr. Trälinnan). Its heroine, Kumba, is a sister in fire and passion of both Elisabeth in Famillen H*** and Hertha in the eponymous novel. In a letter to Böklin about Hemmet and its quality of sereneness, Fredrika Bremer writes: "When the reviewers have had the time to absorb it and rejoice in the fact that now the author has finally understood her proper domain and has been on her guard against unnatural and passionate characters and situations, then I am going to throw my Kumba down their throats. They'll have to figure out how they are going to swallow that one."
With Grannarne and Hemmet, Fredrika Bremer became one of the world's most read novelists. No Swedish author, not even Selma Lagerlöf, has enjoyed as much success in the English-speaking world. Few Swedish authors have been translated into so many languages. The worldwide reputation entailed responsibility. In all of Europe, the 1840s is a decade characterised by politicising and liberalising, and Fredrika Bremer rallied to the support of this with her novels. Strid och frid (1840; Eng. tr. Strife and Peace) deals with the Norwegian-Swedish issue; En dagbok (1843; Eng. tr. A Diary) deals with "the emancipation of the woman"; I Dalarna (1845; Eng. tr. Life in Dalecarlia) and Midsommar-Resan (1848; Eng. tr. The Midnight Sun) are depictions of nature and the lives of common people.
In a letter of 22 July 1843, Fredrika Bremer writes to Malla Silfverstolpe about En dagbok (Eng. tr. A Diary), which not only deals with women's emancipation but also includes quite a bit of eroticism:
"While writing certain parts of that book I was seized by the passion I was describing, and from that I may well have experienced enhanced vitality, but certainly discomfort and disquietude."
With regard to Fredrika Bremer, the decade culminates in the revolution year, 1848, with Syskonlif (Eng. tr. Brothers and Sisters), which is influenced by the French utopian socialism. What is described here is the equal, horizontal community of siblings, seen as a model for social life. The novel begins with the sentence "It was evening twilight", which singles out a transitory stage. The whole novel may be seen as a series of transitory stages. Not only, as is generally the case in Fredrika Bremer's work, between Realism and Romanticism, but also between everyday life and myth, between middle class and Socialism. Specifically, we are dealing with a transitory stage that has to do with love: not parental love, not heterosexual love, but love between siblings, between sisters, and between a sister and a brother.
The following year, in 1849, Fredrika Bremer set out on the first of her two long journeys, to the United States. What she was looking for was the New World, its women, the light it shed on various questions, "to obtain a view of the future of humanity", "from the threshold of the home". Fredrika Bremer travels by herself, nearly fifty years old. She is received as a celebrity. Her travel account consists of letters written to her sister Agatha back home in Sweden. The letters offer the best possible insight into the United States: the political life, the varied landscape, the travel by railway, the social life and the various forms of social intercourse, the great authors of the period, the issue of slavery, and social experiments such as the cooperative communities of the phalansteries or the homes for fallen women.
But the letters also draw a picture of Fredrika herself and her love of her sister. Every line bears witness to Fredrika Bremer and to the essential features of her personality. When the Hudson River "burst[s] forth from the gloomy forests", it is "like a clear thought" dispersing the haze inside the young Fredrika. The feeling of greyness inside her is driven away when her eyes drink in the colour and the light. The travel letters were published both in Swedish (Hemmen i den nya verlden; 1853-54) and in English (The Homes of the New World). They have recently been published again, in six volumes with Fredrika Bremer's own drawings.
"I walked on; all was hushed and silent, but my heart sang. That which I had wished for, and longed for through the whole of my youth; that which I seemed to myself to be more excluded from than anything else, a living acquaintance with the manifold forms of life, had now become mine, had become so in an unusual degree. Did I not now wander free – free as few could be, in the great, free New World, free to see and to become acquainted with whatever I chose?"
A May morning in Georgia, described in Hemmen i den nya verlden, 7 May 1850 (Eng. tr. The Homes of the New World: Impressions of America).
In 1856 Fredrika Bremer set out on another journey. The goal was Switzerland and its religious organisation. As it turned out, the journey took her to Italy, Greece, Turkey, and Palestine. The fifty-five-year-old Fredrika Bremer improvised a journey that lasted five years. The love of adventure and hunger for masculine feats that she had known since her youth were satisfied during long days on horseback, over swift streams, through wild forests.
After travelling in Germany, Esaias Tegnér writes to Fredrika Bremer: "On all the bedside tables and writing desks one sees your works and mine, not only in translation but usually also in the Swedish original. No lady who claims to be cultured (and they all do that) can do without knowledge of Swedish, as long as this fashion lasts."
The Synthesis
The journey to America took a turn that confirms how important the novel was in the quest undertaken by Fredrika Bremer. She started off, she writes, in order to "occupy myself with public affairs". As it happened, she was drawn towards "private affairs" and "the individual":
"I came with a secret intention of breaking myself loose from fiction and its subjects, and of living with thinkers for other purposes; and I am compelled toward it more forcibly than ever […]."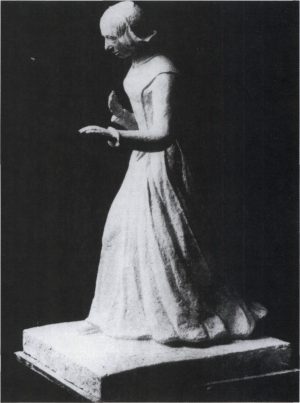 Something inside herself compels her, already from her arrival in the United States, to focus on things "which, as dim shadows, have for twenty years existed in the background of my soul". We are transported back to the time when she wrote Famillen H***. This is where Hertha picks up the thread: from Elisabeth's fire, from her wild song about breaking "the chains of the grave of silence".
In Hertha, the fire of youth and the anger are combined with a free and self-confident spirit – here we find the synthesis of the three-stage model mentioned in the beginning of this chapter. Like Famillen H***, Hertha has both a Realist and a Romantic code; like Syskonlif, it has both an everyday and a mythical level. Already the setting, Kungsköping, points with its name (i.e., 'the king's town') in both a concrete geographical and a universally patriarchal direction. The blaze that ravages the town of Kungsköping is both the revolutionary, female anger and a quite concrete blaze in Örebro, which attracted much attention in Sweden in 1854. The male hero of the book, Yngve, is an engineer and a railway constructor. He is thus the first representative in Swedish literature of the modern, realistic type of hero. As another modern and realistic feature, he is endowed with ideas of emancipation stemming from America. But Yngve's name also points towards the mythical: Yngvi is the ancestor of the Ynglinga dynasty, that is, the first of a new dynasty – the new male dynasty.
The heroine, Hertha, is a bitter and intelligent young woman, who is bored to death with small-town society. But her name also points towards Mother Earth; dressed in black and white, she is described as a mother goddess, a goddess of fertility, a ruler of life and death. She is the primordial woman, doomed to a life in the underworld ever since the triumph of the patriarchy. When her voice is raised for the first time, at a society evening in Kungsköping, it is like a voice from the underworld: "I think it is a miserable state of things […]".
"A cloud seemed to envelope her whole being, and gave a sort of cloudy and unpleasant air to her otherwise regular features." So the eponymous character is described in Hertha, eller en själs historia (1856; Eng. tr. Hertha).
Hertha's sepulchral chamber is the fatherly house, whose dreary, stifling prison-like quality is depicted in the chapter "Det gamla huset" ("The Old House"). In a dream, this sepulchre morphs into another picture, a nook or a cradle in the granite mountain. The chapter "Herthas dröm" ("Hertha's Dream") is, or ought to be, a Swedish classic. In the dream, Hertha temporarily has to leave her sheltered spot in the mountain. She flies out over the world; her dream shows a precise and relentless picture of the patriarchy, in country after country: war, armaments, naïve cultivation of technology, oppression, degradation of women…
"The house may be well-built, with its two or three storeys, and yet have a certain dark and ruinous appearance. It is flecked and blotched with grey, and a sickly yellow-green […]."
From the chapter "Det gamla huset", Hertha (Eng. tr. "The Old House", Hertha).
The dream ends with Hertha having returned to the granite mountain. The flame in her breast flickers in despair; she feels how it spreads through her body, forces its way out through her skin… When she awakens, the fatherly house is burning. The female anger wants to burn down the fatherly house and the patriarchy; it wants a violent 'scheme of emancipation'. But the matter is more complicated than that. The metaphor of the novel, its progress and structure, is Aunt Nella's tangled skein of yarn and her patience-demanding effort to straighten it out. The novel Hertha is a labyrinthine, patience-demanding, tangled process against the patriarchy. There are no Gordian knots to cut through. We are all involved; the process goes through every fibre of our body and our soul.
Translated by Pernille Harsting