The novel Uke 43 (2000; Week 43, 2002) exemplifies a central theme in the writings of Hanne Ørstavik. The novel relates the story of Solveig, a newly hired lecturer of literature at a university college in Norway. Solveig admires her elder colleague and role model, Hilde, greatly and constantly seeks her approval. Solveig feels a close affinity to Hilde, and she endeavours to use articles written by Hilde as the guiding principles in her teaching. However, as time passes, Solveig comes to realise that Hilde's views and convictions have changed, and her disillusionment steadily increases until it reaches a final climax during a party at Hilde's. Her illusions shattered, Solveig finally loses control in an emotional outburst, unleashing her pent-up frustration.
Solveig's conflict with Hilde revolves around differing views on language and literature, yet the human element to Solveig's aesthetic convictions becomes evident when the differing views are attributed to the characters of the novel. Solveig wants literature to be alive, relevant, real, and honest. She is seriously convinced that literature ties the body, language, and the world together, and she believes that literature must even serve to keep wounds open, concealing nothing. Through her relationship with Hilde, Solveig not only seeks affirmation of herself, her thoughts, and her feelings, she also strives to realise this aesthetic view of life. Her discomfort grows when she finds herself unable to reconcile these ideals through her teaching or in the theatre, and the novel concludes with her leaving for an undetermined destination.
In the work of Hanne Ørstavik, we repeatedly find descriptions of the desire for intimacy – a desire usually accompanied by frustrating experiences of distance and detachment. This tension exists at many levels within her texts, not merely in the portrayals of interpersonal relationships (parents and children, brother and sister, woman and man, woman and woman), and is frequently a theme in her reflections on language, literature, and art. Reflections on this theme is also present in Hanne Ørstavik's published essays and articles, demonstrating the close connection between fictional storytelling, essay writing, and her personal experiences.
Family
Hanne Ørstavik grew up as the middle child of three siblings in a Christian family in Tana in Øst-Finnmark, northern Norway (2004; Ørstavik's essay Streker, linjer, kanter, band, Profiles, lines, edges, bonds). Many of her novels take place in this northern region, and she has emphasised the influential role of the Finnmark landscape on her development as a person and as an author. Ørstavik read psychology at the University of Oslo before qualifying as a Rosen Method Bodywork practitioner. Today, alongside her work as an author, she also practices in this field. Ørstavik has also studied French and has translated Leslie Kaplan's book L'Excès – l'usine (1982; Superfluity – the factory) into Norwegian (1998).
Hanne Ørstavik's debut works, Hakk (1994; Cut) and Entropi (1995; Entropy) are typical pointillist novels of their time. Ørstavik wrote these novels while studying creative writing at Forfatterstudiet i Bø under the tutorship of Eldrid Lunden, and she has mentioned Christina Hesselholdt, Solvej Balle and Stig Larsson as key sources of inspiration. The pointillist genre, which is often attributed to Paal-Helge Haugen's work Anne (1968), translated to Danish in 1992 by Christina Hesselholdt, owes its name to the way way in which the composition's short texts act as single points which constitute a larger textual entity. The point form bestows a poetic quality to the text, and the rhythmic and visual elements assume a greater meaning than in other types of prose.
In Cut, there are clear parallels with Hesselholdt's novel Køkkenet, gravkammeret og landskabet (1991; The Kitchen, the Sepulchre, and the Landscape). The fragmented point form creates a photographic narrative style, which is further supported by the central role played by a photograph in both works. Images in the form of reminiscences and dreams and as figures in a river landscape are an additional common feature in both novels. In a thematic perspective, Hesselholdt and Ørstavik share subjects such as anxiety, grief and discomfort within the family. Hesselholdt recounts brief glimpses of a family where the mother dies and the father, unable to cope with his grief, eventually takes his own life by jumping out of a window into the river flowing by the house. The father hires a photographer to take photographs of his deceased wife and asks the photographer to immortalise his own fall from the window – his moment of death.
In Ørstavik's work, it is violence rather than death, which is immortalised in a photograph. Anxiety and pain are metaphorically linked to the act of capturing a moment in time with the camera, while the photographs concomitantly accentuate distance and alienation. In photographs of herself, she sees someone she does not know. Moreover, the act of taking a photograph is equated with carrying out an act of violence. A comparison is made between an angler casting a line in order to catch his prey and the father's violence towards the mother: "once, a lure became lodged in mother's ear" (Ørstavik 1994: n.p.). Anxiety towards death remains associated with the mother, and mental images of a falling mother are pivotal childhood memories of the young girl.
Øystein Rottem, who penned one of several critical reviews of Ørstavik's debut novel, described the book as "too flimsy" (Dagbladet, 6 September 1994). This assessment was repeated in his history of literature, which, it should be noted, was written in the early years of Ørstavik's career. Here, Rottem places Ørstavik in a group of women writers – including Merete Morken Andersen, Tale Næss, Karin Haugane, Anne Oterholm, and Inghill Johansen – unfavourably described as "women minimalists" (Rottem 1999:754). Rottem categorises these writers as "fervent women writers", who are "predisposed to engaging with a stylised prose saturated by symbols, and where the plot unfolds in an 'inner landscape', while male writers predominantly concern themselves with an 'outer' reality, writing in a literary style approximating objectivity, where words are used sparingly, and the reader is expected to read between the lines" (Rottem 1999:752).
Rottem suggests the so-called "anorexic" literary style of these women writers is due to "their past at some of our creative writing schools", an seemingly unfortunate influence: "The number of writers, particularly young women writers, who have been influenced by Lunden's own writing and by, what I must assume to be, her own literary preferences, is not insignificant" (Rottem 1999:752). Rottem thus separates the two genders into their own distinctive literary categories and overtly attributes high or low status in accordance with his personal perceptions of gender-based hierarchies.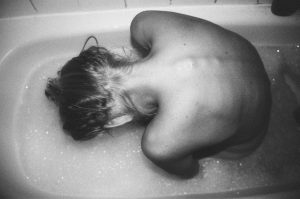 Rikke Andersen Kraglund has pointed out that Ørstavik's debut work has been judged according to a standard, which places epic realism above poetically experimental language. She also highlights how Cut lays the groundwork for central elements of many later novels, and transforms the fragments in this poetic book of prose into a central narrative of "almost mythological character" (Kraglund 2008:26). The novel Tiden det tar (2000; The Time It Takes), similarly describes a family where the father's violence towards the mother leads to traumatic childhood memories for the young girl – an emotional burden which the girl carries with her into adulthood.
In Cut, there is a scene where the girl is lying in the bathtub, shaving her crotch. At the beginning of The Time It Takes, Signe, the novel's central adult character, has cut off all the hair on her head. Afterwards, she finds that this may have been an attempt to rid herself of something, but she comes to the realisation, that in reality nothing has happened, beside the fact of her losing her hair. The act of shaving her head, however, is an indication of the perturbed mental state which torments her and reaches a breaking point when Signe's parents pay a visit to her small family the day before Christmas. Signe's aggression, which stems from the fact that she and her parents have conflicting perceptions of her childhood, seethes below the surface. The situation progresses from bad to worse when her parents refuse to accept Signe's childhood memories of fear and conflict and try to smooth things over by making her feel guilty for not visiting them at Christmas. For Signe, it is important to demonstrate her independence by distancing herself from a dysfunctional family – exposed as an illusion through the cutting of her hair.
In the chapters where Signe's childhood is unfolded, her sense of guilt is meticulously described as a product of her father's paranoid and controlling behaviour. Signe's father is a manager at a rehabilitation centre and runs the family along strict lines, ostensibly to ensure high levels of Christian virtue. At this stage, Stine worships her father, so she makes great efforts to comply and conform to his rules and blames herself for failing to uphold the ideal and duty of being happy. Strong bonds of loyalty are deeply entrenched in her due to her father's Christian exhortations, and as she tries despairingly to defend both parents, she is left feeling confused and guilt-ridden, at the mercy of a family drama that cannot stand up to close scrutiny. Ørstavik's precise and subtle rendering of dialogues and thoughts in powerful tense scenes presents us with a nuanced portrayal of the complex emotions at play.
Mother and Child
Hanne Ørstavik's breakthrough came with the novel Kjærlighet (1997; Love), incidently also the work that has attracted most attention to date. The novel has been heralded for setting a new trend within the field of the 1990s literature of the family (Hverven 1999), it has been the subject of several academic readings (Hamm 2004, Østerud 2008, Bartnes 2013), and is widely studied in the Norwegian education system. The story of Jon and his mother Vibeke suitably engages young students, and the novel's portrayal of the insurmountable chasm between a mother and her child comes across as both realistic and shocking.
"'Jon,' she says, 'my darling Jon'" (Ørstavik 1997:21). However, the mother's attention lies elsewhere, her words are hollow. Mentally, Vibeke lacks the capacity to think of anyone but herself, and her thoughts have long-since been besieged by the language of mass media and advertising obsesses by body image. When she talks to Jon, she stares at her newly painted nails and thinks about the matching lipstick, "plum, or was it claret?", in her handbag (Ørstavik 1997:21). Her world is a world of fiction. She identifies with books and dreams, and she is happy when Jon plays by himself. While she may hold Jon dearest, she is concomitantly incapable of feeling love for him.
Jon's need for his mother's attention mirrored in his oral needs, which are persistent throughout the novel. When Vibeke 'dolls herself up', Jon puts things in his mouth. The perspective shifts sharply and adroitly between the two characters and reveals just how badly they are at communicating with each other. While Jon is brimming with expectations of Vibeke baking him cakes and buying him a train set for his ninth birthday, Vibeke has quite forgotten about his birthday. While Jon sneaks out the house so as not to interrupt her preparations for his birthday, Vibeke believes he is off taking a nap and goes into town. Both leave the home and embark upon a journey away from the other – an ironic contrast to Vibeke's initial dream of them being together on a journey forever. The pitiful lack of contact between the mother and child comes across as profoundly contradictory, and rather than seeing this as a result of a series of coincidences and misunderstandings, Ørstavik inserts the relationship into a relentless course of events, leading to a conclusion as the dramatic logical end to a deterministic plot.
At the beginning of the novel Like sant som jeg er virkelig (1999, As True as I Am Real/The Blue Room, 1999), we meet Johanne, who has been locked in her room by her mother. The story unfolds retrospectively from this pivotal point through Johanne's thoughts. We are presented with a paradox: A case of mutual dependence, an unhealthy, close connection characterised by detachment and lack of understanding. Johanne has planned a six-week trip to Pennsylvania with her boyfriend, Ivar, but Johanne's mother and her friend Karin both strongly advise her against going. Through it all, runs the undercurrent of both women's anxieties of letting go of relationships, speaking volumes about their own dependencies.
Through Johanne's reminiscences, we gain an insight into how she is torn between the desire for a free life, the relationship with Ivar, and an internalised feeling of guilt for not living up to the expectations of her mother's and her friend's expectations. Johanne is active in her local church, and the Christian ethic acts heavy-handedly oppresses her attempts to gain freedom: "'You're an angel', she [the mother] said earnestly. 'I don't know how I would cope without you.' She looked lingeringly at me, as if she had begun thinking about something else, but had forgotten to take her eyes with her. I smiled. 'She's right', I thought, 'we belong together – like two hands clasped together'" (Ørstavik 1999:19). Ørstavik subtly exposes how language may create highly emotive bonds between people while remaining, at the same time, completely devoid of meaning. The mother ties her daughter to her by way of a religious rhetoric, which also informs her daughter's response, and at the same time, the imbalance becomes clear, as Johanne senses – though does not quite understand the extent of – her mother's absent-minded gestures.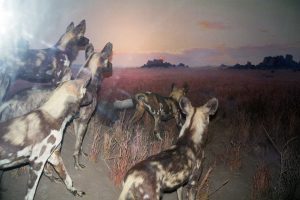 Johanne's religious scruples do not prevent her from having erotic fantasies, but they do seem to limit the objects of her desire. In a daydream, she imagines that her lover is a professional guidance councillor, an older man "with affable eyes and a beard" (Ørstavik 1999:41). At the beginning of the fantasy of having sex in his office, the man is both safe and attractive but when he pulls out his belt and starts beating her, he is transformed into a brutal assailant. While Johanne may see God as having a non-chastising attitude towards her masturbatory efforts, she mostly considers God a castigatory figure. These ambivalent sexual fantasies must be considered in relation to her mother's comments about Johanne's relationships with men and her explicit cautions concerning Ivar. "Perhaps she was right. Perhaps Ivar was dangerous, perhaps he was rough and mean, perhaps he was manipulative and abusive?" (Ørstavik 1999:38). In light of such misgivings, one may question Johanne's lack of desperate devastation as she remains locked up in her room, while Ivar walks out of her life.
Religion and Language
Some literary critics have claimed that a religious change of direction has occurred among Norwegian and Nordic writers in the 2000s, and Ørstavik is frequently mentioned among these (Hauge 2008). While Christian motifs have always been present in her writing, Christianity becomes the dominant theme in her works Presten (2004; The Pastor) and kallet – romanen (2006; the call – the novel). The Pastor tells the story of a female pastor, the call – the novel is about a female missionary. Rolv Nøtvik Jakobsen (2008) claims that the portrayal of religious figures has undergone radical changes since the turn of the millennium. Previously, the clergy has traditionally been portrayed in a very critical light, depicting the men of the cloth as conceited hypocrites, unburdened by the apparent incongruity between life and learning.
Jakobsen compares Ørstavik to the Swedish writers Kerstin Norborg (2001; Min faders hus, My Father's House), Kerstin Ekman (2003; Skraplotter, Scratchcards), and the Norwegian writer Lars Amund Vaage (2005; Tangentane, The Keys of the Keyboard), all of whom portray the clergy in a more positive light (Jakobsen 2008:122). The Danish writers, Helle Helle (1999; Hus og hjem, House and Home) and Ida Jessen (2006; Det første jeg tænker på, The First Thing On My Mind), both portray clergy without criticism and irony. The pastors in these works are nice, well-meaning people whose hard-earned faith is constantly challenged by the vicissitudes of life. One may even interpret these pastors as the new intellectuals in a society witnessing the decline of the traditional progressive elite.
In Ørstavik's novel, Liv is a newly educated pastor called to serve in Finnmark, in the very north of Norway. She arrives in Finnmark directly from a research visit in Germany. In Germany, Liv had made friends with the puppeteer, Kristiane, who commits suicide. While still grieving the loss of her friend, one of Liv's first assignments is to comfort parents in her new parish who also lost their daughter to suicide. Towards the end of the novel, she experiences a further suicide attempt – that of Maja, the verger's young daughter. The language of the novel is a pivotal thematic element in these existentially critical situations as well as when Liv carries out the ordinary day-to-day pastoral duties. Liv is a professional language user thanks to her practical training and theological studies, yet she feels incapable of coping beyond the rhetorical confines of religious ritual. Her first sermon is a failure because she ends up talking far too much, yet in other situations she is at a loss for words, incapable of achieving the language of truth she so desires.
The subject of Liv's PhD thesis is the Kautokeino Rebellion of 1852, in which a group of Sami attacked the Norwegian officials and killed the local head official and town merchant. Documents pertaining to this event are integrated within the framework of the text, demonstrating the ethnic and national aspects of language use. The quotations from historical texts render visible the ways in which language creates distance and exclusion within social structures of power. This is contrasted by Liv's considerations of power as she avails herself of the language of authority in the line of her pastoral duties. And she is exposed to the discriminatory mechanisms used within Christian rhetoric towards gender and sexuality. At a gathering of the clergy, she encounters male colleagues who speak out against both female pastors and homosexuality. Ørstavik's novel thus incorporates many variables in her discussion of subordination and superordination and, according to Elisabeth Oxfeldt, it may be read as a post-colonial narrative with many intersecting voices (Oxfeldt 2012).
In the call – the novel, Ørstavik continues the main theme of Week 43. The call – the novel may be read as her reply to the literary critique of Week 43, which several critics considered a slightly weak novel, which failed to provide a credible portrayal of the main character, and addressed questions pertaining to language and literature in a trite manner (Farsethås 2002). Subsequently, this critique has been countered in academic analyses (Paulson 2004, Bale 2008, Syed 2009) and in the call – the novel it becomes evident, how the female author, while attempting to recount her grandmother's, history has been affected by this critique and applies her own struggles with writing as a theme. She feels misunderstood by her readers but is also distraught by her apparent inability to bring the novel's characters to life: "The characters' deficiencies, my own deficiencies. I am out of touch; the woman inside the text remains unaffected. I can see it. I know it. I don't know what to do about it" (Ørstavik 2006:53-54). z
Images
Images – both linguistic imagery and actual pictures – constitute an essential component of the issues of representation continuously addressed by Ørstavik. This motif has remained an element of her writing since the appearance of the photographic image in Cut. This theme, however, really comes into its own in 48 rue Defacqz (2009), Hyenene (2011; Hyenas) and Det finnes en stor åpen plass i Bordeaux (2013; A Wide Open Square in Bordeaux). In Ørstavik's oeuvre, the experience of the distance between a sign and its signifier often serves as a parallel to the distances between people. She often uses the comparison "as if" as an indication of how the pictures are indeed pictures of something, but it is a something which has already been named. One the first page of the call – the novel there is a description of a woman standing by a window followed by an interpretation of what we see: "The scene is at a standstill. It is as if there is no time, neither a before nor an after, nothing occurs" (Ørstavik 2006:5).
This comparison thus makes it clear – clearer than if the image had been a metaphor – of how one description stands for the other. On the one hand, this imagery becomes accessible, immediately understandable, and easy to interpret. On the other hand, one may consider this a symptom of the fundamental concern of Ørstavik's writing, namely the experience of sensing, perceiving, and describing phenomena from a distance. The use of the phrase "as if" verbalises this distance and provides it with a rhetorical form.
The recurring reference to visual images is another aspect of this aesthetic. The novel, Hyenas, is about Siv, who after breaking it off with her partner, Rudolf, travels to southern England where she borrows a flat by the seaside. She is a writer, but the acute sense of emptiness in her life prevents her from being able to write. She seeks out new life experiences and other people, though not actually succeeding in forming solid relationships or substantially changing anything. The title of the work – Hyenas – serves as an image of a vitality, an aggressiveness, and a sexuality which is the completely opposite of the calm, almost passive state in which Siv finds herself. Interestingly, the hyena metaphor appears in the shape of a film clip from YouTube, and the imagery is thus derived from, and doubled through, a visual medium.
48 rue Defaqcz recounts a morning in the lives of the twins, Paul and Rakel, an architect and an artist. Rakel is about to be married to Paul's colleague and boss, Samuel, an older man described as if he came right off the pages of the Old Testament. However, Rakel is unsure about her gender identity and her sexuality, and she shares an incestuous bond with her brother. While their parents are dead, they still cast a long shadow over the minds of the siblings – the source of the narrative flow of the novel. Ørstavik lets fragments of memories and events play out in the material shape of the house. The house may concomitantly be interpreted as a symbol of the control, which Paul, Rakel, and the narrator all aspire to maintain over chaotic emotions and relationships, and which serves to alleviate the feeling of instability brought on by the sensation that the walls and windows of the house stand on shifting ground.
Ørstavik goes further still in her depictions of sexual fantasies and actions in the novel, A Wide Open Square in Bordeaux. Here, images also play a major role, and one may understand these two elements – sexuality and images – as a multifaceted approach to the theme of intimacy and distance. The first-person narrator, Ruth, is an artist preparing to open an exhibition in Bordeaux. She has initiated a relationship with the art historian, Johannes, and is holding out for him to decide whether to accompany her to Bordeaux or not. The time spent waiting reflects Ruth's expectations of emotional intimacy in the relationship – an intimacy, however, which does not occur. While the sexual connection between them appears to be perfect, Ruth's body, however, does not suffice for Johannes, who pleasures himself by the use of pornography and visits to sex clubs.
The distance between the two is, however, also due to Ruth's self-absorption, which manifests itself in the beginning of the novel where she visits Johannes for the first time. Despite his clear directions, she fails to realise that they live in different cities – he in Bergen and she in Oslo. Moreover, she harbours an inner distance, which comes to light on her flight to Bergen. Here, she conjures up an image of herself moving towards him, as if it were in a dream, as if it were a film, distraught: "It is as if I am walking in between, between two people who are both me, and as I stand up and move down the aisle towards the exit of the plane, it is she, who – all night, through her sleep – has been looking almost too intensely forward to the meeting, rendering her sleep transparent, it is she who is broken and vile (Ørstavik 2013:8). Throughout the novel, Ruths sees, finds, and creates other projections and mirror images of herself.
In Bordeaux, Ruth is presenting an art installation, which comments on the tension between intimacy and distance. Ruth has seen a video on the internet of a large hall in the gallery, which she plans to turn into a town square. A woman will be standing in the middle of the square, while a man walks across the square in her direction. The square in the installation is a parallel to the large open space where the gallery is located – a square which imparted Ruth with a sense of déja-vu when she first arrived by taxi. In her mind, there is an image of herself, as a woman or a man, exiting a carriage and being led to the execution scaffold that once stood in the great square of Bordeaux. The artwork's staging of a meeting in the town square is imbued with an undercurrent of terror as Ruth is repeatedly imagining pictures of the guillotine striking her neck. Ruth samples the nightlife of Bordeaux with Abel, a gallery owner – partly as an investigation of the limits of her desires, and partly as a symbolic punishment of Johannes, who, rather than joining her in Bordeaux, sent her an MMS from a strip club. While the distance between Ruth and Johannes is increased, Abel's daughter, Lily, and her friend, Ralph, discover a different form of intimacy. The final word of the novel, "Come", is derived from this positive relationship, which brings the narration to a close on a tremendously open note.
– – –
Published december 2014