Nuoren opettajattaren varaventtiili (1926; The Young Teacher's Safety Valve) by Hilja Valtonen (1897-1989) was the first modern Finnish light novel, a trendsetter for its humour and cheekiness. A rookie elementary school teacher in a village of the Österbotten province keeps a diary. She revolts against the dictatorial male teacher, protects her oppressed female colleague, and creates a scandal by boxing the most powerful man in the parish on the ears. Her valour is rewarded when an old boyfriend turns up and brings her back to civilisation.
Despite their ostensibly inoffensive amorous intrigues, Hilja Valtonen's books had a revolutionary impact on the patriarchal society of rural Finland in the 1920s and 1930s. Each and every female character revolts against the pastors, doctors, sheriffs, and other patriarchs of the community, not to mention their clueless wives. But she also satirises highly educated female academics who look down on poorer and less erudite women.
Valtonen, an elementary school teacher herself, published close to thirty bestsellers between 1926 and 1975. Her heroines are career women, often self-taught, and marriage is described as an attractive option, if not the only one. A number of the novels are incisive analyses of inequality in marriage, portraying the modern man as "old-fashioned at heart". Kerttu, an elementary school teacher in the tragicomic Rakas Vihtori (1950; Dear Vihtori), gives birth on the highway after her husband goes bankrupt and disappears. Disguised as his aunt, she catches him red-handed about to commit bigamy. Her personal defeat is redeemed when she is elected to Parliament. "Up to now I've been a woman, wife, and mother", she tells her daughters. "That stage of my life is receding from view. Now I want to be a human being and nothing else." But she forgives her repentant husband, albeit with a sigh, when he comes back with his tail between his legs. The paradoxical conclusion of Valtonen's books is that only a strong woman can afford a man with all his weaknesses.
The scene in Rakas Vihtori where Kerttu forgives her runaway husband is keenly self-ironic: "Kerttu gazed at Viktor. He looked so young and childish as he pressed his head to her breast […]. It occurred to her that she was like Eila at school. Kerttu had talked about sobriety and the evils of alcohol, an excellent presentation if she said so herself. In an attempt to sum things up at the end of the lesson, she asked the class: 'What did you learn today?' Nobody raised their hand. She looked beseechingly from one pupil to the other. Finally Eila raised her hand and answered: 'Nothing'. Kerttu lifted up her husband's head and looked him in the eye. 'Let's start over one more time.'"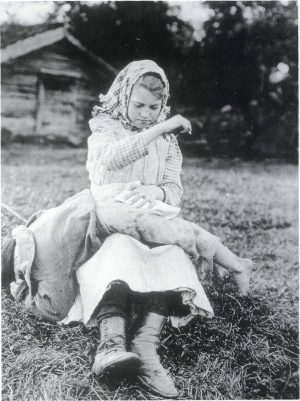 Historical novels by women grew increasingly popular in the 1920s and succeeding decades. After having published books of historical short stories in 1923 and 1928, Lempi Jääskeläinen (1900-1964) wrote Tyttö jonka sydän oli lasista (1928; The Girl Whose Heart Was Made of Glass), the first of many novels. The heroine, an artistic and highly exceptional person, suffers from a humdrum existence but snares the owner of the Hopeasalmi estate after having written a bestselling novel. Her new life is chronicled in Hopeasalmen valtiatar (1930; The Mistress of Hopeasalmi).
Typical of Jääskeläinen's characters are sensual Elina, who is forced to become a nun; strong-willed Natalia von Steinheil, who "arouses desire without experiencing it herself"; and Fiikka Kuhlström, the mistress of Markovilla, lost in the labyrinth of love.
The new wave of popular Finnish novels by women dauntlessly combined romantic intrigue with analyses of inner conflicts.
Lempi Jääskeläinen won the national literary award in 1935 but was branded in the 1960s as an author of popular literature. Elsa Heporauta (1883-1960), who published novels in the 1920s and 1930s, was extremely popular right away. She was a well-known spiritualist, and her books were about extraordinary young women, ecstatic visionaries with parapsychological gifts.
The remarkable feat is particularly noteworthy in Soita minulle, Helena (1946; Play for Me, Helena), the first novel by Aino Räsänen (1910-1995) and the most widely read piece of fiction by a woman in Finnish history. It takes place in a pre-war patriarchal idyll, the Blut und Boden-inspired Finnish countryside, and the heroine is one of the genre's many elementary school teachers who suddenly find themselves in an out-of-the-way place. The story revolves around her inner conflicts; the world will hear nothing of her musical abilities, and her sex life gets complicated when she meets Mr Right after having married out of compassion.
After a long and winding road to catharsis, Helena is widowed, and a series of privations ultimately earn her the love of her life, who accepts her for who she is. He just happens to own a manor, and one lovely summer evening she takes her fiddle and plays for him…
Typical of Aino Räsänen was her focus on women's relentless attempt to resolve their inner conflicts. The tradition was carried on by Laila Hietamies (born 1938), who started off in the 1970s. Her most popular novel cycle, which chronicles the lives of women and children in a Karelian village before and after World War II, highlights traumas caused by the conflict.
According to literary historian Eila Pennanen, the great popularity of Soita minulle, Helena was due to the lopsided relationships between women and men that emerged after the war. Stout-hearted women who had kept the home fires burning encountered maimed men debilitated by life in the trenches. Helena's ability to win her conservative surroundings over to her side, resolve her sexual entanglements, and find a strong hero was an appealing source of inspiration for postwar women who struggled with insoluble problems day in and day out.
Kirsti Manninen
Problematic Femininity
The novels of Elsa Soini (1893-1952) examine the status of the modern woman in inter-war society. While they tend to be regarded as light literature, they often transcend the traditional narrative technique of fiction by women.
Soini, who was a librarian, depicts several generations of women from turn-of-the-century suffragettes to modern tomboys with upper secondary or university degrees. The title character of Uni (1930; Uni) is even working on her doctoral thesis.
Soini's works call the sharp dividing line between femininity and masculinity into question. Uni cannot identify with traditional female roles: "I am a man. I was raised as a man, I have a man's profession and income, and I think like a man." She strives for a masculine vantage point in her love life as well. She looks without discrimination at both women and men as sex objects. Erkki, the object of her love, turns out to be the antithesis of the active, "modern" woman. All she is looking for is friendship, and she rejects Uni's overtures.
Soini's steady and highly conscious narrative technique, as well as the way she juggles various genres (diary, folktale, etc.) belie the ostensibly traditional plot and serve as an ironic commentary on its conventions. The narrator in Jumalten ja ihmisten suosikit (1926; The Favourites of Gods and Men) observes finally that it is like a fairy-tale with a happily ever after ending: "It would be a very bad novel indeed unless at least one heroine tied the knot. So her book ended in the customary manner, with a wedding."
Elsa Soini collaborated with the well-known columnist Serpi (the pseudonym of Seere Salminen) in the 1930s and 1940s on scripts for the popular radio and film series Suomisen perhe (Suominen's Family).
Ritva Hapuli and Päivi Lappalainen