"'If anybody in this family is going to write, it will be me and not you. You don't have an ounce of literary talent,' Knut said once.
I didn't answer. I couldn't think of anything to say. I'm not quick on the draw, I never have been." Vägvisare (1977; Signpost)
Tora Dahl (1886-1982) certainly paid her dues before becoming a widely read author. She began writing in her late teens but did not publish her first book until the age of forty-nine. Her real breakthrough, which greatly expanded her readership, came after the age of seventy.
Following six novels – many of which were highly autobiographical – and a collection of fairy tales, the first part of her eighteeen-volume autobiography appeared in 1954. It is a unique project in the history of Swedish literature. No other Nordic author has ever wrestled with the autobiographical genre more intensively and tenaciously.
Dahl's books span nearly an entire century. The story starts in the late nineteenth century. The long chronicle of a woman's progress as Sweden modernises is not only a unique cultural document, its consistent feminine perspective is new, fascinating, and provocative from the standpoint of literary history. From her time as a university student and accelerating in the 1930s and 1940s, Dahl was never far from the centre of literary developments. She writes of Knut Jaensson, her husband and a literary critic, as well as young modernists Artur Lundkvist, Gunnar Ekelöf, Erik Lindegren, Erik Asklund, Eyvind Johnson, Harry Martinson, and many others who were frequent guests in her home. Many readers were particularly offended by her characterisations of the modernists.
Sigmund Freud was among the undisputed intellectual and spiritual guides for people born in the 1930s. Kamrater describes the way that his phallocentric ideas permeated their lives and thought. One of the more amusing anecdotes features poet Erik Lindegren. He, Dahl, and Jaensson were looking at the picture of a woman leaning against a tall jug of water. Lindgren saw it as an illustration of women's fascination with male virility. But Dahl interrupted him. It had nothing to do with sexuality, she said. The woman was simply listening to the water inside the jug. She was searching for the wellsprings of life.
"Then I went into the kitchen to prepare some food," she writes. "Even before I got there, I heard Erik say, 'Doesn't it feel a little strange to be married to such a talented woman?' Knut mumbled something and Erik continued: 'Is she, strictly speaking, a real woman?' Knut assured him that I was. Erik sounded sceptical.
'Things like that can be latent,' he said."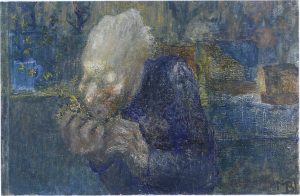 Dahl and Jaensson regarded authenticity and truthfulness as the highest criteria of literary value. "We had learned to distinguish between real and fabricated experience", she writes in Vägvisare. But the spouses differed in certain fundamental respects. Jaensson was most interested in style and aesthetics, looking down on autobiography, whereas Dahl believed in substance and personal observation. For quite a while,
Vägvisare is about her emergence as writer. Although she tore up her work after Jaensson had passed judgement on it, she continued to write assiduously for herself. "I couldn't give up; my head was full of stories, but I never showed them to anyone again." As she started one story after another, a brilliant writing career began to take shape. She documented the experiences that would one day underpin Inkvartering (1937; Accommodation), Avdelning 2, sal 3 (1948; Department 2, Room 3), and other novels. Above all, however, she was putting together material for her autobiography. "I was searching for clarity about the first eleven years of my life", she explains, and she diligently jotted down every childhood memory that popped up and went so far as to interview her foster mother.
Dahl had not yet cultivated either the courage or the skills to achieve her goal. "I was incapable of genuine autobiography at that point", she writes regretfully of Avdelning 2, sal 3, which wraps a long hospital stay during that period in the cloak of fiction. Nor did she complete her material. Vägvisare builds up to the publication of her first book, but ends instead with the beginning of Jaensson's career. With the eager assistance of Dahl, he wrote reviews of Alfred Döblin's Berlin Alexanderplatz: die Geschichte von Franz Biberkopf (1929; Berlin Alexanderplatz: the Story of Franz Biberkopf) and Fem unga (1929; Five Youths), an anthology by Erik Asklund, which turned him into the standard-bearer of the new generation.
Dahl began to write her autobiography in 1911, the same year she met Jaensson. She started over in the 1920s but did not publish Fosterbarn (1954; Foster Child), the first volume, until much later.
Dahl's autobiography contains many landmarks. An illegitimate child born in 1896, she grew up under extremely modest circumstances with a foster-mother in a working-class neighbourhood on the south side of Stockholm. At the age of eleven, she moved in with her biological mother on the east side and attended a secondary school for girls. After graduating at sixteen, she was one of the first girls to be admitted to Stockholm University College. She subsequently worked as a teacher until marrying Jaensson in 1914. Her first book was Generalsgatan 8 (1935; Generalsgatan Street 8). Fosterbarn, Volume 1 of her autobiography, was published in 1954.
By that time, she and Jaensson had left the house on Lidingö Island where the "young people" had met and had been living in a summer cottage on the outskirts of Stockholm for four years. Dahl had the perfect place to write and Janesson, who was to die in 1958, was ailing and on disability as the result of a cerebral haemorrhage.
Återseende (1980; Reunion) the last volume of the chronological narrative, marked the point at which the autobiography was ready for publication. On a basic level, the books are the history of a struggle to be heard. "I had absolutely no say in anything", Dahl writes in Kamrater (1978; Companions), the volume that relates her interactions with the proletarian authors and young modernists of the 1930s. "If ever I tried to raise my voice, nobody gave a hoot about what came out of my mouth."
The talkative and vigorous young woman of the first volumes turns into a depressive, weary, and taciturn creature as the autobiography progresses. While chronicling her labyrinthine road to a successful writing career, the series also reflects her growing disillusionment. The upward spiral that is common in autobiographies and Bildungsromans dissipates time after time. The mood darkens even before she turns twenty, while the later volumes reverberate with sorrow, disappointment, and rage.
The series can be broken down into three distinct parts with respect to narrative tone, theme, and aesthetic. Dahl draws a clear dividing line between the eighth volume, När du kommer ut i livet (1966; When You Enter the Real World), and the ninth volume, En bit på väg (1968; A Few Steps along the Way). The first eight volumes, which conclude with the summer after her graduation from upper secondary school, are written in the third person, and the first name of the protagonist is Gunborg. En bit på väg makes the transition to first person, and the protagonist is named Tora. "Gunborg, my alter ego from childhood, has left that world behind and merged with me", the introduction declares. "All this third person business has got to end. I am who I am – however fragmented I may feel – and I want to retrace my path through life." Vägvisare, the fifth volume, is also a turning point, but in a very different sense. Dahl does not point it out herself, and it does not mirror a transition in terms of age or social circumstances. Nevertheless, the reader detects a fundamental shift in tone, theme, and presentation.
In many ways, the Gunborg narrative is an entity unto itself. These volumes offer one of the most memorable depictions of childhood in Swedish literature. They are highly reminiscent of Cora Sandel's autobiographical novels about the young Alberte. Uneventful on the surface, they are bursting at the seams with suspense and brilliantly illuminated images. With scientific exactitude, Dahl places the objects and phenomena of Gunborg's world under her microscope. She describes the young girl's games, toys, meals, thoughts, and berry-picking adventures, as well as the behaviour and conversations of the adults around her with the same merciless precision. Images from the past well up, just as unsystematically as the experiences of the child. While aesthetically balanced, they eschew a simple hierarchy – a careless obscenity is every bit as devastating as the death of a playmate, a doll she never receives, or her father's disappearance. The events have not yet crystallised into traumas and Dahl does not describe them as such. Gunborg is wide open to whatever comes her way. Sensory impressions shape both her life and the flow of the narrative.
The second part of the series has a much darker mood: "Now is the time for Gunborg's journey to the adult world," Dahl writes in the introduction to En bit på väg, "if it makes any sense to speak of a journey that is constantly interrupted by fences and roadblocks, when the ground is cluttered with all manner of old-fashioned prejudices and taboos. It is a frightening world to behold."
"The naive, ingenuous seriousness – first obedience, then rebellion against dogma after careful inquiry – is what captivated me about her… the child I once was", writes Dahl in En bit på väg. "Not to mention her attentive gaze. Without it there would never have been any books about Gunborg." Despite the difficult circumstances they reflect, the books are full of joy. For better or for worse, Gunborg has the world at her doorstep. She encounters resistance; her foster-mother is stern, and her biological mother is a control freak. She is terribly misunderstood at school, but she refuses to be put down for more than a moment.
The transition to pure autobiography changes not only the outward form, but aesthetic expression, tenor, and voice as well. Although Gunborg is now presented in the third person, the story continues to revolve around her. The narrative treats her, along with her comings and goings, with almost doting solicitude, but refrains from idealising her or justifying her misbehaviour. Paradoxically, the volumes in which Dahl defines a clear relationship between her incarnations as author, narrator, and protagonist are wholly devoid of that intimacy. She establishes a distance from Tora, a constant semi-repudiation, as if the narrator is reluctant to acknowledge the very protagonist whose cause she so dutifully pleads to a world that wilfully ignores her true merits.
"She was unassuming and artless," Artur Lundkvist writes about Dahl in Självporträtt av en drömmare med öppna ögon (1966; Self-portrait of a Dreamer with Open Eyes), "somewhat older than Knut and already greying, but youthful, almost girlish in her way, with a charming smile and an innocent gaze."
Vid sidan om (1969; Beside the Point) is the second volume about Tora. She has gone to college for several years, made friends and acquaintances, been secretly engaged, broken up, and fallen in love again. The world has enticed her with its promise of freedom, but new restrictions sink their claws into her. Academia is male-dominated and Otto Weininger's no-holds-barred misogyny is all the rage.
Many writers have recalled that Otto Weininger's Geschlecht und Charakter (1903; Eng. tr. Sex and Character) cast a dark shadow over the lives of women students in the first few decades of the twentieth century. "The young roosters strutted around and were more arrogant than ever", writes Dahl in Vid sidan om. Nevertheless, both she and her highly talented friend Elisabeth Uhr seconded Weininger's description of women as spineless and inferior in every way. "Reading Weininger had turned us into misogynists", she writes. "It was a no-brainer for me; my mother was a textbook case of a woman according to Weininger's definition." She also used Weininger to take the measure of Elisabeth. She considered herself to be an exception: "I wasn't personally offended by Weininger's claim that women knew nothing of logic, truth, beauty, or love. I tested myself in and out. No, all that had nothing to do with me. But there is one more word: purity. That hit me where it hurt."
The 'geniuses', including the poets Carl Gustaf Adelborg and Ivar Conradsson, who rule the roost among her circle of friends, are unapologetically elitist and contemptuous of women. Her passionate affair with a classmate quickly turns into a sadomasochistic relationship with perpetual fits of rage on his part and escalating muteness and frigidity on hers. I fångenskap (1971: In Captivity) is the next volume. Fresh lines have been drawn and new obstacles have been erected. Moreover, Tora suffers from an inferiority complex. Her illegitimacy, working-class background, and gainfully employed mother set her apart. She is overwhelmed by a feeling of alienation.
The sensory detail of the Gunborg books has made way for diaries and letters. The reader is treated to few images; the narrative tends to be descriptive and expository. The exuberant visual aesthetic defers to a documentary account of encounters, conversations, and episodes. Meanwhile, the writing itself is drained of its life and vibrancy. Both Dahl and the narrative about her grow increasingly depressive. Not until she meets Jaensson in Sömngångare (1974; Sleepwalker), the fifth volume about Tora, does it waken from its slumber, particularly in his wise and gracious love letters.
"We always had so much to talk about", she writes in Förvandlingar (1976; Metamorphoses), the next volume. "One person spoke and the other answered. Both of us talked just as much; we knew how to listen. And everything we said was important to both of us." Intense, heart-to-heart conversation embodied her ideal of both love and literature. Here are the climax and turning point of the books about Tora. The conversation is never so intimate, the disenchantment so terrible, the distance so great, or the silence so grave. At the end of Förvandlingar Tora sits outside her husband's room, axe in hand. He has locked himself in with a male prostitute and an inner voice tells her to kill him.
After that, they decide to take it easy. The stock market crash leaves them destitute and Knut has to take a job. Vägvisare, the volume that deals with their subsequent life, begins with a story about shadows. And Dahl's tale of the 1920s also takes the form of a vacuous, superficial phantasmagoria. Their intimate conversations are a thing of the past, but their intellectual camaraderie continues unabated, and Knut's cherished dream of being a critic is finally realised. Once again their life reconfigures itself. Their house on Lidingö Island turns into a salon for young modernists, and Dahl's prose adapts accordingly.
If it was afflicted by depression when Gunborg became Tora, unbridled rage invades and fragments it in the next two volumes. Kamrater and Nya Vägar (1979; New Roads) abandon all aesthetic pretensions. They represent a chronique scandaleuse of the literary group at the heart of modern Swedish literary history.
After Kamrater and Nya vägar were published, Lundkvist publicly attacked Dahl. "Give Knut redemption", the seventy-four-year-old member of the Swedish Academy wrote in an open letter, which was published by the Swedish daily Svenska Dagbladet, to his friend and previous dinner hostess, twenty years his senior.
"Back in 1914, you were rescued from the trials and tribulations of the teaching profession by marrying twenty-one-year-old Knut Jaensson, a private student with a modest fortune. He offered you freedom and time to read and develop, you didn't have any children and your housework cannot have been particularly onerous." Jaensson had not stopped Dahl from writing, Lundkvist says. Quite the contrary, he had encouraged her, just as he himself had. "And now you thank me for it by portraying me as perversely literary and uninterested in just about everything else."
Dahl's despair over still being shunted aside (or to the kitchen) alternates with gallows humour about carousals and frightful stories about delusions of love and lust, interspersed with pungent sarcasm and ill-concealed hostility, repeated diary entries about her favourite reading, and eternal anguish in the face of her own art.
Young Swedish writers flocked to Dahl's and Jaensson's house in the 1930s. "There were too many dinner parties and too much social life for my taste", she recalls in Kamrater. There wasn't much time left over for me to write." Moreover, her household chores excluded her from intellectual intercourse. Jaensson, who could not stand the smell of cooking, wanted the kitchen door closed at all times. Her short eulogy to Ivar Lo-Johansson recounts the time he opened the door as soon as her guests began discussing a topic he knew she was interested in.
That little episode has assumed the proportions of a full-blown trauma in Swedish literary history. Everybody has something to say about it as soon as Dahl's name comes up. "Later on she would complain that her quest for the private space that is so vital to female writers too often found her consigned to the kitchen", Per Rydén writes in Volume 5 of Sveriges Litteraturhistoria (History of Swedish Literature).
Some critics have tried to attribute the content of these next-to-last volumes to the fact that she was a nonagenarian when she published them. However, the books consist largely of diary entries, and she seems to have regarded them as descriptions of manners. "It's about how a solitary person with a pure heart survives in a world in which nobody has a pure heart", she wrote before the publication of Nya vägar. The assertion appears in the last volume of the autobiography Återseende, which was published the year of her death, at the age of ninety-four, and recaptured the fluent prose of the earlier books. A dramatic section describes her battle to have the autobiographical series published.
"I venerate the Child – not the finished, fully educated adult", Dahl writes. Her devotion to Rousseau reflects the vitalist thinking of the circles she moved in during the 1930s. She sees a little child with unlimited potential to develop as long as the proper soil is available. "For me, growth is what it's all about", she writes in the introduction to En bit på väg. "The power of growth within each human being […] and the power that opposes growth, and tries to stand in the way and make it stop. This is what I see in everything I remember and have related – and will continue to talk about in this book." The imaginary trial implicit to her autobiography accuses everyone and everything that stymies Tora's growth and development. She rebukes them all: parents, elementary school, secondary school, university, friends of her youth, lovers, husband, colleagues, publishers, and finally God Almighty. Her autobiography is a story of despair that plays off the euphoria of having found a voice at last. "There's no such thing as higher justice", Dahl wrote in her diary on 15 November 1979, "but often enough, justice is ultimately brought to light – wie es eigentlich gewesen ist."
Translated by Ken Schubert