Amalie Skram was one of Scandinavia's most prominent naturalists and was born in Bergen into a poor, but aspiring family. She attended an expensive school and improved her social standing by marrying Captain August Müller at the age of eighteen. She had two sons, divorced in 1877, and settled in Copenhagen after her marriage to the Danish author Erik Skram in 1884. She had a daughter in 1890 and spent a number of good working years, but also came under pressure and suffered from loss of love.
In 1895 she was committed to a mental institution for a brief period. Her mental crisis and her struggle against the psychiatric system are portrayed in her novels Professor Hieronimus, 1895, and Paa St. Jørgen, 1895. She immediately became the centre of controversy from her debut work "Madam Høiers Lejefolk", a crass, naturalistic portrait of wretchedness and misery printed in the periodical Nyt Tidsskrift. Over the next few years she wrote a series of major novels, including Constance Ring, 1885, Lucie, 1888, Fru Inès, 1891, and Forraadt, 1892, in which she exposed marriages of convenience, girls' upbringing, and double moral standards. Her key work Hellemyrsfolket, 1887-1898, is a four-volume family saga, which illuminates social development from the standpoint of the vulnerable from the lowest rungs of society.
Her freely wandering fantasy and imagery, which everywhere in her writing extends to naturalist observation of the world around, becomes the predominant idiom in her short story collection Sommer, 1900. Traditionally, literary history has tended to highlight Hellemyrsfolket and disregard her novels about marriage. After feminist research gained a hold, the focus was shifted to her novels about marriage. Since then, Amalie Skram's status as a classic writer has grown, and Gunnar Staalesens eight-hour-long dramatisation of Hellemyrsfolket in 1992 has especially served to reinforce her status as one of Norway's greatest writers.
Further Reading
Jan van Luxemburg: Rhetoric and pleasure: readings in realist literature, 1992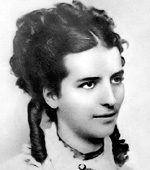 Articles about her
Additional Links