Katarina Frostenson was born in Hägersten near Stockholm, studied at university, has worked in a range of different occupations, including as a teacher, hospital employee, and publishing editor. In the 1980s she wrote essays and introductions on French authors and translated Marguerite Duras, Bernard-Marie Koltés, Henri Michaux, and others. She is a member of the editorial team of the literary calendar Halifax and together with her husband Jean-Claude Arnault runs the Forum gallery, which in the late 1980s became an important meeting place for authors, musicians, and artists. In 1992 she was elected to Svenska Akademien (The Swedish Academy).
I mellan (P), 1978, is her first in a number of works spanning the whole gamut of genres. In her poetry collections Den andra, 1982, I det gula, 1985, and Samtalet, 1987, she examines the limits of the poems' first person in the metropolitan throng of signs, language, and glass facades, while her prose poem Stränderna from 1989 expresses the wish to break free of the word. The general ambivalence towards language and communication is intensified in Joner, 1991. Here, language becomes identical with violence and power, and she mixes elements from folk-songs, Nordic ballads, and classical myths in what is a fragmented and dramatic poetry collection.
In 1992 she published Berättelser från dom, a stiff and archaic novel about a people who live in a place and a time before the existence of language. In her poetry collection Tankarna, 1994, which has autobiographical elements, an external reality with suburbs and traffic arteries becomes clearer, the language seems less threatening, but instead more sensuous and melodious. This collection was nominated for the Nordic Council's Literature Prize and the European Aristeion Prize. Her dramatic works, such as Nilen, 1990, Traum, and Sal P, 1996, are highly unconventional, individual plays that challenge ideas about what can be performed.
Additions by the editorial team 2011:
The above biography was first published in 1998. Since then, Katarina Frostenson has published dramatic works, a libretto, essay and photo collections, as well as the poetry collections Karkas, 2004, Tal och Regn, 2008, and Flodtid, 2011.
Katarina Frostenson is the recipient of a number of awards and honours, including Litteris et Artibus, 2007, and in 2011 she was norminated for the Nordic Council Literature Prize for the second time.
Further Reading
Ewa Niewiarowska-Rasmussen: "The concept of boundaries in modern Swedish poetry: Katarina Frostenson and Stig Larsson" in: Scandinavica, (41), 2002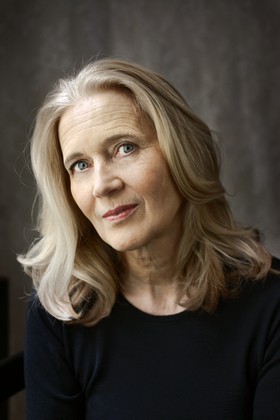 Articles about her
Additional Links