Nicoline Magdalene Roll (Nini) Anker was a radical social critic and a women's rights campaigner, and she engaged in social work to support birth control and legal abortion. The daughter of a judge from Molde, she came from a conservative, middle-class background, passed her middle school examination, and through two marriages became connected to the wealthy landed gentry.
Her debut novel I blinde was published in 1898 under the pseudonym Jo Nein and deals with the subject of married life and marital crisis. Her main works include the novel trilogy Huset i Søgaten, I amtmandsgaarden, and Under skraataket, 1923-1927, depicting Trondheim's cultural history seen through the lens of three generations of women. Her other works include the psychological novels Benedicte Stendal, 1909, and Fru Castrups datter, 1918, which examine the dichotomy of middle-class women caught between duty and affection; Lil-Anna og andre (SS), 1906; her key work Den som henger i en tråd (N), 1935, which depicts the condition of working-class women; Kirken (D), 1921; and Kvinnen og den svarte fuglen (N), 1945, which, from an anti-clerical and pacifist angle, takes a highly critical look at the period.
Her work Det svake kjøn, 1915, stands out as a feminist plea against patriarchal structures within families and in different Christian environments. Under the pen name Kåre P., Nini Roll Anker also wrote witty, socially critical novels. She held numerous honorary posts in the Norwegian Authors´ Union.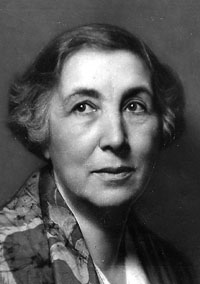 Articles about her