Sigrid Undset received the Nobel Prize in Literature in 1928 and was a prominent figure in modern Norwegian realism. She was born in Denmark and grew up in an intellectual civil servant community in Christiania as the daughter of the well-known Norwegian archaeologist Ingvald Martin Undset. After brief commercial training, she found employment as a secretary, travelled at the age of twenty-seven to Rome on a scholarship, and met her husband, the painter Anders C. Svarstad. She divorced in 1924 after twelve years of marriage, converting to Catholicism in the same year. From 1935 to 1940, she was chair of the Norwegian Authors' Union until she was forced to flee to the USA due to her resistance activities against the Nazis. In 1945 she returned to a home that had been razed to the ground.
Sigrid Undset made her debut in 1907 with her novel about marriage Fru Marta Oulie, followed by Den lykkelige alder (SS), 1908, and made her breakthrough with Jenny, 1911, a novel about a young woman artist who places high demands, not only on art, but also on love and, not least, on herself. Her novel Vaaren, 1914, and her short story collections Splinten av trollspeilet, 1917, De kloge jomfruer, 1918, and subsequent works reflect her time as a mother and housewife.
Her major works are the trilogy about Kristin Lavransdatter, Kransen (1920; Eng. tr. The Bridal Wreath), Husfrue (1921; Eng. tr. The Mistress of Husaby), and Korset, 1920-1922, as well as Olav Audunssøn i Hestviken, 1925, and Olav Audunssøn og hans børn (1925 and 1927; Eng. tr. of the two as The Master of Hestviken), in which the Norwegian Middles Ages provide the backdrop to and source for the portraits of love and moral conflicts between the characters on the one hand and an investigation of the human condition and man's relationship with God on the other. Her other works are the novels Gymnadenia (1929; Eng. tr. The Wild Orchid) and Den brændende busk (1930; Eng. tr. The Burning Bush), depicting a religious development, and her large-scale contemporary novels Ida Elisabeth, 1932, and Den trofaste hustru, 1936, which like Sigrid Undset's last novel, the historical women's novel Madame Dorthea, 1939, has a strong, independent woman at its heart. She also wrote the essay collections Et kvinde-synspunkt, 1919, Etapper, 1929, and Etapper. Ny række, 1933, which communicates political, cultural, and religious attitudes, and her memoirs Elleve år, 1934, together with her biography of a saint, Caterina av Siena (1951; Eng. tr. Catherine of Siena), which was published posthumously in 1951.
Sigrid Undset's works span a wide spectrum and include the contemporary novel and the deep, psychological analysis of modern women, the grand historical tale of motherhood and desire, and the religious biography.
Further Reading
Claudia Jean Berguson: Challenging authority: saga, gossip, ballad and legend as narrative voices in Sigrid Undset's Kristin Lavransdatter, 2003
Stanley L. Jaki: Sigrid Undset's quest for truth, 2007
Marie Maman: Sigrid Undset in America: an annotated bibliography and research guide, 2000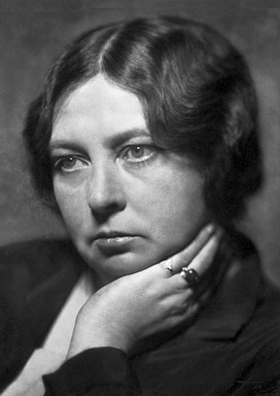 Articles about her
Additional Links