Eva Runefelt was born in Täby, became active in the young generation of writers who held public readings at venues such as Gamla Riksdagshuset (old Riksdag building, formerly housing the Swedish Parliament) in 1973, and she published stencil magazines such as Konflikt, which she co-edited for a number of years from 1973.
Her debut novel I svackan, 1975, depicts a young person's progress from school age to adulthood and work as a carer for the elderly. The same year, she published her debut poetry collection En kommande tid av livet. With her dense, meaningful, and sensuously poetic Åldriga och barnsliga trakter (P), 1978, she established herself firmly as one of the leading new modernists. The rich imagery of her debut works was replaced by a more fastidious and controlled, mysterious poetry, where things seem to live their own uncontrollable lives, but where the poem is also able to conjure up the wonderful. Eva Runefelt has been very much inspired by Siv Arb.
After her acclaimed poetry collections Augusti, 1981, the suite Ur mörkret, 1983, and Längs ett oavslutat ögonblick, 1986, she fell silent for a long time, living for a while in Munkfors in Värmland together with her partner and daughter, who was born in 1986. Back in Stockholm, she published the short story collection Hejdad tid in 1994, which was hailed as an important return to the literary scene. Her reappearance as a poet with the collection Mjuka mörkret, 1997,attracted much attention. Eva Runefeldt is also a literary and cultural critic and translator of, for example, the poems of Hugo Claus.
Additions by the editorial team 2011:
The above biography was first published in 1998. Since then, Eva Runefelt has published De tretton stegen, 1998, I djuret, 2001, Bokens ansikte, 2002, and I ett förskingrat nu, 2007.
Eva Runefelt is the recipient of a number of awards and honours, including Karl Vennbergs pris 1999, Gerard Bonniers lyrikpris 2002, Ekelöfprisen 2003, and De Nios lyrikpris 2008.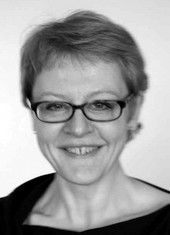 Articles about her