Agneta Horn was born in Riga to a count, rigsmarsk Gustaf Horn of Björneborg and Kristina Oxenstierna. At the age of two, she was taken to Stettin with her mother, who accompanied her husband on his war expeditions. When her mother died suddenly and unexpectedly, the children were neglected until several months later their paternal aunt Ebba Leijonhufvud took them into her care. After their return to Sweden, Agneta Horn was brought up by relatives. In 1642 her father returned from a long period of captivity in Germany. He married Sigrid Bielke in 1644. Despite opposition from her father and her family, Agneta Horn succeeded in pushing through her marriage in 1648 to Baron and Colonel Lars Cruus, whom she then accompanied on his war expeditions in Germany. She had many children, some of whom died in infancy.
In 1656 Agneta Horn was widowed, and following her father's death in 1657 she became involved in a dispute with her step mother over inheritance. Agneta Horn's autobiography Agneta Horns lefverne, which was probably written in connection with this dispute in the period after summer 1657, ends abruptly with her marriage and the account of her son Johan's illness. It is possible that some pages are missing in the handwritten manuscript. Besides her autobiography, which is brilliant and a unique contribution to Swedish literature, there are a number of unusually well-written letters; however, they do not have the expressiveness or feel for dialogue and psychology as her autobiography.
Furthermore, her autobiography is an excellent source of spoken Swedish in the seventeenth century and also provides invaluable information about children's upbringing and daily life among the Swedish aristocracy in the same century. It is kept at the Uppsala University Library. The manuscript also contains her records of marriages, extracts from the Book of Psalms and the Book of Job. Her letters are for the most part kept at the National Archives in Stockholm and at the Uppsala University Library.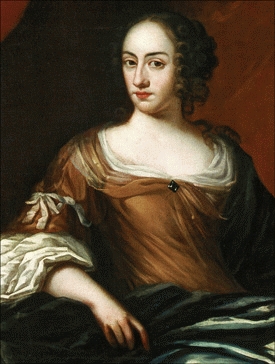 Articles about her
Additional Links