Anni Blomqvist was born into a fishing community on Åland Island with a strong tradition of oral story-telling, had four years of primary education, and in 1936 married a sailor, later fisher and farmer.
Her debut work was her autobiography I stormens spår, 1966, sparked by personal tragedy when her husband and eldest son died at sea. Her autobiography paved the way for the popular series about Stormskärs-Maja, the first volume of which is entitled Vägen till Stormskäret, 1968. Her serial novel, which were also filmed, describe the lives of fisherwomen, their struggle against the sea, patriarchal attitudes, and vulnerability, but also female culture, religious faith, and love.
Anni Blomqvist, who also lost her second son, received presidents and tourists at her farm and became something of an institution. Along with other elderly, working-class authors, she became known in the 1970s as an icon of ordinary life and the forgotten stories of women.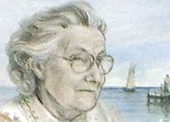 Articles about her