Ester Kristina (Stina) Aronson was the daughter of the unmarried servant Maria Andersson and the student Olof Bergqvist, who later became a Bishop and a Member of Parliament. She was adopted by a childless couple who ran a butcher's shop in Uppsala, but at the age of nine was returned against her will to her biological mother, who also lived in Uppsala. With the help of a student for whom the mother cleaned, she passed the upper secondary school leaving examination, and later her father paid for her education at a teaching college. She taught for a number of years at various village schools in Uppland and in Gotland, married the doctor Anders Aronson, and moved with him in 1919 to a sanatorium for tuberculosis patients in the northern part of Norrland, where she had great difficulty settling in.
It was precisely this region of Norrland that later became her literary landscape. When she became a widow in 1936, she moved to Uppsala, living in precarious financial circumstances. Stina Aronson's debut novel En bok om goda grannar, 1921, is a Dickensian story of life in a small town, and it was followed by the novels Slumpens myndling, 1922, and Jag ger vika, 1923. The novels Två herrar blev nöjda (N), published in 1928 under the pen name Sara Sand, and Fabeln om Valentin of 1929 show a new orientation towards Modernism. During her travels to Uppsala, Stockholm, and Paris, Stina Aronson made literary contacts, including with the leading figure of Swedish modernism, Artur Lundkvist.
Her poetry collection Tolv hav, inspired by the Finnish poet Edith Södergran, was published in 1930 and her closet drama Syskonbädd in 1931. In the diary novel Feberboken, 1931, she discusses, under the pseudonym Mimmi Palm, the subjects of love and writing, male compared to female. Medaljen över Jenny of 1935 was awarded a prize as one the best novels about working life. She also wrote the travel account Byar under fjäll, 1937, the novel Gossen på tröskeln, 1942, about a boy's childhood, and the wilderness novel Hitom himlen, 1946, which led to Stina Aronson's breakthrough with the critics and the public. Equally successful were her following works Sång til polstjärnan (SS), 1948, Kantele (P), 1949, Den fjärde vägen (N), 1950, and Sanningslandet (SS), 1952. Stina Aronson was a close friend of the critic Margit Abenius.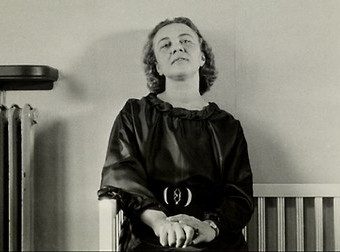 Articles about her
Additional Links