Lommen (1896; The Diver), the first book by Minda Ramm (1859-1924), caused a sensation. A fragment of a novel written in neo-romantic style, it was regarded as both anti-feminist and sexually daring. Though disappointed, feminists in the academic circles to which Ramm had previously belonged nevertheless agreed with male critics that it was worth reading from an artistic point of view. The diver is a solitary bird that flies restlessly around and lets out a plaintive shriek that symbolises humanity's anguish and unsatisfied drives. Two teachers, forty-year-old Kristiane and twenty-year-old Regine, recount their dull, loveless lives.
"We wear ourselves out […] and can neither reproduce nor die," Kristiane says. Ramm ruthlessly lays bare the autocratic methods of Polly Rein, the headmistress, in an exhibition of the way women oppress each other and turn schools into a battlefield for their inner and outer conflicts. The confessions of the two female voices proceed from an intense, intimate kernel. The perspective is heavily ironic, and Ramm never spares the teachers even though they have the narrator's sympathy. In shedding light on the frustration and romantic yearnings of her protagonists, Ramm sets the stage for intergenerational reconciliation. Their sense of wonder and vulnerability is juxtaposed with the burnished complacency of teachers and academics – the "truly educated."
Ramm presents "female professors with artistic and scientific interests… Mr and Mrs Klem, who were in favour of cremation […] graduate student Holst, who had been a private tutor for Bjørnson." The faith in progress that characterised her age comes out looking cynical and empty, criticised in Lommen as a view of human beings and society that had won inroads in the education system and among members of Norway's Liberal-Conservative party. Such beliefs instil a feminine ideal in Regine that destroys her sensuality and lust for life, while preventing Kristiane from cultivating her gifts as a philosopher and writer. The dual narrative technique brings out the similarities between the two women and clues the reader in to how Regine, with her naïveté and optimism, can wind up in the same place as the destructive, disillusioned Kristiane.
Lommen was regarded as a key novel about the education system of Christiania (Oslo). The character of Polly Rein was assumed to have been based on Ragna Nielsen (1845-1924), a well-known headmistress. Though active in the women's emancipation movement when she was young, Ramm later grew critical of it. On the twenty-fifth anniversary of her graduation, she wrote of the contradictory demands that female students faced during the "morality controversy." Women were expected to be either voluptuously feminine or unsentimentally masculine. It was a tumultuous period, "too idealistic and too cynical all at the same time".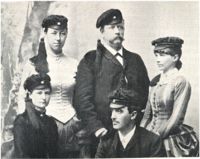 Natura daemonia est (nature is demonic) is a constant refrain in Ramm's best novel, Fotfæstet (1918; Foothold). A Schopenhauerian will to live – blind and aimless – rules her literary universe in a torrent of premonition, horror, and death. The book is a also a critique of civilisation. Standing in the midst of the deluge are two older men with diametrically opposed philosophies of life. While the landowner Breien is a scientific materialist, his philosopher brother-in-law Janke is writing an essay inspired by Schopenhauer and regards "poetry, art, and religious feeling" as the only means of escaping the mindless instincts of nature. Their conflict is recreated in the younger generation: Breien's daughter Gunhild and her friend Aud – both of whom have studied science and mathematics – and Ragnvald, an engineer who dreams of being a writer.
Ramm's characters are constantly torn between the demands of nature and culture. The older generation's hardheartedness and abuse of their children are central to the book. The young people seek warmth and something to hold on to, but only Gunhild finds stability and connectedness in the company of the man she falls in love with. Gunhild and Aud obtain a modicum of comfort and support from each other, while the men cannot communicate except in the language of competition and rivalry. Ragnvald perceives the women's friendship as a threat and marries Aud to be rid of it. The narrative focuses on the well-educated but incompatible couple. Civilisation proclaims the supremacy of the soul, but real life teaches the opposite lesson. Neither Aud nor Ragnvald can synthesise their knowledge and feelings on a higher level, and they both admit that their main reason for marrying was to break with their parents. "Two egos can at best endure each other's company," Ragnvald declares. Beauty is the cardinal virtue for him, whereas Aud clings to Schopenhauer's philosophy at the urging of Janke. People who live in an existential condition of discord and antagonism must seek refuge from the assaults of the daemons. Dora Delft, the wife of an artist, embodies this imperative. She is based partly on Dagny Juel Przybyszewska, to whom Ramm was related. The side of Przybyszewska that emerges is not the mythical femme fatale, but a gifted, thoughtful, and charismatic woman. As Ramm's most steadfast character, Dora is brutally assailed by the blind instinct that hovers over everything in Fotfæstet.
People's attitude towards life is the essential thing. Empathy, art, and philosophical wisdom can teach them how to put up with the contradictions that they encounter day by day. Thus, Ramm's literary credo was the necessity of study and observation.
Ramm was among Norway's first female academics. After taking chemistry and physics courses, she obtained a teacher's certificate and was a member of Skuld, a student group that was the germ of the Norwegian Feminist Association (1884).
She married Hans E. Kinck, an author and philologist. With two children and a busy travel schedule due to her husband's career, she had little time to write. Her total production consisted for four slim novels and several short stories. They were not coming-of-age stories, but fragments of lives and destinies that filtered the age and its tendencies through a critical lens. Her style is disinterested and ironic, her composition austere, and her language experimental – tinged by philosophical insights, as well as images and expressions borrowed from the spheres of chemistry and physics.
Translated by Ken Schubert