Elin Wägner was elected to Svenska Akademien (The Swedish Academy) in 1944 on account of her biography of Selma Lagerlöf of 1942-1943. She was born in Lund, where her father was an academic and principal; her mother, a clergyman's daughter from Småland, died early. After attending a girls' school, she became a journalist and suffragette, writing in an amusing and witty style, but reserved as a person.
Affected by World War I, she became a pacifist and increasingly interested in the idea of an ancient matriarchy. She was one of the people behind the establishment of Kvinnliga Medborgarskolan (Women's College for Civic Training) in Fogelstad and the paper Tidevarvet and at the same time was strongly religious with a growing sympathy for the Quaker movement from the 1920s onwards. From 1910 to 1922, she was married to the philosopher and critic John Landquist.
She made her debut in 1907 and in her early novels, such as Pennskaftet, 1910, introduced the character of the independent woman to Swedish literature. In Släkten Jerneploogs framgång of 1916, she examines the possibilities of pacifisms in a conservative society. After her Småland novel Åsa-Hanna, 1918, her writing took a new turn. In a number of novels, starting with Kvarteret Oron, 1919, patriarchy is presented from a critical angle and from a matriarchal, often mythically formulated viewpoint.
Due to the growing threat of war, she intensifies her criticism in her novels Dialogen fortsätter, 1932, Genomskådad, 1937, and Hemlighetsfull, 1938. In 1941 her non-fiction work and testament Väckarklocka (Eng. tr. Alarm Clock) was published: here she combines social and cultural criticism with a visionary environmental awareness.
Further Reading
Sarah Gillian Death: The female perspective in the novels of Fredrika Bremer and Elin Wägner: a comparative study of some central themes, 1985
Helena Forsås-Scott: Re-writing the script: gender and community in Elin Wägner, 2009
Katarina Leppänen: Elin Wägner's Alarm clock: ecofeminist theory in the interwar era, 2008
Katarina Leppänen: Rethinking civilisation in a European feminist context: history, nature, women in Elin Wägner's Väckarklocka, 2005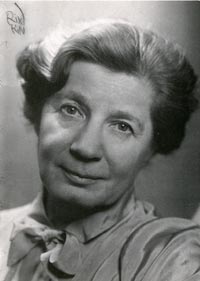 Articles about her
Additional Links