Sara Stridsberg was born in 1972, in Solna, a suburb of Stockholm, Sweden. She read law and gender studies at the University of Uppsala.
Sara Stridsberg's first published book was Happy Sally (2004). She has also written the theatre play Medealand (2009), and translated the SCUM Manifesto, written by American feminist Valerie Solanas. Solanas is also the central character in Stridsberg's second novel, Drömfakulteten (2006). Darling River (2010) centres on the 'Lolita' figure in Nabokov's novel of the same name. Sara Stridsberg's latest published novel is Beckomberga (2014).
Sara Stridsberg has received many literary awards, including Nordisk Råds Litteraturpris (Nordic Council Literature Prize) in 2007 for Drömfakulteten, De Nios Vinterpris (the Nine's Winter Prize), and Doblougska priset (Dobloug Prize) awarded by the Swedish Academy. In 2016 Sara Stridsberg elected to the Swedish Academy.
In her article about Sara Stridsberg, literary scholar Lilian Munk Rösing writes:
Stridsberg is interested in the historically specific, historical female characters associated with particular eras. Sally Bauer, triumphant at the same time as Adolf Hitler. Valerie Solanas, both part of and out of place in the women's movement of the late 1960s. Lolita, emblematic of the 1950s' burgeoning pop- and sugar- and teenager-culture. But at the same time there is a current of something timeless, mythical, fairytale in her writing.
Udvalgt litteratur om forfatteren

Aase Berg: "Sara Stridsberg tar sikta på patriarkatet", Bonniers litterära magasin 2003: 6
Amelie Björk: "Metaforer och materialiseringar. Om apor hos Vladimir Nabokov och Sara Stridsberg", Tidskrift för litteraturvetenskap 2013: 1
Lise Olivarius: "Skriften som hader sig selv", Trappe Tusind, 2012: 7
Nora Simohjell: "En flod av ensamhet att drukna i: om Sara Stridsberg: Drömfakulteten – tillägg til sexualteorin", Norsk litterær årbok 2013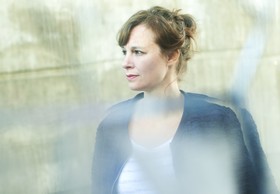 Articles about her
Additional Links