Alvilde Prydz came from a merchant and farming family in Østfold and looked after the house for her father until she was almost forty years old. She then went on to qualify as a governess and travelled in this capacity to Herøy in Nordland. She was the most important woman writer in Norway in the 1880s and 1890s after Amalie Skram and wrote prolifically within all genres. Many of her books were popular successes; nevertheless, she always had problems finding a publisher.
Her debut book was the romantic story Agn og Agnar, 1880, which was actually written ten years earlier. In 1885 she made her mark with the short story collection I Moll, and in 1889 her collection Undervejs was published. Her short stories and her subsequent novels Lykke, 1890, Mennesker, 1892, and Drøm, 1893, have a melancholic mood. The female main characters insist on combining self-fulfilment and freedom with a loving marriage, but their hopes are dashed when they come up against cold, male rationalism and raw, sexual urge. In Gunvor Thorsdatter til Hærø, 1896, and Barnene paa Hærø gaard, 1906, we encounter heroic femininity together with images of powerful, warm-hearted maternal instinct that represent a feminist utopia.
Like many advocates of women's rights of the period, she was influenced by theosophical and pantheist currents, which she wove into her feminism. In 1904 she set forth her vision in two essays in the women's periodicals Urd and Nylænde. She regarded maternal instinct and the female capacity for love as conciliatory powers that could overcome the gulf between the sexes and the dichotomy of the modern-day person. The goal was a new, androgenous humanity. The same vision features in many of her works after 1900, such as Det lovede land, 1903, and De dage og de år, 1919.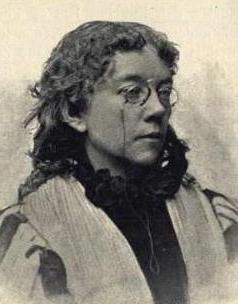 Articles about her
Additional Links