Kate Larson was born in Stockholm. A visit to Öland and her studies in philosophy and theology motivated her to write her debut work, the novel Flampunkten, 1986. It was followed by Replik till Johannes (N), 1989, which develops ideas on love and loss, and which is concluded in Den glömda natten (N), 1993. In dense and richly poetic prose, she describes the complicated relations of a few individuals, and themes revolving around creation and identity are central to her work.
While clarity of form is the principle behind the male characters in her writing, the mystery of form is central to the female characters. In Odaliskens leende (N), 1991, the author tries out a new prose form and narrative style: the psychological thriller in which suspense, mystery, and transgressing are important factors.
Additions by the editorial team 2011:
The above biography was first published in 1998. Since then, Kate Larson has written the short story collection Himlen över platsen, 1998, prose texts in Den stora fisken, 2002, the collection of essays Om vänskap, 2007 (with Anna-Karin Palm), and the book of prose Trängsel, 2010.
Additionally, she has written a dissertation in the field of theoretical philosophy, on the concept of love in the work of philosopher and author Iris Murdoch.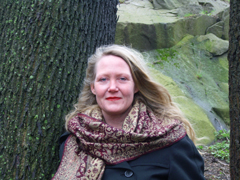 Articles about her
Additional Links