Dagny Joensen grew up in Klaksvík, where her father was a wholesaler and official and her mother a housewife. She married at the age of seventeen and had four children before she turned twenty-three. She trained first as a hairdresser, then as a journalist, and has worked for the newspaper Sosialurin.
Dagny Joensen has written numerous radio plays, one short story, and translated Fay Weldon's novel The Cloning of Joanna May into Faroese in 1989. Three of her radio plays have been published in Gerandislagnur, 1981. She describes women in different social strata, their opportunities, and how they become increasingly aware of gender politics. Tilvildin (D), 1982, adapted for Faroese television in 1984, is about abortion.
Additions by the editorial team 2011:
The above biography was first published in 1998. Since then, Dagny Joensen has written several books, including Terradropar. Kvinnumyndir í okkara tíð, 2004, Hvirlan. Skaldsøga, 2005, and a biography about the first women lawyer in the Faroe Islands, Marita – eitt konubrot í landsins søgu, 2007.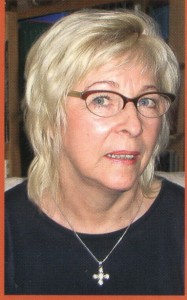 Articles about her