Maria Kirstine Dorothea (Thit) Jensen was the eldest daughter of a veterinarian from Farsø in Himmerland, was a private tutor, and had eleven siblings, including the writer Johs. V. Jensen. She was self-taught and as a young, aspiring author in Copenhagen, supported herself by working as a domestic help, often going hungry. As a women's rights campaigner, journalist, world traveller, and public speaker she was cherished for her boldness, her magnificence, and her sharp tongue. She was well-known, particularly as popular material for satirical cartoonists and as an expert in self-orchestration. From 1912 to 1918, she was married to the painter Henning Fenger.
Thit Jensen's debut story To søstre, published in 1903, was about a female artist, as was her novel Familien Storm, 1904. In her novels Martyrium, 1905, and Ørkenvandring, 1907, she attacked the contemporary situation of men and women and society in general. Her following novels Hemskoen, 1912, Jorden, 1915, and Gerd. Det tyvende Aahundredes Kvinde, 1918, which represents an artistic high point, describe the ambivalence between work and love. From 1909, she criticised society in her public lectures.
With her novel Den erotiske Hamster, 1918, which was written against the bitter background of her own divorce, and in Aphrodite fra Fuur (N), 1925, the vision of a female whole is upset. Instead, the relationship between life and desire is developed in a series of historical novels such as Af Blod er du kommet, 1928, Jørgen Lykke I-II, 1931, Stygge Krumpen I-II, 1936, and Valdemar Atterdag I-VII, 1940-1953. She is remembered for her historical novels; however, her writing about contemporary life has been re-discovered in research on women's literature.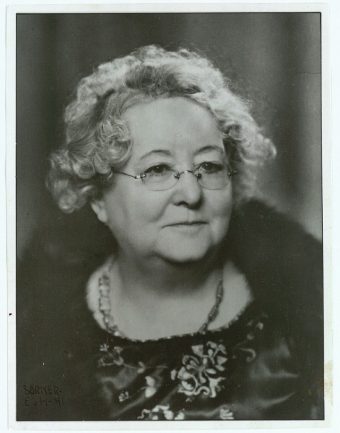 Articles about her