Álfrún Gunnlaugsdóttir was born in Reykjavík, studied literature in Spain in the 1960s, did a PhD at the University of Barcelona, and worked as a professor of literature at the University of Iceland until 2006. She is a mother with one child.
After her debut in 1982 with her short story collection Af manna völdum, she made a name for herself with her novel Þel, 1984, which mirrors the intellectual climate of the 1960s in Iceland and Spain. Her modernist novel Hringsól, 1987, takes place in the wartime and post-war years, while her big novel Hvatt að rúnum, 1993, is set in three historical epochs in Iceland and the continent. She also wrote a thesis entitled Tristán en el Norte, 1978.
Additions by the editorial team 2011:
The above biography was first published in 1998. Since then, Álfrún Gunnlaugsdóttir has written two novels Yfir Ebrofljótið, 2001, and  Rán, 2008.
She has been nominated thrice for the Nordic Council Literature Prize: for Hringsól (1987; Circle), Hvatt að rúnum (1993; Rune Chant), and Yfir Ebrofljótið (2001; Across the Ebro River). Her latest book, Rán (2008), was nominated for the Icelandic Literary Award in 2008, and she received both the DV Cultural Awards and the Fjöruverðlaun for the book.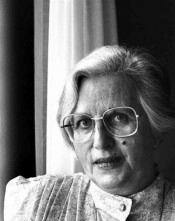 Articles about her
Additional Links