Hulda Karen Garborg was a dramatist who became a leading figure in the Nynorsk (New Norwegian) movement. She was born on a large estate outside Hamar. However, after her father's bankruptcy and her parents' early divorce, she grew up with her mother, who supported the family by working as a seamstress. She was a pupil at Gløersen's school for girls, which followed the teachings of Grundtvig. From the age of thirteen, she lived in Christiania, where she worked for seven years as a sales clerk, taught herself Nynorsk at evening classes, and played in amateur theatre.
Through the Arbeidersamfund (workers' association) in Christiania, she came into contact with radical intellectuals and in 1887 married the radical and oppositional writer Arne Garborg. The couple, who were co-editors of the Nynorsk periodical Fedraheimen, spent lengthy periods abroad staying with writer friends. They later bought a smallholding outside Christiania, which became a gathering place for many writers, also in connection with the editing of the periodical.
Hulda Garborg, who took to writing after she was married, made her debut in 1892 with the naturalist novel Et frit Forhold. She published over forty books, both in Nynorsk and in Bokmål (the two written standard Norwegian languages). Her books defend the village community, but at the same time are critical about life in a small society. From 1910 to 1912 she travelled with a touring theatre, Det Norske Spellaget, moving from one village to another, where the villagers responded so favourably to her Nynorsk plays that she plucked up enough courage to establish a permanent Nynorsk theatre in Christiania, Det Norske Teatret, where most of her plays were performed.
She also wrote novels, short stories, poems, folk-songs, memoirs, philosophical publications, periodical articles, and non-fiction books on cookery and housekeeping. Her major works are Mødre (D), 1895, Rationelt Fjøsstell (D), 1896, Kvinden skabt af Manden (N), 1904, Mann av Guds Naade (N), 1908, and Hildring (N), 1931.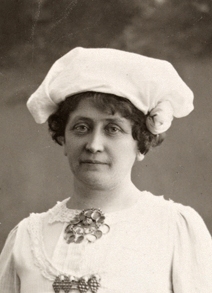 Articles about her
Additional Links