Suzanne Brøgger was born in Copenhagen and wrote an extensive family saga entitled Jadekatten, 1997, which relates the story of the Løvin family, going back to the family's first Polish Jewish immigrant who settled in Aalborg in 1838 and founded Danish Distillers Ltd. In a dizzy tour de force, she introduces the story with the account of her grandparents from the Copenhagen Jewish bourgeoisie, who with great passion live out the matrimonial conflict of the sexes, in which the man is unfaithful, the woman takes revenge, and the children become victims in their parents' battlefield.
Suzanne Brøgger often wove a number of autobiographical skeletons into her literature, but never on such a full-blown scale as in Jadekatten. After attending Bernadotteskolen in Copenhagen and attending school in South-East Asia, where her step father worked for Unicef, she completed her upper secondary schooling at Th. Langs Kostskole in Silkeborg, went on to study Russian at the University of Copenhagen, and featured in film and television. From the mid-1960s, she worked as a freelance writer, writing reports from the Soviet Union and the Middle East and feature articles and discussion articles for newspapers and magazines.
Her debut work, the debate book Fri os fra kærligheden (1973; Eng. tr. Deliver Us From Love), followed by Kælighedens veje og vildveje, 1975, marked her out as a provocative autobiographical author. The painful, analytical points of departure of her writing, which take their cue from her own experiences in life, a childhood with a sick mother, divorced parents, the sexual politics of the 1968 rebellion, and fluid identities, philosophical, culturally critical ambition, and her individual analytical-burlesque and paradoxical style have divided her readers into two camps: those who love her, and those who hate her. Her autobiographical serial novel Creme Fraiche, 1978, celebrates individualism to the last provocative, vibrating atom. En gris der har været oppe at slås kan man ikke stege, 1979, tells the story of a life in rural tranquility, calm, and concentration, and her epic about the milliner and connoisseur of the art of living, Tone, 1981, paints a generous picture of female eroticism and pre-empts the demons of femininity. She took her readers into new territory with her book Ja, 1984, about an impossible love, a woman's journey into the realm of death and her resurrection as an artist.
With her plays Efter Orgiet, 1992, and Dark, 1994, Suzanne Brøgger evokes the same strong feelings of enthusiasm and protest as with her debut work, which castigated the family's oppression of women and dead longing. Twenty years later, the break-up of her family comes across as an image of demise and a sign of a culture in decline. Suzanne Brøgger, who rewrote Vølvens spådom in 1994, became a member of Det Danske Akademi (the Danish academy of language and literature) in 1997. In 1998 she published Et frit og muntert lig.
Additions by the editorial team 2011:
The above biography was first published in 1998. Since then, Suzanne Brøgger has written the poetry collection Lotusøje, 1999, the novel Linda Evangelista Olsen, 2001, and other texts, including essays and articles in Sejd, 2000, Smuler fra kærlighedens bord, 2004, Sølve, 2006, Sløret, 2008, and Jeg har set den gamle verden forsvinde – hvor er mine ørenringe?, 2010.
Brøgger is the recipient of several prizes and honours. She received the lifelong artists' grant from the Danish Arts Foundation in 1985.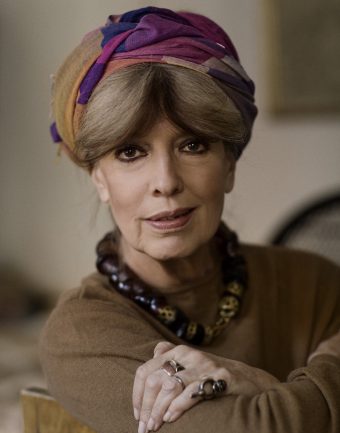 Articles about her
Additional Links