Ása Sólveig was born in Reykjavík, where she grew up with her mother, foster mother, and grandmother. She married at seventeen, had three children in the course of six years, and is now divorced. After various casual jobs, she made her debut in 1972 with the television drama Svartur sólargeisli about racism in Iceland.
Her breakthrough came with the novel Einkamál Stefaníu, 1978, in which, in a subdued, down-to-earth, and realistic way, she describes how life unfolds for a suburban housewife. The novel Treg í taumi, 1979, tells the story of an alcoholic wife confronting her life. Her other works include Elsa (D), 1974, and Nauðug/viljug, (D), 1983.
Additions by the editorial team 2011:
The above biography was first published in 1998. Since then, Ása Sólveig has written the radio play Systir sæl og bless, 1995.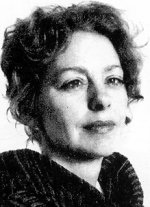 Articles about her