Margareta Sarri was born in Stockholm; her mother came from Norrland. She worked as a secretary until 1971, but obtained a degree in 1983. In 1971, she made her debut with Då Simon Fjällberg med flera kom till insikt (N), in which she describes the contrast between Stockholm and Norrland and between the Sami people and the Swedes. There are similar themes in Under hallonträdet (N), 1980, and in Du fjällhöga nord (N), 1975.
The novel Mor ror, åran er trasig, 1978, is typical of the 1970s' new literature of emancipation. She has also written short stories and a book for adults with reading difficulties, Kära Katarina, 1987, as well as the teenage book Tina Rossi, 1993.
Additions by the editorial team 2011:
The above biography was first published in 1998. Since then, Margareta Sarri has published a number of works, including Tina Rossos dolda tårar, 2000, Villjus, 2005, Welcome to Shittown, 2006, and Mommas dräng, 2007.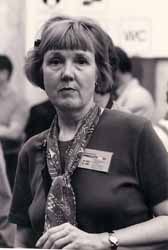 Articles about her