Ulla-Lena Lundberg was born on Kökar, Åland. She graduated from Åbo Akademi University, majoring in Nordic ethnology and history of religion and has been an art professor 1994-1999.
Her debut poetry collection was published in 1962, followed by short stories, novels, radio plays, and documentary books about Japan, Africa, and Siberia. Success as a fiction author came with her 'Kökar novels', Kungens Anna, 1982, and Ingens Anna, 1984. These were followed by Sand, 1986, set in the Kalahari, and her trilogy on Åland trade and shipping from nineteenth century small, commercial sailing boats to today's big ferries, Leo, 1989, Stora världen, 1991, and Allt man kan önska sig, 1995, where economic and social history are interwoven through the use of different novel-writing techniques, from epic realism to metaliterary distancing effects and postmodern identity problems.
In 1993, she published an autobiographical, ornithological travel book, Sibirien. Ett självporträtt med vingar, followed by Regn in 1997, in which the plot once again is set in Africa. As well as containing multifaceted and well-documented material, her writing also deals with themes such as loss, love, and survival, and the relationship between the private self and the public persona. Ulla-Lena Lundberg has been nominated three times for the Nordic Council Literature Prize.
Additions by the editorial team 2011:
The above biography was first published in 1998. Since then, Ulla-Lena Lundberg has written the novel Marsipansoldaten, 2001, Människan och målaren, 2005 (biography about Åke Hellman, with Erik Kruskopf), and the text-book Jägarens leende, 2010.
She has received several prizes.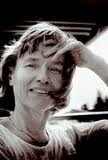 Articles about her