Merethe Lindstrøm was born in Bergen to artist parents and made her debut in 1983 with the short story collection Sexorcisten og andre fortellinger. In her short stories and novels with their cold and sober style, she has been inspired by authors such as the American writer Jayne Anne Phillips. Rootless individuals, pent-up relationships, and quiet madness are central motifs in her writing, which investigates the marginal and the extreme.
She made a name for herself with the short story collection Svømme under vann, 1994, and her novel Steinsamlere, 1996, which with its chilly narrative rouses the reader's curiosity in its depiction of a strangely formal, but strong, lifelong relationship between a professor and his secretary. With its references to the philosopher Ludwig Wittgenstein, Norwegian war history, and Nazism, the novel is an ambitious work tackling the themes of language and existence. In 1997 her novel Stedfortrederen was published.
Additions by the editorial team 2011:
The above biography was first published in 1998. Since then, Merethe Lindstrøm has written the poetry collections Jeg kjenner dette huset, 1999, Gjestene, 2007, and Det må ha vært ensomt der. Utvalgte noveller, 2008, and four novels: Natthjem, 2002, Ingenting om mørket, 2003, Barnejegeren, 2005, and Dager i stillhetens historie, 2011.
She has received several prizes and in 2012 she was nominated for the Nordic Council Literature Prize for the second time.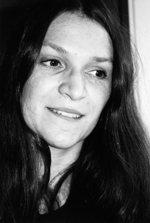 Articles about her