Anu Kaipainen graduated in 1955 and taught Finnish from 1955 to 1974. In the late 1970s, she was a member of the Grankulla local district council for the Social Democrats and at the end of the 1970s and beginning of the 1980s wife of the ambassador in Oslo. Her son Jouni Kaipainen is a well-known composer.
Her writing, in which the past or the mythical is transferred to the present day, includes her two well-known novels Arkkienkeli Oulussa, 1967, about the war in 1808-1809 when Sweden lost to Tsarist Russia, and Finland became autonomous under Russian control, and Magdaleena ja maailman lapset, 1969, about topical issues such as the role of women, marriage, parenting, and issues relating to Third World countries. Her works Surupukuinem nainen, 1971, and On neidolla punapaula, 1973, also deal with topical issues.
Her most interesting novel is about the Karelian folk singer Larin Paraske, Poimisin heliät hiekat, 1979. It has a multifarious structure, is about the theme of freedom, and contains elements of cultural criticism and women's issues. Anu Kaipainen made a comeback in 1993 with Kahdesti haudattu, a modern version of the romantic ballad Inkeris vise. In 1995 she published Vierus verta täynnä.
Additions by the editorial team 2011:
The above biography was first published in 1998. Since then, Anu Kaipainen wrote the novels Granaattiomena, 2002, Kaarinan veriballadi, 2004, and Vihreiksi poltetut puut, 2007.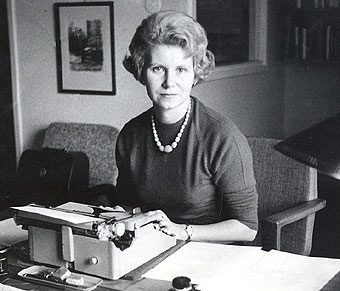 Articles about her