Gro Dahle was born in Oslo as daughter of a special needs teacher and an oil company managing director. She studied psychology and English at university, attended teaching college, and completed a writing course. She is a critic and creative writing teacher and is married with three children.
After her debut work, the collection of poetry Audiens, published in 1987, she wrote several poetry collections, children's books, and collections of short stories. In the poetry collection Apens evangelium, 1989, she counters the grand story of God and the Creation and develops instead an alternative tale of birth, children, love, and friendship, void of any authoritarian or hierarchical elements. Her short story collection Pelsjegerliv, 1991, highlights her playful fascination with riddles and imagery, and in her poems Regnværsgåter, 1994, she tackles death and the big existential questions of life.
Her books express a mixture of naivety and ceremony, and are richly populated with flora and fauna, and unique existences. Both her short stories and her poems have an underlying narrative, while other individual texts are underpinned by a surrealist and playful mythology of images. Her other works are Linnea-pasjonen (P), 1992, Inflammasjon, historier, 1995, and Hundre tusen timer (P), 1996.
Additions by the editorial team 2011:
The above biography was first published in 1998. Since then, Gro Dahle has written poetry in Karneval – dikt i utvalg 1987-1997, 1998, Alle fugler, 2007, and Støvet, skyggen, hunden og jeg, 2011. She has written short stories in Hvem som helst, hvor som helst, 2009, and two novels Huset i snøen, 2006, and Blomsterhandlersken, 2010. She has written drama for children and young people, and several children's books.
She has received several prizes and honours.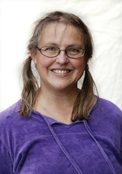 Articles about her