Gerd Brantenberg was born in Oslo and grew up in Fredrikstad. Her father was a doctor, and she studied philology and held a post as a lecturer at the University of Copenhagen from 1971 to 1974. In the 1970s, she became active in the new women's rights movement and was given several honorary offices. She was a member of the Norwegian Authors' Union from 1981 to 1983 and became a full-time author from 1982.
After her debut in 1973 with the publication of the novel Opp alle jordens homofile, she achieved international acclaim with the dystopian novel Egalias døtre, 1977. Her key work is her partly autobiographical novel trilogy about a lesbian girl growing up in Fredrikstad after the war: Sangen om St. Croix, 1979, Ved fergestedet, 1985, and For alle vinder, 1989. By engaging and identifying with her subject matter, Gerd Brantenberg develops a new set of motifs within a traditional realistic form.
Additions by the editorial team 2011:
The above biography was first published in 1998. Since then, Gerd Brantenberg skrevet dramatik, noveller, en interviewbog med forfattere og romanen Landssvikersken, 2003.
Hun har bl.a. modtaget Pippi Langstrømpeprisen, 1999, Bogklubben Kursivs bogpris, 2005, Equalitasprisen, 2007, og Likestillingsprisen Fredrikstad kommune, 2007.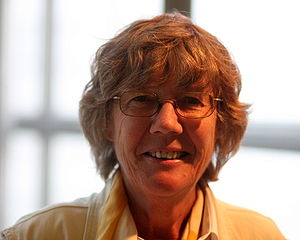 Articles about her
Additional Links